The share price of Walt Disney Company (NYSE:DIS) has appreciated by 38% over the past 12 months, outperforming the 18% for S&P 500 Index, and is currently trading near its 52-week high. The company reported fiscal 2014 Q1 results last week that were well above market expectations, and I believe the stock would continue to trend up given the reasons discussed as follows.
First of all, I believe the share price to be buttressed by sizable capital returns. In September 2013, management announced a share repurchase plan of approximately $6B to $8B in fiscal 2014, which represents about 6% of the current market capitalization. In addition, Disney has a track record of dividend growth. Annual dividend has been raised by a CAGR of 25% since 2009 to $0.86 per share. I am of the view that Disney would be able to implement the buyback program as planned and also keep the current pace of dividend growth in 2014 based on the following reasons:
Owing to healthy fundamentals, Disney managed to grow its free cash flow by a CAGR of 54% in the period between fiscal 2011 and 2013 and the strong growth trend continued in Q1 2014 (see chart below).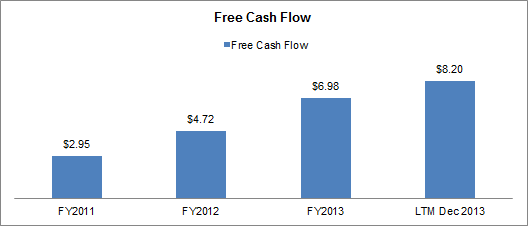 Part of the free cash flow growth was owing to improved EBITDA to free cash flow conversion ratio which steadily increased from 31% in fiscal 2011 to 66% as at December 31 2013 (see chart below).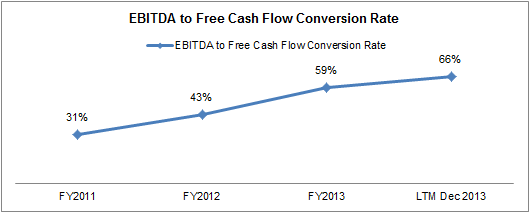 Based on current consensus EBITDA estimate of $13.5B for fiscal 2014 (which I believe is achievable given the catalysts discussed later) and a free cash flow conversion ratio of 60% (a reasonable estimate as the company is entering the later stage of its major capex cycle), the free cash flow generation in fiscal 2014 is projected to be approximately $8.1B. Considering Disney's current $4.4B cash balance, I believe management should have sufficient firepower to conduct the announced 2014 buyback plan and raise dividend at the current pace (e.g. a 25% dividend hike would require $1.9B based on my estimate).
Disney's Parks business demonstrated a healthy year-on-year growth of 6% in Q1 2014 driven by strong domestic spending. Despite new investments, Parks segment operating income rose by 16% year-on-year and margin expanded by 1.7% as a result of lower pension expense and operating leverage. Given the favorable operating leverage ahead as Disney is approaching the later stage of the major capex cycle (e.g. completion of Fantasyland upgrade in summer 2014) and healthy outlook of consumer spending in the US, it is expected that Parks margin would continue to improve going forward. Medium-term catalysts such as opening of Shanghai Disney and Avatar Land in Walt Disney World would support a healthy top-line growth prospect.
The company's Studio segment has a significant growth prospect. The segment's Q1 2014 operating income of $409M largely exceeded the consensus estimate at just $317M due to strong performance of Frozen and Thor 2. It is noted that Frozen has surpassed Lion King as Disney's most successful animated movie. Provided that the movie was just launched in China and about to open in Japan and both countries represent Disney's second and third largest markets, I expect Frozen would continue to provide near-term support to box office revenue. Looking forward, a slate of new major releases from 2014 to 2016 (i.e. Captain America, Avengers, Inside Out, Finding Dory, and Star Wars) would be the primary upside drivers.
For Media Networks, it is believed that the near-term growth should be primarily driven by new affiliate agreements with Dish and DTV, which are expected to be signed in late 2014 with higher affiliate fees.
Management's strategy to turnaround the Interactive segment has seen its early success due to 39% year-on-year increase in Infinity revenue as a result of strong holiday sales. As management guided a loss in Q2 2014, continued progress on the turnaround plan will be a positive near-term surprise.
Despite the strong share price performance, the stock's current 2015E P/E multiple of 15.9x is just 5% above the same multiple for S&P 500 Index (see chart below). It is noted that the current premium is below its 1-year average of 12% as many analysts raised their EPS estimates for 2015. I view the stock's current relative valuation level to be very compelling as a greater premium can be justified by Disney's higher consensus long-term earnings estimate relative to the average of S&P 500 companies (13.2% vs. 9.5%). By factoring in the earnings growth potential, Disney trades at 1.2x PEG, which is at a 25% discount to S&P 500's 1.6x.

In summary, I believe Disney's share price momentum should continue to build because of the inexpensive valuation, sizable capital return, as well as the company's healthy fundamentals and above-market growth potential. The stock is a buy.
All charts are created by the author except for the consensus estimate tables, which are sourced from S&P Capital IQ, and all financial data used in the article and the charts is sourced from S&P Capital IQ unless otherwise specified.
Disclosure: I am long DIS. I wrote this article myself, and it expresses my own opinions. I am not receiving compensation for it (other than from Seeking Alpha). I have no business relationship with any company whose stock is mentioned in this article.