With the recovery of the economic environment, drilling and exploration companies are coming back on track. Consequently, the outlook for offshore drilling companies remains solid. These companies continue to see deep and ultra-deepwater acreage as growth opportunities to invest capital. Since the first half 2012, ultra-deepwater drilling rigs have been benefiting from steady day rates. However, divergence has led to lower rates for non-premium deepwater units. These companies remain at ease with rates of around $550,000-$650,000/day for the top-end asset classes because of the unique efficiency and safety enhancements they offer.
The Middle East and Asia continue to be attractive regions for drilling & exploration companies and the main source of demand for high specification jack-up rigs. The demand in other markets, such as Australia, West Africa, and South America, promises considerable growth. Mexico is another attractive region, presenting more production opportunities and a desire to upgrade its operating fleet. Arctic regions are expected to hold around 13% of the globe's undiscovered oil, and roughly 30% of the undiscovered gas. Additionally, drilling & exploration companies are making huge investments in this region. Over the last decade, spending in this region has grown at about 11% annually and is likely to increase by as much as 8% annually till 2018.
In this article, I pick one of the best oil and gas drilling companies, Noble Corporation (NYSE:NE), which I believe has been making extensive profits from the offered opportunities in addition to setting strong footprints for future growth. The company is making huge investments to enhance its rig portfolios. It is also generating strong cash flows to return significant cash to shareholders after making investments in growth opportunities. Looking like a safe haven for dividend investors, Noble is also offering an attractive entry point.
How Noble Is A Safe Investment
Noble Corporation is an offshore drilling corporation for the oil and gas industry. The company's business strategy concentrates on the effective expansion of its worldwide deepwater and high specification jack-up functionality through modifications, upgrades, and acquisitions, in addition to the deployment of its drilling assets in major oil and gas producing areas around the world. Noble is seeking to improve both drilling efficiencies and well programs that are growing in complexity.
Noble is working hard on a growth plan and, last year, the company began operations on the Noble Globetrotter II under a long-term contract in West Africa, and completed construction of the Noble Mick O'Brien, which started operations under a five-month contract in the Middle East during Q4 of 2013. Noble also received two more JU3000N jackups in December, followed by the Noble Houston Colbert in the beginning of 2014. These fleet additions, together with the remaining six projects, of which five rigs are likely to complete construction in 2014, are creating a premium fleet of offshore drilling rigs competent of tackling even the most demanding global well construction assignments.
The company is also working on a divestiture which will further enhance its operational efficiencies by focusing on its core business. The company made significant achievement toward its planned divestiture of substantially all of the standard capability assets in its fleet. Noble's expansion strategy is working and is evidenced by the continued growth in contract drilling revenues during the fourth quarter with contributions from its three new ultra-deepwater drillships and from the JU3000N high-specification jackups. Contract drilling revenue improved 8% from the Q3, thanks to the new rigs and saw a 9% increase in day rates to $212,000/day. Consequently, Noble's net income for the last year stood at $783 million on revenues of $4.2 billion, contrasting the net income of $522 million on revenues of $3.5 billion in 2012.
Smart capital allocation strategy is resulting in solid top line and bottom growth which further allows the company to generate massive cash flows. Cash flow from operating activities was at $1.7 billion for the full year of 2013 representing an increase of around $5 billion. The company is also making massive investments in the growth opportunities and on its fleet expansion program. The company has invested about 2.5 billion in growth opportunities including $1.5 billion related to the fleet expansion program. It is looking to spend approximately $1.9 billion in 2014 to complete the remaining seven projects related to its expansion program, comprising five high-specification jackups and two ultra-deepwater drillships which are expected to be delivered from shipyards by the end of this year.
Still, the company's potential to generate massive cash flows allows it to make significant increase in dividends after investing in growth opportunities. Recently, Noble announced that it would increase its quarterly dividend by 50% to $0.375. The company's payout ratio of only 22% allows a lot of room for further increases.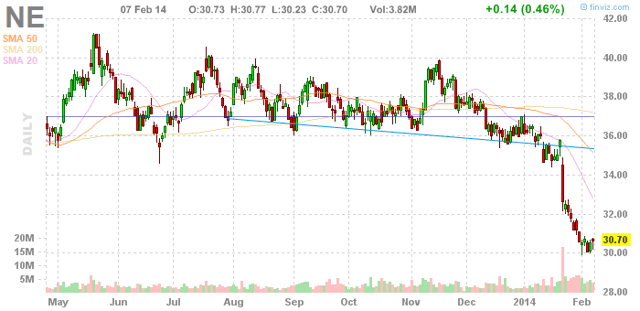 Click to enlarge
At the moment, Noble looks significantly undervalued to me as it is trading at only 10.5 times-to-earnings when the industry average is at 14. The latest dip the stock price is offering an attractive opportunity to initiate a position in the company. With a solid outlook, the company has potential to rebound its momentum to reach its fair value estimate of $45/share. Offshore drilling has an optimistic long-term outlook and Noble is heading forward with its smart capital allocation strategy that is generating consistent growth. The company continues a fundamentally sound business in the ultra-deepwater segment where revenue continues to grow. With steady crude oil prices, successful exploration programs, continued geographic expansion and a solid backlog of field development projects, the ultra-deepwater segment is poised to provide outstanding future growth opportunities.
In Conclusion
Noble's expansion strategy is creating predominately premium asset fleet positions to efficiently address its future opportunities in high-specification jackups and ultra-deepwater drilling applications. The company has a pretty solid stream of income and it has the ability to quickly turn revenues into earnings. In addition, the company has been making massive investments to generate hefty cash flows and to pay increasing dividends. At the current price, Noble is offering an attractive entry point.
Disclosure: I have no positions in any stocks mentioned, and no plans to initiate any positions within the next 72 hours. I wrote this article myself, and it expresses my own opinions. I am not receiving compensation for it (other than from Seeking Alpha). I have no business relationship with any company whose stock is mentioned in this article.