In case you haven't been paying attention to the greatest single threat to the ongoing recovery, the EU debt crisis (it was never just Greece), here's an update since my last summary.
Review Of Past Phases
The unsustainable deficits of the PIIGS block were around long before 2009, but a crisis does not begin until the markets recognize it and confidence starts to plunge and reflect itself in the markets.
The dire state of Greek and other PIIGS block members did not catch media attention until Dubai World threatened default in late November 2009. International credit ratings agencies were again caught by surprise after the Bear Sterns and Lehman collapses (as well as the near collapse of the global banking system in September 2008).
Seeking to restore credibility, they started doing their jobs and lowered ratings on a number of PIIGS block countries. Greece was the most vulnerable to default given its highest deficit to GDP ratio, fundamental insolvency (it spent more than its tax revenues and had little hope of reversing the situation any time soon), overly optimistic financial statistics and culture of tax evasion and corruption that all combined to make a rapid turnaround unlikely.
From the start of 2010, the EU essentially did nothing but deny there was any serious problem, and agree to reach an agreement to aid Greece if aid should be needed.
Two Deadly Mistakes
There were 2 key foreseeable problems with this rather casual approach.
1. Lack Of Resolve On Both Sides
First, no one really wanted to spend their taxpayers' money to help Greece
Even the stronger EU economies already had excessive deficits from stimulus spending to aid their struggling economies.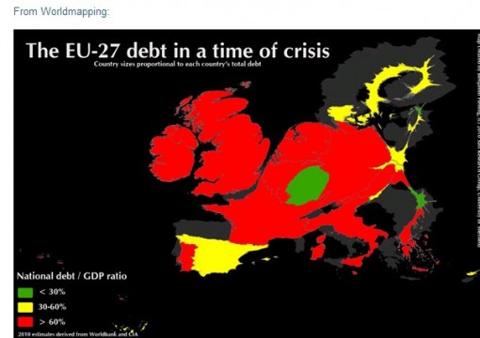 It would be political suicide for a leader to ask voters to increase deficit spending, especially when it was unclear if any affordable amount would save the PIIGS, all of whom had brought their problems on themselves.
It was unclear that Greece and others had the political and popular will to make the needed spending cuts anyway, given the strikes and unrest in response to austerity plans offered.
Justifiable fear that any kind of rescue seen as a gift, bailout, or subsidy would only encourage the PIIGS to continue to avoid financial and fiscal reform.
Justifiable fear that no one really knew how much it could cost to stabilize the PIIGS block, and without a comprehensive solution any one of them defaulting would likely set off a wave of PIIGS defaults as scared bond markets would demand borrowing rates beyond what the PIIGS could afford.
2. Overestimated Deadline For Resolution
Second, everyone thought there was plenty of time before there was any real risk of sovereign default and contagion of sovereign and related big EU bank defaults. EU officials were not especially rushed.
Asset markets in general showed no signs of panic on the issue. All assumed they had time to engage in a drawn out negotiation as each party jockeyed for the best deal. Besides, as falling EUR was good for exports and growth, no?
Bond markets also did not see imminent threat, as rates did not climb quickly. Meanwhile equity and commodity prices also continued there up-trend, as the US produced another round of beats on monthly jobs and spending data, and all anticipated a good US earnings for Q2.
What everyone forgot, markets included, was that fear does not grow in a steady linear fashion. Left untreated, the EU debt crisis would result at some point in a geometrically soaring climb in PIIGS bonds borrowing costs if markets concluded that there really wasn't a firm EU resolve /backstop for PIIGS bonds. That would accelerate the rise in risk premium on PIIGS bonds as concern went from mild to deep, pre-panic levels.
This is precisely what has happened over the past week (see below chart, click to enlarge).
Thus borrowing costs for the PIIGS slowly but steadily rose while the EU dithered, making any ultimate rescue more expensive. The euro also entered an extended downtrend that began with the first signs of this crisis with credit ratings downgrades and warnings of Greece, Spain, and Portugal.
Update On The Past Month: Risk Premium Goes Viral
The EU realized that confidence was eroding and driving up PIIGS borrowing costs. So on March 25th the EU came up with its first somewhat detailed rescue plan. It even included IMF aid as additional support; Greece immediately tested the new support with a bond sale that saw continued rising rates. That's because markets correctly saw enough ambiguities to cast doubt on EU resolve and whether Greece would really get funds it needed at rates it could afford.
Moreover, as EU officials attempted further clarification, Germany started backtracking and casting doubt on its participation and on whether the rates charged Greece would truly be below market at all, and if so, would be low enough to make a real difference.
Greece attempted another bond sale, which again saw the additional rates demanded vs. German bonds rise to double what they had been a mere 6 months earlier. EU credibility was eroding, but most still believed it was all just negotiating ploys that would ultimately end in a rescue in order to avoid a wave of sovereign and bank defaults. The bonds did sell, and the increase was bad but not decisively bad given that the notes were only short term obligations of 3 and 6 months. Global equities continued to rise, suggesting markets continued to anticipate a resolution for the Greek debt crisis. However, oil, gold, and most risk currencies have been falling since early April, a bearish negative divergence. These had all been pulling back before the last stock pullback in late January.
Then things started to get ugly fast.

German and Swiss economists seeking to prevent massive money printing and erosion of the value of the euro threatened to challenge the rescue in court. Germany and others remembered that parliamentary approval for their contribution to the rescue was needed, and that might take months.
However, Greece had only enough cash on hand to get through the end of April – mere weeks, before needing to sell around another € 10 bln in bonds for maturing bond obligations.
Greece planned to offer a dollar denominated bond (who would want euros now?) aimed at the US market. Weak demand put those plans on hold.
Suddenly it was proposed that the IMF would need to step in with the first payments because the EU might not be ready due to the above challenges. Less than a month before IMF participation was considered an unacceptable blow to EU credibility. Now it was the only thing standing in the way of a Greek default.

EU credibility? Goodbye, au revoir, adios, auf weidersehen?
This past week saw PIIGS block credit default spreads (indicative of the interest rates that would be demanded on new bonds) soar, hitting repeated highs for Greece. See More EU/Euro Bleeding, And 3 Reasons Washington May Refuse Aid.
Note the chart below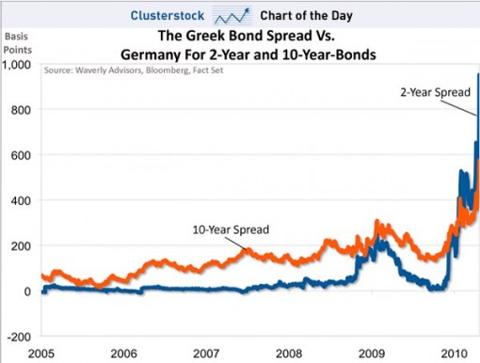 02 apr 23
As Clusterstock notes:
You can see how the spread has just exploded, rising faster than at any time. This shows a collapse of Greece's perceived creditworthiness.

Note how the 2-year spread is now higher than the 10-year. That's mainly because 2-year Greek bonds are yielding over 10% due to their market rout, and the ten year Greek bond is at about 8.8%. Extend this trend for even a short period of time and it's all over for Greece's finances
Over the past days, Greece's 2009 deficit was revised higher from 12.7 to 13.6% of GDP, Moody's downgraded Greece's credit rating to below that required under the usual ECB standards, making Greek bonds unfit to serve as collateral for ECB loans. As noted recently in More EU/Euro Bleeding, And 3 Reasons Washington May Refuse Aid, all PIIGS block countries are now being hit with climbing borrowing costs, threatening a wave of sovereign defaults if they are shut out of bond markets and overwhelm EU and IMF resources.
Faced with borrowing costs now many hundreds of basis points above the roughly 5% envisioned by the latest rescue plan for 3 year notes, Greece formally requested the aid Friday April 23rd.
As of this writing, most asset markets are not overly concerned. Stocks remain near 52 week highs, and the EUR/USD is holding at support of 1.3300. Bonds and stocks are actually rallying on news of the request, reflecting a belief that aid will come and there is no immediate threat of default or contagion.
Our Take: Four Reasons to be Fearful
We find the continued calm amazing. To summarize our chief concerns:
Greece Inspired Fear Pushes Up Borrowing Costs For All PIIGS: This means countries that were in trouble but were managing, like Spain and Italy are now moving closer to the point at which manageable debt loads become unaffordable due to rising borrowing costs.
Greece Is Just The Beginning: Even if Greece gets through May, Spain needs € 30 bln in July: to avoid its own default, and it too is seeing rising credit default spreads along with the rest of the PIIGS block. Perhaps rates will have come down by then. If not, then even if the current rescue plan can be activated in time, that would essentially empty its roughly €40 bln coffers assuming Greece only needed € 10 bln. Greece will need about 20-30 bln more Euros, and that's just Greece alone. Taken together, Italy and Spain alone would eventually overwhelm EU and IMF resources, never mind the rest of the PIIGS and other weak economies that can no longer access bond markets.
Doubtful Political Will: Would voters of contributing nations accept paying this bill, especially when untold additional amounts will be needed for any permanent solution (€ 80 per ECB official Weber just for Greece's long term rescue)?
Contagion: The potential for rising rates to push the entire PIIGS block (and possibly large EU banks holding these bonds) into default is very real and growing, but ultimately it would only be a spark for even greater troubles. The next dominos to fall could be general credit liquidity and sovereign debt yields.
Just a few consequences to consider if that comes about:
Greek banks are major lenders in Eastern Europe. As major holders of Greek bonds, a default would likely cause a credit freeze in this region as Greek banks contract.
Japan currently pays only about 1.4% on its longer term bonds, yet its national (without considering municipal) debt service costs are already over 26%. A mere rise to 2.8% would put debt service at an unbearable 52%+ of its budget.
The US and UK would also be under severe strain with even a 1% increase in long term bond rates.
It's the c-word that is so scary. Once interest rates start to climb, markets will not avoid a drastic pullback at the very least. Many other consequences, but you get the idea.
Disclosure: No positions