Many pundits are predicting doom and gloom. To be sure, if current debt trend lines are extrapolated – the resulting interest and associated tax loads will be unmanageable. This does not take a doctorate from Harvard to understand.
But even those Harvard doctorates cannot tell you what the tipping point for debt would be.
No mathematical model exists for economic tipping points - or the timing of the tipping point. Even if this mathematical model existed, it would still lack any precision as many economic and non-economic events could drastically effect the tipping point.
Unless a pundit is willing to put dates on predictions, their prediction lacks creditability.
This week's economic data continued to confirm the economy has bottomed with a slight upward bias. The NBER also confirmed last week that the economy is improving but claimed it was "premature" to say the recession is over.
Simply put – this "recovery" is not normal. Unemployment is longer lasting and deeper than other post-WW2 recessions. Other post-WW2 recessions were not accompanied by housing price deflation – and there is a big question whether housing prices have bottomed. Consumer spending is weak. Per capita income is still contracting.
Having a feeling that "things aren't quite right" would not be off base.
Even though the economy is acting atypically, I challenge anyone to point to current economic data and demonstrate instability. I would lay the same challenge to those who want to claim there is strength in any of the data. The economy, as John Mauldin writes, is simply muddling along.
The U.S economy is still stuck between recession and expansion – in the dreaded "L". With little evidence of strength, the NBER must have been worried about any unforeseen events skewering the weak economy.
So will some semblance of a real recovery manifest, or are we in the eye of the storm? The only answer is that the economy has billions of elements. They do not turn in unison. New economic directions take time to develop. I would bet tomorrow will be the same as today.
I want to apologize for not publishing an article last week, and that the amount of time I could allocate to this week's article is significantly less than my normal effort. An event in my life (not a bad event) took significantly more effort than I envisioned. Unless I am faced with another unexpected event, next week's review should be complete.
Manufacturing
Advance durable goods sales for March 2010 improved strongly MoM and YoY unadjusted. No matter how you cut it – consumer spending is up for the last three months and should be considered a trend.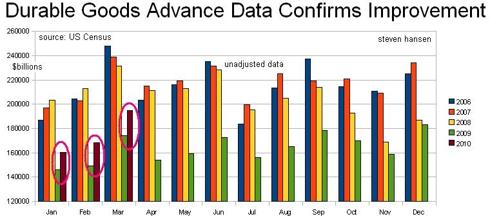 But there is always a "but". In this case there are two "buts". The first "but" is that the improvement was not gradual – and began with a obvious stepped improvement in January 2010. The deltas YoY from January to March 2010 are almost identical numerically. It is strange and an explanation is not obvious (analysis anyone??).
The second "but" is unfilled orders or backlog.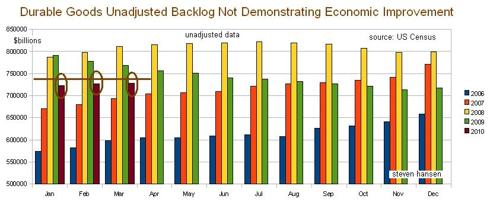 With the YoY increases in new orders, you would have expected an improvement in backlog. I use backlog as a gauge of the economy. If backlog improves, it confirms the economic conditions are improving – conversely, a decrease tells you the economy is sick.
Here we seem to have a flat line backlog, and conveniently it confirms my supposition that the economy is showing no growth yet.
Home sales
New and existing home sales data was released this week. With the ugly hand of stimulus (first time buyers credit) in play, the rise in sales in both areas cannot be interpreted.
The tax credit now applies to sales occurring on or after January 1, 2009 and on or before April 30, 2010. However, in cases where a binding sales contract is signed by April 30, 2010, a home purchase completed by June 30, 2010 will qualify.
Stimulus has the effect of moving forward purchases – and typically following expiry sales decline. In other words, stimulus only changes the time curves of purchases – and not the cumulative purchases over time.
Sales of new single-family houses in March 2010 improved 27% MoM.and 24% YoY. Inventory is claimed to be 6.7 months at the current sales rate.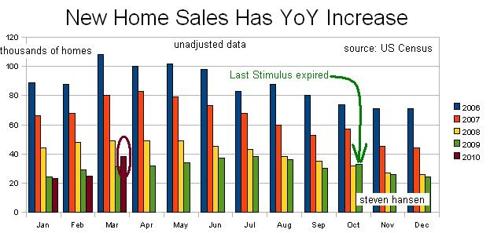 Existing home sales improved in March 2010. A portion of the news release from the National Association of Realtors (NAR) stated in part:
Lawrence Yun, NAR chief economist, said it is encouraging to see a broad home sales recovery in nearly every part of the country, with two important underlying trends. "Sales have been above year-ago levels for nine straight months, and inventory has trended down from year-ago levels for 20 months running," he said. "The home buyer tax credit has been a resounding success as these underlying trends point to a broad stabilization in home prices. This is preserving perhaps $1 trillion in largely middle class housing wealth that may have been wiped out without the housing stimulus measure."
The bold sentence can only be proven in hindsight if the home sales prices do not decline further. I will do a home sales price evaluation with my analysis of Case-Shiller home price release.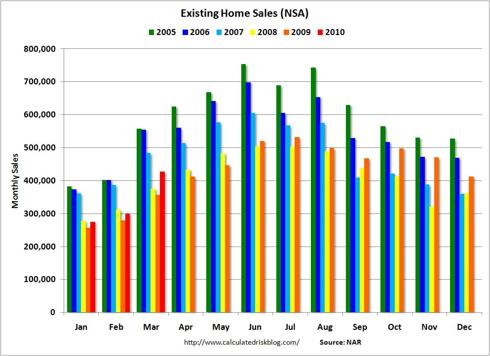 Unemployment
The four week moving average of initial unemployment claims increased slightly for the week ending 17Apr2010. Initial claims trend remains flat.

Other Economic News
New Bankruptcy filings this week: None
Bank Failures this Week and Last Week: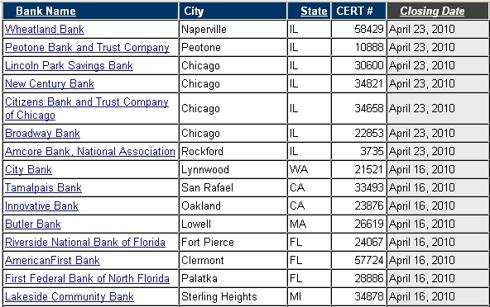 The FDIC has been busy over the last few weeks.
Economic Forecasts this Week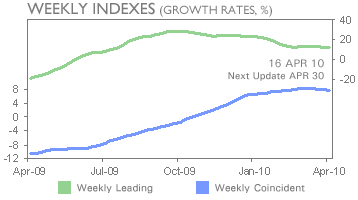 The Economic Cycle Research Institute (ECRI) Weekly Leading Index rose to a nearly two-year high in the latest week, indicating that the recovery remains underway, The index's annualized growth rate fell to a 37-week low of 12.5 percent from 12.6 percent a week earlier. Managing Director Lakshman Achuthan stated:
With the WLI rising to a 99-week high, the economic revival will continue in the months ahead.
Disclosure: GLD, XPH, XLB, XLV, FTR, IOO, HYG, KSWS, PIN, XHB, WMT, GDX, physical gold - as well as numerous puts and calls which comprise less than 3% of my portfolio