Investors have been reeling after the Dow was down over 300 points and the CBOE Volatility Index, the VIX, spiked over 31% to 18.14. When panic sets in, nervous investors begin to bail and sell out of positions that may be unwarranted. It's a market-wide sale that value investors flock to. There's an old saying on Wall Street: "Nobody ever made a dime by panicking." No one knows that better than followers of traditional value investing.
But not all stocks that get sold on market pull backs are created equal. Stocks that have missed earnings or operate in cyclical sectors like manufacturing tend to get oversold, creating big opportunities for investors that understand how to judge a stock on its intrinsic value. Companies that issue dividends, have low debt liabilities, have a P/E ratio of less than 20, and a PEG ratio under 1 have the ability to bounce back from challenging markets and remain fundamentally profitable.
The Babcock & Wilcox Company (BWC) is a $3.7 billion machinery powerhouse specializing in energy products. It is heavily engaged in the nuclear industry and provides equipment and reactors to the U.S. Navy for aircraft carries and submarines. The stock trades at 15 times earnings with EPS growth this year of over 33% giving it a PEG ratio of 0.75.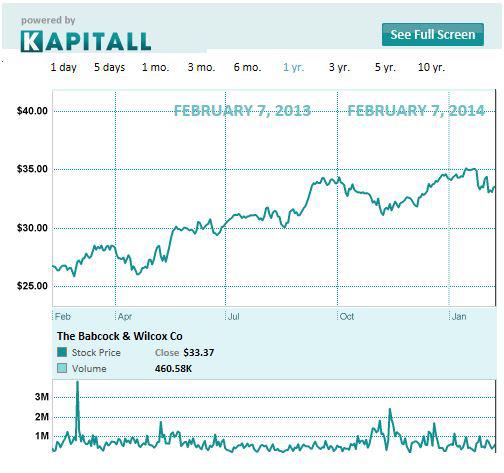 Click here to see data in full. Sourced from Zacks Investment Research.
The company carries no long term debt and pays a dividend of $0.10 a share, which was just increased by 25% last quarter. Adding to the stock's defensive capabilities, management has authorized a share buyback program for a total of $500 million. B&W has also engaged in a Global Competitiveness Initiative which has improved efficiencies and reduced costs by $60 to $70 million.
Magna International, Inc. (MGA) is a large cap diversified automotive conglomerate with operations across the globe. It sells nearly every part of a vehicle to almost every auto manufacturer in the world, and with new expansions into a growing Asia and higher operating margins in Europe, it's positioned to climb with the global recovery. The stock is cheap trading at less than 14 times earnings, and EPS growth this year of 45% gives it a PEG ratio of 0.92.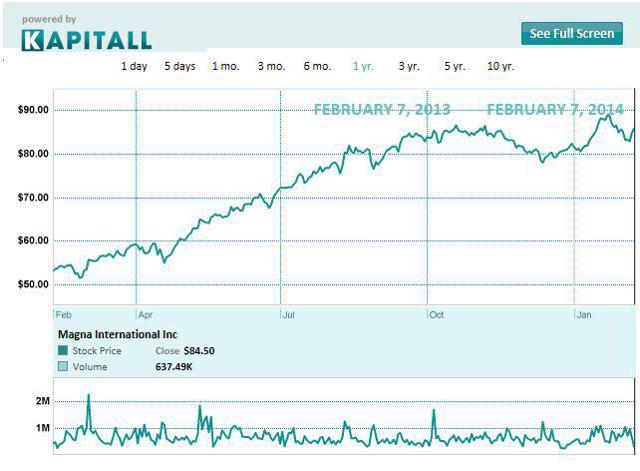 Click here to see data in full. Sourced from Zacks Investment Research.
It has a long term debt to equity ratio of just 0.01 and pays out a dividend yield of 1.5% at current price levels. Magna has a plan to use $1 billion that was set aside this year either for new plants, an acquisition, or stock repurchases, which give back value to shareholders.
Arctic Cat Inc. (ACAT) is a small, $580 million company that makes ATVs and snowmobiles. It has reported earnings misses for the last few quarters, and its most recent report of $0.89 per share was almost 33% off the analyst consensus of $1.32. Because the stock had been up over 50% in the last 12 months before the miss, it took a tumble and is now down 25% for the year. The fundamentals of the company, however, remain intact. The stock trades at 16 times earnings with EPS growth this year still high at 68% giving it a PEG ratio of 0.83.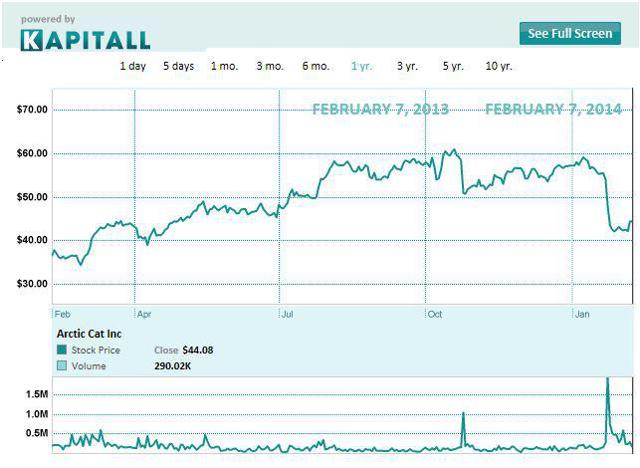 Click here to see data in full. Sourced from Zacks Investment Research.
Arctic Cat has no long term debt and pays a dividend with a yield of 0.9%. Management said that they expect a strong 4th quarter thanks to strong sales of the new 2014 Wildcat 50 Trail model. If the company delivers on earnings, look for a sharp pop in this stock price.
Value stocks can be difficult to judge on a short term basis and can be volatile investments. While companies with a high intrinsic value may trade at discounted prices, they could stay at depressed levels for an extended period of time. Investors will need to watch these companies going into 2014 and be alert to negative trends that could develop.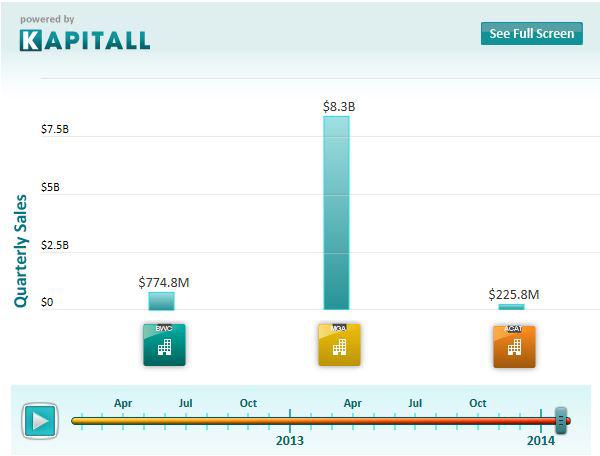 Click here to see data in full. Sourced from Zacks Investment Research.
Disclosure: I have no positions in any stocks mentioned, and no plans to initiate any positions within the next 72 hours.
Business relationship disclosure: Kapitall is a team of analysts. This article was written by Daniel Cross, one of our writers. We did not receive compensation for this article (other than from Seeking Alpha), and we have no business relationship with any company whose stock is mentioned in this article.