The decline in the share price of Target (NYSE:TGT) has been well documented by several dividend growth disciples. The share price has been on a continuous decline since hitting its 52 week high back in July 2013. Shares have declined almost 30% since then and are down almost 12% YTD. Target has lost more than $10 billion off its market cap in that time. The credit/debt card data breach has led to the most recent selloff noted by the steep decline in share price since 2014 began.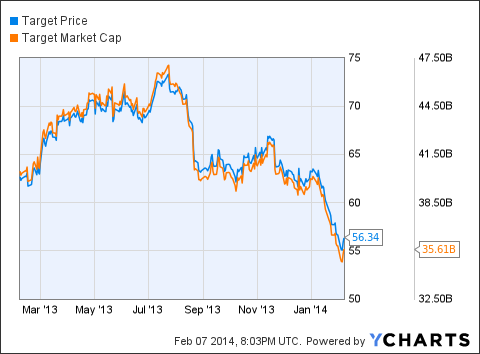 TGT data by YCharts
Credit/Debit Card Data Breach
In mid-December Target management learned that a hacker had breached their system and stolen some customer information including names, mailing addresses, email addresses and phone numbers. The key though is that social security numbers were not taken as well. So in other words the hacker was able to get information that you most likely have on your Facebook (NASDAQ:FB) or LinkedIn (NYSE:LNKD) profiles. That doesn't mean that we should completely disregard the privacy concerns resulting from the data breach, but this doesn't change the outlook for the company in the long-term. Target is providing credit monitoring services for those that were affected and will claim full responsibility, as they should, for any charges you didn't make.
People are creatures of habit and generally have a horrible memory. As investors, we are more keen on the happenings at the companies we own or want to own and keeping up with the news; but the average consumer will forget about this shortly. My own memory of this is already skewed as I thought the breach happened in August or September of 2013. In December 2006, TJX Companies (NYSE:TJX) went through its own credit card breach where 94.5 million customers were affected. If you think consumers care, take a look at the following charts.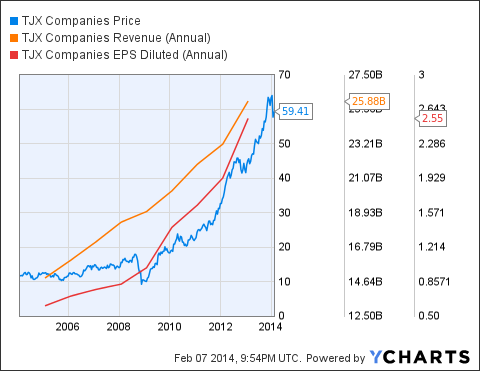 TJX data by YCharts
Share price, earnings per share and revenue all increased over the period of the TJX breach and that's after taking into account the negative charges to earnings per share to resolve the lawsuits and tighten up network security. As time passes consumers will forget all about this hiccup and focus on what matters to them. Do they have the product I need? And is the price reasonable?
This is of no concern for long-term investors except that it's presenting an excellent buying opportunity. Target is trading at the highest yield its shares have offered in over 5 years and is trading around the historical P/E ratio average.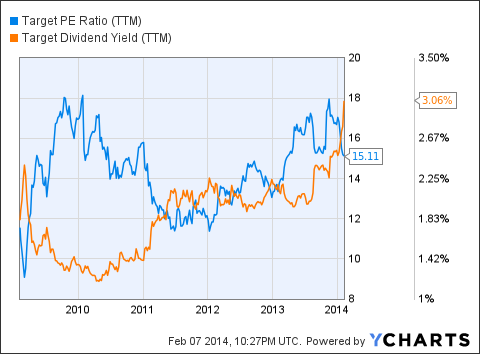 TGT PE Ratio (TTM) data by YCharts
The dividend remains well covered with a TTM payout ratio of 45.9%. Earnings per share could take a 25% and the payout ratio would only climb to 61%. This is a great opportunity for long-term investors to add to or initiate positions into a dividend champion with 46 consecutive years of growing the dividend.
Disclosure: I am long TGT. I wrote this article myself, and it expresses my own opinions. I am not receiving compensation for it (other than from Seeking Alpha). I have no business relationship with any company whose stock is mentioned in this article.
Additional disclosure: I may add to my position over the next 72 hours.