Las week - on February 6 - the news reports surfaced that Kinder Morgan Inc. (NYSE:KMI) is being sued in a class action by one or more investors in Kinder Morgan Energy Partners LP (NYSE:KMP) because of how KMI, over several years, determined distributable cash flow and the distribution amounts paid to KMP investors along with the amounts of incentive distribution rights - IDRs - paid to KMI as the general partner of KMP. MLP Data has obtained a fax copy of the full complaint, "JON SLOTOROFF, Plaintiff v. KINDER MORGAN, INC.; KINDER MORGAN G.P.,INC., Defendants,-and KINDER MORGAN ENERGY PARTNERS, L.P.,Nominal Defendant." Dated February 5, 2014. I have read through the entire 39 pages of the complaint to pass along my findings and impressions.
The underlying argument in the suit is that KMI, as general partner, allocated too little of KMP's capital spending to maintenance capital which reduces DCF, and too much of to expansion capital, which is typically funded through equity issuance and debt. As a result, KMI set distribution rates to KMP unit holders too high and earned billions in IDRs for itself. Also, the equity and debt issues unfairly burdens and dilutes the holdings of KMP limited partner investors. The lawsuit arguments focus on the years 2010 through 2012. From the lawsuit:
"By allocating expenditures wholly or almost wholly to Expansion Capex rather than Maintenance Capex, KMI has ensured that, quarter after quarter, hundreds of millions of dollars exit KMP through improper Distributions and are thereafter not available for maintenance or other operational purposes. This practice leaves KMP vulnerable to, at best, a steady decline in earnings over the coming years and at worst, an utter inability to respond to problems that may arise."
Lawsuit Arguments Are Not Convincing
The basis of the lawsuit is that the KMP partnership agreement requires that KMI, as general partner, must exercise "good faith" when determining distributable cash flow and subsequently the distributions paid to LP investors and the IDRs going to the GP. Maintenance capex is subtracted from operating cash flow, reducing the level of DCF. The lawsuit uses several "comparisons" to try to make the case that KMI allocated too small of a portion of KMI's capital spending to maintenance capex. From my layman's point of view, it would seem pretty easy to shoot holes in most, if not all, of the arguments.
As its primary argument, the lawsuit uses a comparison of the claimed maintenance capex compared to the GAAP amount for depreciation, depletion and amortization. The argument goes that since KMP only claimed maintenance capex equal to 20% of DDA, this is proof that the company mis-allocated total capex. Another quote from the complaint:
"If KMI followed the practice of its acquired companies and its peers and increased KMP's Maintenance Capex to levels approximating KMP's DD&A expenses, the majority of the Company's total capital expenditures would be allocated to Maintenance Capex rather than to Expansion Capex"
Spectra Energy Partners, LP (NYSE:SEP) was given as KMP's "closest peer" to compare maintenance capex to DDA percentages. In 2012, for KMP maintenance capex equaled 23% of DDA and SEP claimed 68%. There's your "proof". However, it is my understanding of DDA and opinion that for a company like KMP that is rapidly growing its business, there is little relationship between the front-loaded, bookkeeping DDA and the back-loaded cost to maintain pipelines and other assets. As another comparison, in 2013, the maintenance capex of Spectra Energy was 14.5% of net income while at KMP, maintenance was 12% of the net.
Some of the statements in the document put forth the idea that the majority of KMP's capex should be allocated to maintenance rather than growth. Anyone familiar with the Kinder Morgan growth history understands the dubious nature of this claim. The lawsuit also makes a big deal of how KMP's pipeline throughput has not increased even with the large amount of claimed growth capex. However, the claimant pretty much shoots itself in the foot with this line in the lawsuit:
"Although KMP's DCF (and reported Expansion capex) has grown steadily, volume throughput has actually declined. Thus, the Partnership's revenue growth has been driven primarily by new, accretive acquisitions, and not from any expanded capacity."
Somebody explain to me how it matters where the revenue growth comes from.
Sour Grapes Lawsuit vs. Actual Damages
The whole point of the lawsuit seems to be a claim that KMP investors would have been better off if higher reported maintenance capex had produced lower DCF and smaller dividends paid to KMP investors. Because of the IDR arrangement, KMI earned just too much money while making both KMI and KMP investors richer. I think it is important to note that the KMP IDRs have been in the high, 50% split since the late 1990's with dividends to KMP increasing steadily over the years. There was no incentive for KMI to push dividends higher to receive a greater percentage of the cash flow. The argument in a nutshell from the lawsuit:
"As a result KMP's Limited Partners have suffered damages. The bad faith allocation of Maintenance Capex has artificially inflated KMP's growth rate and profitability, resulting in overvalued securities that are not adequately supported by KMP's business."
As far as damages go, the lawsuit focuses on getting KMI to admit it was a bad boy with its allocation of capex and the following:
"Plaintiff primarily raises a direct claim that KMI has breached its contractual obligations to Plaintiff and KMP's other limited Partners. To the extent that any equitable remedy may include disgorgement of KMI's undue profits, with that money going back to KMP, Plaintiff also alleges derivative claims on behalf of Nominal Defendant KMP."
Short Sell Pressure on KMI Through the Legal System
The argument that KMP investors have been hurt by receiving dividends that should have been lower makes it hard to see how KMP investors have been financially harmed. It seems to be a likely assumption that this lawsuit was filed to put pressure on the KMI share price, setting up a short selling opportunity. The question of how much should be counted as maintenance capex is always a question when looking at an MLP's distributable cash flow. However, there does not seem to be a valid argument that KMI willfully put at risk the $1.3 billion plus it receives each year from KMP as IDRs and LP dividends.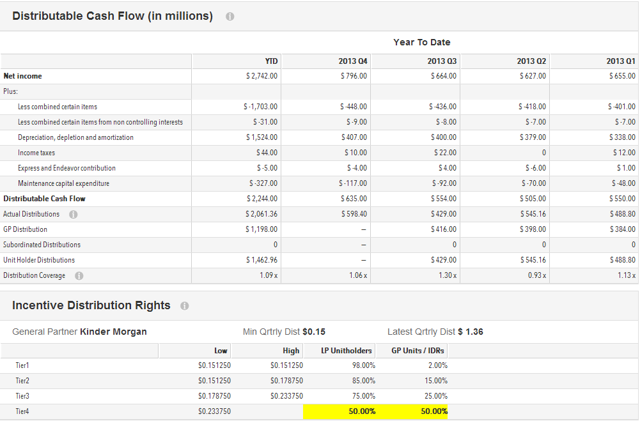 Check on MLPData.com for the latest updates on the distributable cash flow numbers of your favorite MLP companies.
Disclosure: I have no positions in any stocks mentioned, and no plans to initiate any positions within the next 72 hours. I wrote this article myself, and it expresses my own opinions. I am not receiving compensation for it (other than from Seeking Alpha). I have no business relationship with any company whose stock is mentioned in this article.