The gold price rebounded from its first weekly decline of the year last week beginning with a strong rally on Monday as equity markets plunged and then culminating with another surge on Friday when Chinese buyers returned from a week-long holiday. After a multi-year decline and the formation of a double-bottom, gold is once again at a critical juncture near prior levels of resistance between $1,250 and $1,300 an ounce.
In part, due to recent weakness in broad equity markets, U.S. investors continue to make tentative moves back into gold and this was seen again in recent days with more small inflows into metal ETFs. Perhaps more importantly, investors in the U.S. have taken notice of soaring gold stocks, one of the star market performers so far this year, and this could bode well for this sector as a whole in the period ahead. Whether these trends continue remains to be seen, but, after five full weeks of trading, 2014 is shaping up to be much different than 2013, much to the delight of gold investors.
For the week, the gold price rose 1.7 percent, from $1,245.90 an ounce to $1,267.10, and silver jumped 4.3 percent, from $19.17 an ounce to $20.00. The gold price is now up 5.1 percent for the year, still 34 percent below its all-time high of over $1,920 an ounce in late 2011, and silver moved back into positive territory for the year, now up 2.9 percent but still 60 percent below its record high near $50 an ounce almost three years ago.
Disappointing economic data in the U.S. and the still strong inverse correlation between stocks and precious metals led to big price surges for both gold and silver on Monday. But, on Friday, the metals moved higher along with broad equity markets that, apparently, interpreted another weak jobs report as a sign that the Federal Reserve may slow the tapering of its money printing effort. More light may be shed on what the Fed has in store for markets in the week ahead when new Fed Chair Janet Yellen makes two appearances on Capitol Hill in Washington D.C.
Both metals now face strong technical resistance and, until key levels over $1,270 an ounce for gold and above $20 an ounce for silver are taken out, selling into rallies is likely to be the preferred course of action for metal traders.
But, that could soon change.
As shown below, net inflows have now occurred during three of the last four weeks for the SPDR Gold Shares ETF (NYSEARCA:GLD) and, given the relatively modest rise in price in recent weeks, this could be significant.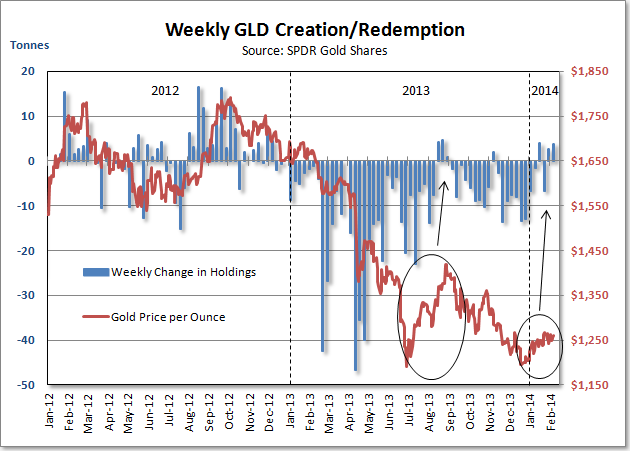 Over the last year, August was the only other occasion when similar gains were seen for GLD holdings and this occurred only at the very end of a nearly 20 percent move higher to over $1,400 an ounce.
With equity markets weak so far this year, it seems clear that U.S. investors have a renewed interest in gold. How long that lasts and if it intensifies are key questions.
Recall that GLD holdings are widely considered to be a solid gauge of investor sentiment in the West, but clearly a lagging indicator as shown in the chart.
The fact that there's not been much of a lag this time around could be quite important for any ongoing gold market rally in that already stressed physical markets could be further pressured if GLD inflows increase.
As for silver, the holdings for the popular iShares Silver Trust ETF (NYSEARCA:SLV) fell by 49 tonnes last week after rising by 66 tonnes the week prior. SLV holdings are now 87 tonnes higher than where they began the year as this ETF continues to see solid demand despite the metal coming up on the three-year anniversary of a record high near $50 an ounce, more than double its current price.
Markets in China, the world's largest gold consumer where the physical metal is much preferred over the paper variety, re-opened on Friday after a week-long Lunar New Year holiday and this contributed to the late-week move higher in metal prices. The Economic Times reported that gold premiums rose from $4 an ounce just prior to the holiday to $11 an ounce in Friday trading in a clear sign of strong ongoing physical demand.
In India, following speculation that the government may relax gold import curbs after their trade deficit declined, Reuters reported that a finance official said they have no plans to roll back these measures. Gold premiums in India fell last week from about $80 an ounce to below $75, however, smuggled gold was said to be available at a premium of just $65 an ounce and this has been a rising source of gold supply into the country.
Back here in the U.S., CoinNews reported that sales of one-ounce gold coins rose to 4,755,000 in January, a total surpassed only three times before during January of the last three years - 7.5 million in 2013, 6.1 million in 2012, and 6.4 million in 2011. Demand for one-ounce silver coins was also strong, however, the U.S. Mint continues to ration these sales after record demand last year. Recall that U.S. coin sales normally surge in the beginning of the year when new issue coins are introduced, so, month-to-month changes at this time of year are almost meaningless.
Lastly, one of the more intriguing investment stories of the new year has been the stellar performance of gold and silver mining stocks that, after a horrendous few years of once unimaginable losses, are now up substantially in 2014. They have much ground to make up after their 2011-2013 performance, but gold stock funds such as the Market Vectors Gold Miners ETF (NYSEARCA:GDX) and the Market Vectors Junior Gold Miners ETF (NYSEARCA:GDXJ) are up an impressive 13 and 25 percent, respectively, after just five weeks of trading with many individual shares having risen by multiples.
Renewed interest in gold and silver mining stocks is surely a positive factor for the metals as the lack of confirmation from the equities portion of the precious metals market has been considered a negative factor for the price of the metals for some time.
What was notable about the relationship between gold and gold stocks last week was that, at the same time that Bank of America predicted the gold price would soon fall to $1,000 an ounce, the World Gold Council reiterated their view that gold prices below $1,200 an ounce would force production cutbacks that could reduce mine output substantially. One of these views is clearly wrong and my guess is it's the former.
Disclosure: I am long GLD, GDX, GDXJ. I also own gold and silver coins and bars. I wrote this article myself, and it expresses my own opinions. I am not receiving compensation for it (other than from Seeking Alpha). I have no business relationship with any company whose stock is mentioned in this article.