American Capital Agency (NASDAQ:AGNC) is an agency mortgage real estate investment trust (or "MREIT") that uses borrowed funds to invest in mortgages backed by Government Sponsored Enterprises (or "GSE") most commonly Fannie Mae or Freddie Mac.
AGNC on a recent conference call to discuss earnings announced they had taken the unusual step of purchasing common stock of fellow MREITs at a hefty discount to book value. The bold move was quite controversial and took up much of the discussion. We believe shareholders stand to greatly benefit from the action and demonstrates why AGNC is best managed MREIT.
AGNC is headed up by Gary Kain, who ran trading at Freddie Mac's broker dealer before assuming command of Freddie's vast $700 Billion+ portfolio of mortgage assets. Note this was separate from the guarantee business that assumed credit risk for all of Freddie's issued mortgage securities, that was largely responsible for the company's near (or actual depending on one's point of view) demise.
Kain and his team launched AGNC largely with the same leveraged mortgage purchase approach as Freddie Mac. Mortgage assets are purchased and funded with mostly debt and limited amount of capital. This strategy is possible so long as mortgage assets can be sourced with a sufficient adjusted margin to the cost of funding.
Since mortgages can be prepaid, the borrower is viewed as holding an option that mortgage holder is essentially short. As a result mortgage cash flows are less predictable than a MREITS funding or liabilities. In making an assessment of whether to enter a leverage mortgage purchase, first the assets are valued in terms of their Option Adjusted Spread, a method of valuing the written option inherent within the mortgage. If the adjusted yield is sufficiently greater than the cost of funding it will result in a positive return on equity and the assets would be purchased. In many cases the value subtracted for the spread is similarly used to enter into, or purchase, various hedges, namely interest rate swaps and swaptions, to offset any potential funding mismatches due to the borrowers prepayment option.
It is in this area where the AGNC team excels at identifying mortgages with attractive prepayment characteristics relative to the funding costs, enhancing the ROE and ultimately value for AGNC shareholders. Examples include paying a premium for mortgages with favorable prepayment characteristics, at a time when the relative value of the borrower's option was appraised lower than the premium paid, allowing the AGNC team to enhance the ROE on the leveraged transaction. As these conditions reversed AGNC reduced their holdings of pay-up mortgages.
Most value equity investors look for similar nuances, capturing gains when assets trade at a discount to their intrinsic value. We are all familiar with the legendary Warren Buffett's success in the realm.
We all know Buffett as a brilliant business man building Berkshire Hathaway into what it is today. But as most investors are aware he buys great companies, sometimes entire companies, at a discount. Once acquired great management teams are left to run the business.
Kain's purchases of other MREITs at a substantial discount is akin to running AGNC the same way. Kain's team is high caliber at managing a leveraged mortgage book. But they can't buy mortgages at a the level of discount implied by the equity discounts today. As mentioned on the earnings call, they checked their ego at door and found the most attractive means to purchase mortgage assets at the deepest discount. The slide shown below indicates the purchases allowed AGNC to acquire mortgages with a yield 35 to 57 basis points higher than a direct purchase. Bearing in mind assets can be leveraged nearly 7 times it results in a substantially larger ROE for shareholders.
The same principle applied to Buffett maximizing shareholder value applies to Kains team. AGNC investor's should applaud the brilliance of the Kain and the management team as great stewards of the shareholders money.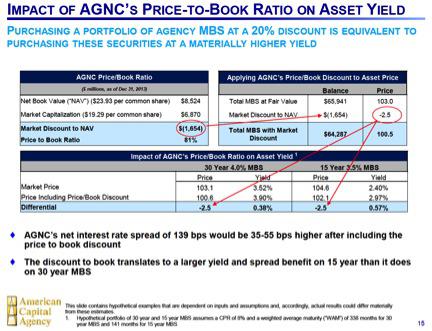 Disclosure: I am long AGNC. I wrote this article myself, and it expresses my own opinions. I am not receiving compensation for it (other than from Seeking Alpha). I have no business relationship with any company whose stock is mentioned in this article.