Amedica Corp (NASDAQ:AMDA), a bio-material firm that develops and manufactures medical devices, plans to raise $35 million in its upcoming IPO. See S-1 here.
The Salt Lake City, Utah-based firm will offer 3.2 million shares at an expected price range of $10-$12 per share. If the IPO can find the midpoint of that range at $11 per share, AMDA will command a market value of $143 million.
AMDA filed on December 30, 2013 with second tier underwriters.
Lead Underwriter: JMP Securities LLC
Underwriter: Needham & Company LLC
Business Summary
AMDA is a commercial bio-material firm, engaged in the development, manufacturing, and sale of various medical devices; the firm currently sells spinal fusion products-over 14,000 of which have already been implanted in patients-and is in the process of developing products for use in hip and knee replacements. See overview of several inter-body infusion products below.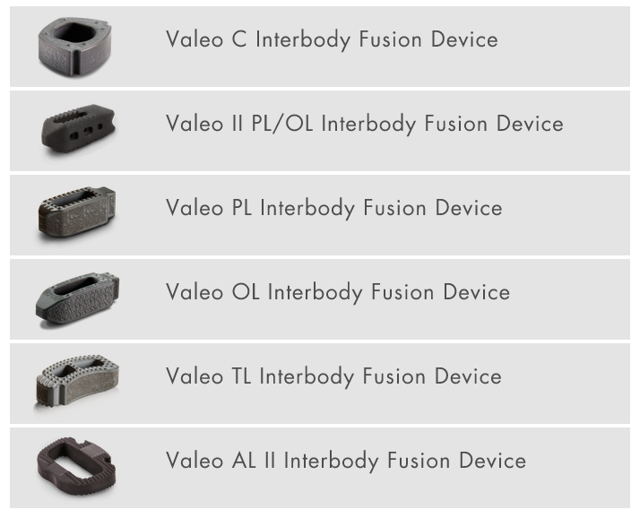 (Source: amedicacorp.com/product_types/valeo_inte.../)
AMDA is the only firm using a silicon nitride technology platform for medical applications. Silicon nitride bio-material promotes bone growth, hardness, and strength; resists wear; and has anti-infective properties that AMDA believes other commonly used bio-materials, like polyetheretherketone, cannot match. The firm also offers complementary non-silicon nitride spinal fusion products, which accounted for approximately 70% of AMDA's revenues in calendar 2011 and 2012. AMDA operates a 30,000 square foot manufacturing facility in Salt Lake City.
Valuation
AMDA offers the following figures in its S-1 balance sheet for the nine months ending September 30, 2013:
Revenue: $16,603,662.00
Net Loss: ($8,948,291.00)
Total Assets: $35,569,104.00
Total Liabilities: $28,009,394.00
Stockholders' Equity: ($153,896,102.00)
Strong Competitors
AMDA faces established and well-capitalized competitors in the markets for spinal fusion and hip and knee replacement products. Major competitors include Medtronic Inc (NYSE:MDT), Johnson & Johnson (NYSE:JNJ), Stryker Corporation (NYSE:SYK), Biomet Inc, Zimmer Holdings Inc (ZMH), and Smith & Nephew plc (NYSE:SNN), which collectively account for over 65% of orthopedic sales worldwide.
Management
President and CEO Eric K. Olson has served has served in his current positions since February 2012; he previously served as AMDA's Senior Vice President of Global Marketing. Mr. Olson's compensation for the fiscal year 2012 was $515,423 which seems excessive to us given the huge losses he is incurring as C.E.O.
Before joining AMDA, Mr. Olson was the Executive Vice President of Sales & Marketing for Axial Biotech, Inc, and he has also held senior sales and marketing positions with Medtronic, Inc. and Smith & Nephew. He holds a B.S. in Behavioral Science and Health Administration from the University of Utah, and has also completed a master's-level internship program at the same institution.
Conclusion
We rate this IPO neutral to negative in the current proposed price range of $10 to $12. We would not be surprised to see the deal priced below or at the lower end of the range.
AMDA is deep in debt, and its SEC filings foresee further, possibly increasing, future losses. See page 10 of the S-1.
AMDA faces very strong competition from numerous better-equipped firms, and it isn't clear that its technology platform differentiates its competitors' products in a way sufficient to overcome them-the majority of its revenues for 2011 and 2013 were generated by non-silicon nitride products.
We are also uncomfortable with the high executive compensation and the lack of major bracket underwriters.
Disclosure: I have no positions in any stocks mentioned, and no plans to initiate any positions within the next 72 hours. I wrote this article myself, and it expresses my own opinions. I am not receiving compensation for it (other than from Seeking Alpha). I have no business relationship with any company whose stock is mentioned in this article.