In a recent post, not so long ago, I had said:
"We must also contemplate how leadership quality impacts beta. We know that Amazon is a low-beta stock, despite completely failing to meet earnings growth objectives the past several years. Investors get impatient from time-to-time, but the stock's beta has not risen, mainly on account of CEO Jeff Bezos and the company's perceived leadership and ownership quality. And it retains its valuation because it retains its growth expectations and consequently its growth stock character. I may sound like I don't like Amazon, as it happens, I do like it. I would not buy it here, but neither would I sell it. Why I like it is another long story, best summarized by saying, like Tesla, it is building tomorrow today: it takes time to build the future, they'll get there."
Since the time I wrote, Amazon (NASDAQ:AMZN) is down over 10%. So I decided to measure the long-term alpha potential for Amazon for an investor with a long time horizon. I am pretty sure that Amazon will trade higher and lower than where it trades today. The easy answer is to say do not buy just yet. This post is more for the kind of investor who accepts that stock prices will decline during periods of risk aversion but believes that in the long term, the stock will perform well: thus the risk of not owning the stock and failing to capture long-term upside outweighs the pain of short-term paper losses.
Amazon is included on my Global Leaders portfolio which means that I like it. But I do not own it, though perhaps one day I will. For those of you who are looking for a view backed by a long position, stop reading now: there is nothing here for you.
Why I like Amazon
The top twenty traditional format global retailers are expected to generate over $2 trillion in revenues during 2013: you will find a list of these companies at the very end of this post.
Some of the larger traditional retailers like Wal-Mart (NYSE:WMT), Best Buy (NYSE:BBY), Barnes & Noble (NYSE:BKS) or Staples (NASDAQ:SPLS) draw revenue from e-retailing. Others like Apple derive substantial revenues in the context of the e-retail segment. But outside of Amazon, eBay (NASDAQ:EBAY), Rakuten (Japan), Asos (UK LSE) and Ocado (UK AIM), no large (revenue over $1 billion) business exclusively focused on e-retail comes to mind. And these companies together are expected to generate under $130 billion in revenue: a very small fraction (about 6%) of the total large traditional plus large e-retail revenues.
Over the long term, the total retail segment can be expected to grow at a rate in line with global nominal GDP growth of 8.7% (4.2% Potential Real GDP Growth and 3.8% global inflation, plus a little bit extra because of rising income levels in emerging markets). And because consumers have expressed a clear preference for the e-retailing format for several products, we can expect the traditional format retail to grow at a slower pace while e-retail grabs the higher share of growth. And it is not only a higher share of growth: e-retail can be expected to grow through capturing part of the revenue streams presently earned by traditional format retail.
By 2019, with annualized growth at 8.7%, we can expect a large traditional retail plus large e-retail revenue potential of $3.5 trillion. What would happen to growth rates for large traditional retail and large e-retail, if in the coming six years to 2019, e-retail grabs a market share of 20%, compared with 6% today? It would take large e-retail annualized growth at 32.48%, and large traditional retail growth at 5.84%, to bring about a situation where e-retail has a 20% market share in six years time. Given the furious pace of growth seen in recent years, this is very much in the realm of possibilities.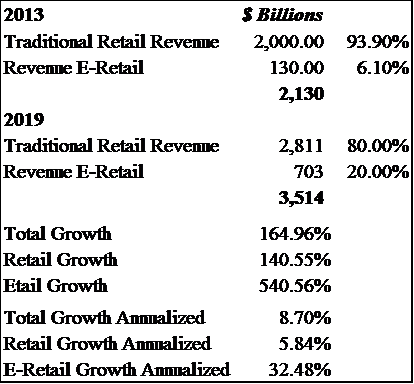 The ability to innovate and develop the best technology is one talent, but to think and execute to get the most out of it is quite another thing. I like Amazon's thinking and execution: they were early to the Cloud, and they flew high. They were early to e-retail, and they flew high. And I absolutely loved the making of potential competitors into customers which we see in the Market Place, Fulfillment by Amazon and Amazon Local Business services.
Ultimately, I like Amazon because it is the leader in a segment which has enormous growth potential, backed by a powerful multi-year track record of revenue growth. Unfortunately, its record on earnings is pathetic. But if we are to wait for earnings potential to be realized, any chance of creating alpha would disappear.
Amazon Revenue Growth Potential
Remember 2008 and 2009. It was something of a crisis with all stocks collapsing. Amazon was not spared. That was the price responding, not the value. What did growth do during those terrible times? In 2007 year-on-year revenue grew at 38.5%, during 2008 and 2009 it dipped to 29.19% and 27.88% respectively. In 2010 and 2011, it jumped joyously to 39.56% and 40.56%, respectively. By Amazon standards, growth in 2012 and 2013 has been disappointing at 27.07% and 21.87%, respectively. Does this mean that we should get used to slower growth rates from Amazon? In my view, perhaps it is not yet time for a substantial decline.
Retail is a volatile and cyclical business. It is useful to look at growth over a longer period. I look at a six-year period, since six years is close to the duration of a typical economic cycle. Amazon ended 2013 with six-year annualized growth at 30.85%, and over the 2008 to 2013 time frame, six-year annualized growth has ranged between a low of 29.22% and a high of 33.67%, with a median of 30.68% (average 31.33%). I think Amazon has grown to a size which is large enough to expect some moderation in growth. I am estimating that the forward six year annualized growth will fall to 28.85%: that is one standard deviation below the median annualized six year growth rates we have seen during the past six years. Using this growth rate implies 2019 revenues for Amazon at $340.7 billion.
For the record, on Reuters, 44 analysts report an average revenue estimate for 2014 at $89.9 billion, with a high and a low of $87.8 billion and $93 billion, respectively. For 2015, 38 analysts report an average revenue estimate for 2015 at $107.5 billion, with a high and a low of $117.5 billion and $102.7 billion. These numbers are well below revenue potential indicated by a growth rate of 28.85% used by me, which indicate 2014 revenue of $95.9 billion and $123.6 billion for 2014 and 2015, respectively.
On average analysts on Reuters are projecting revenue growth of 20.75% for 2014, and an annualized two-year growth rate of 20.18% for 2015. These rates are slightly below to in line with 2013 revenue growth rates of 21.87%.
I could move my estimates towards consensus, but decided not to because revenue spurts come with a lag post investment, and Amazon has been investing furiously in growth. I'll illustrate this cyclical trend a bit further with an observation: During 2001 and 2002, revenue growth dipped to 13.05% and 25.96%, respectively, in the following two years, revenue growth was over 30%. During 2005 and 2006 revenue growth slowed to 22.67% and 26.16%, respectively. During the subsequent two years, growth spiked to 38.5% and 29.19%. And now during 2012 and 2013 we have seen growth slip to 27.07% and 21.87% respectively. Do keep in mind that in projecting the forward growth rate, I am relying on the continuance historic cyclical trends with moderation of one standard deviation - this is not a bottom up assessment and so there is model risk.
In terms of share dilution, a level of discipline in managing dilution has been becoming apparent. Over the past six years, year-on-year dilution ranged between a high of 2.65% and a low of (1.74%), with a median of 2.1% (average 1.56%). Looking at dilution over a six-year period, dilution was at a median of 1.26% over the past six years. Going ahead I am estimating that dilution will come in at an annualized rate of 1.26%. And so in 2019, the diluted share-count will have risen to 501.2 million shares from 465 million diluted shares today.
Based on the revenue and dilution estimates, I am looking for revenue per diluted share to grow from $160 in 2013 to $680 by end 2019. This represents an annualized growth rate of 27.25%.
Here is some historic data for your reading pleasure.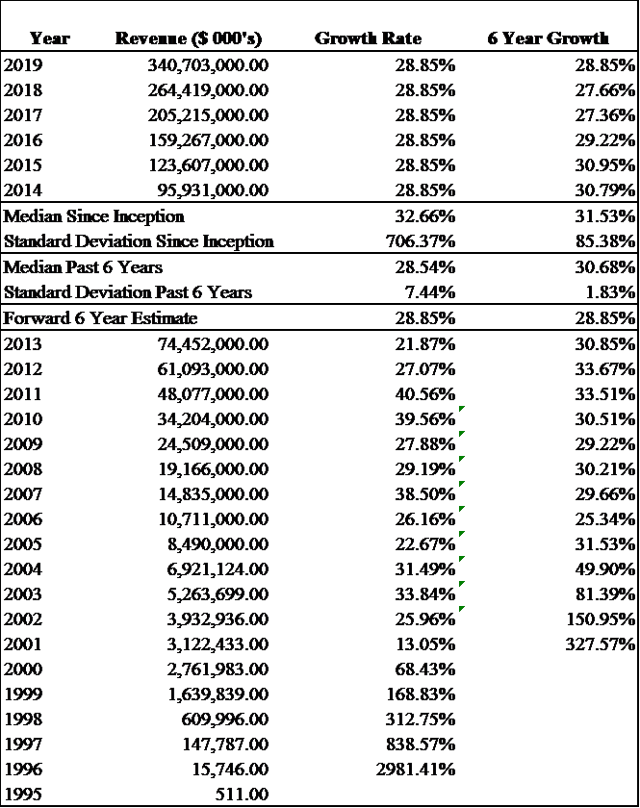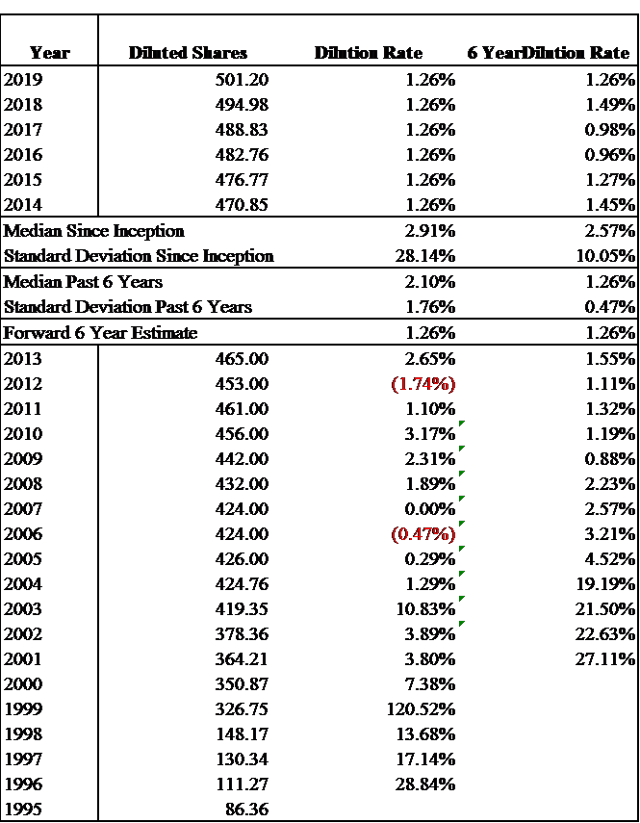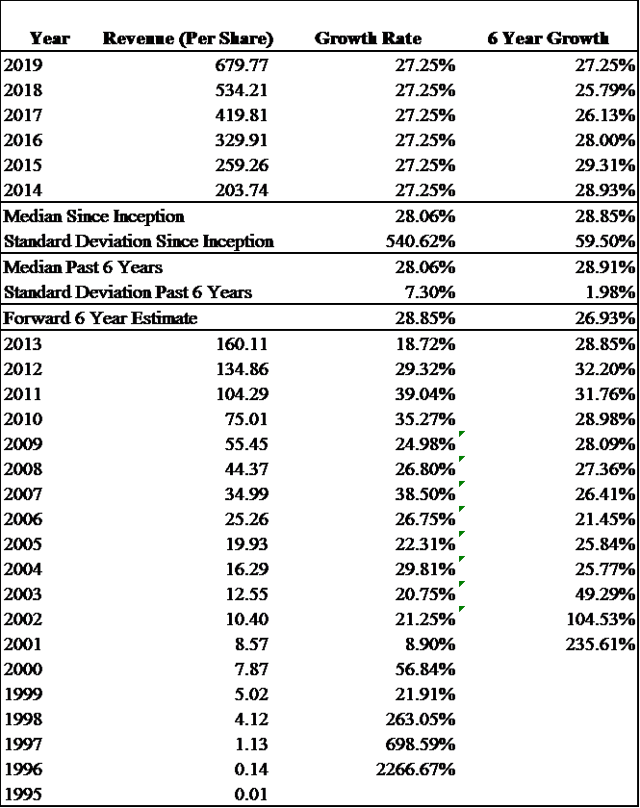 The revenue and diluted share count data on the above charts comes from Amazon's SEC filings. Everything else is computational and comes off a simple excel file.
Amazon Earnings Potential
The less said about Amazon's past earnings, the better. It is sad that a company with over $70 billion in revenue cannot turn a profit, but is it bad?
As of now, from Reuters, we see Amazon's gross margins on a trailing twelve month basis came in at 27.23% and the five-year average gross margin came in at 24.49%. At Wal-Mart, we see a trailing twelve month gross margin of 24.93%, and a five year average gross margin of 25.1%. These margins are broadly consistent with average gross margins reported on Finviz.com for stocks included in what they call the "Discount, Variety Stores" industry.
What I see are fairly in line gross margin levels, and if the Amazon trailing twelve month premium on gross margins is a reflection of the growing services business, that is an unmodeled plus for the future.
Amazon is a high-growth company, operating in a company where net margins are incredibly thin. While they continue to re-invest in growth, they are unlikely to turn a substantial profit. But once the pressure on growth relieves, we can expect to see industry standard net margins of 3.5% to 4%. For Amazon it could be a bit higher, because in addition to e-retailing, they also have a fast-growing services business, which comes with higher margins.
On Reuters, 42 analysts report an earnings estimate for 2014 at $2.04, with a high and a low of $5.18 and $0.62, respectively. For 2015, 34 analysts report an average earnings estimate for 2015 at $4.27, with a high and a low of $9 and $1.84, respectively. And 7 analysts report a long-term growth expectation of 45.04%, with a high estimate of 88.7% and a low estimate of 25%.
Using the average estimate of $2.04 for 2014, and growing it at the 45.04% average growth rate for the five years between end 2014 and 2019 gets me to an earnings estimate in 2019 of $13.09. Using the high estimate of $5.18 gets me to an earnings estimate in 2019 of $33.24. My estimate for 2019 is 3.5% of $680 in revenue per diluted share that I expect in 2018 - that is $23.79.
Once again, I will caution you that my estimate is not a bottom up one and thus model risk is high - I am relying on the continuance historic cyclical trends with moderation of one standard deviation. And achievement of a 3.5% net margin.
Amazon Alpha Assessment
Beta
Reuters reports a beta of 0.91 for Amazon. Value Line reports a beta of 1. I will stick with the Value Line Beta of 1. For a more complete discussion on beta and more detail on why I prefer the Value Line beta, you can visit a previous post here.
Risk Free Rate
The risk free rate is the theoretical return on an investment with zero risk over a specified period of time. I tend to use the ten-year US government securities as a measure of the risk free rate. At present the rate is 2.77%. However, over the coming several years, I expect it to rise towards its ten-year median levels of 3.69% and so I will use 3.5% as an estimated risk free rate for the coming six-year investment horizon.
Market Return
Over the very long term, the markets have tended to deliver returns (including dividends) of 9%, 6.5% in real terms and 2.5% inflation. With the markets trading at 1,790 recently, I expect long-term real returns to be between 5.5% and 6.5% with an upside of 1.2%. This 1.2% upside to long-term real returns comes about as a result of the S&P 500 being leveraged to higher global real growth rates instead of U.S. growth rates. Overall, an expected value of long-term return of 6.6% is not unreasonable. I expect inflation to run at between 1.7% and 2.5% and thus an expected value of total nominal return of 8.7% is not unreasonable.
Risk Adjusted Investor Return Expectation for Amazon
Using the Capital Asset Pricing Model to determine a risk adjusted rate of return for Amazon brings me to a rate of 8.7% (same as the market return). The risk adjusted investor return expectation is calculated as Risk Free Rate Plus Beta * (Market Return Less Risk Free Rate), or 3.5% + 1 * (8.7%-3.5%) = 8.7%.
Earnings Growth Expectations Post 2019
Every business comes with considerable risk. While I hope that Amazon can continue to grow both revenue and profits past 2019, I am unwilling to pay today (in 2013) for superior to market earnings growth expectations beyond 2019.
Thus I will assume that the earnings growth expectations post 2019 are in-line with very long-term market growth expectations of about 7%. This does not mean I expect Amazon earnings growth to fall to 7%, it just means I am not willing to pay for post 2019 excess earnings.
Return on Equity Post 2019
Efficient allocation of capital across all sectors and industries in the market suggests that it is likely that in the long-term return on equity will revert toward the 13.5% level we have seen over the long-term for the S&P 500.
Reinvested Earnings
With growth expectations of 7% and a return on equity of 13.5%, a company would need to reinvest 51.85% of earnings to generate the 7% growth.
Notional Payout
What is left over after the 51.85% is available to return to shareholders via dividends, buybacks or reinvestment in growth superior to the market growth. This and this alone is what needs to be valued.
A 2019 target of $23.79 for Amazon's earnings implies a notional payout of $11.46. What is this, together with growth at 7% worth to an investor with a long-term return target of 8.7%? We can calculate the present value in 2019 as Notional Payout * (1 + Growth Rate) / (Investor Return Expectation - Growth Rate), or $721 [$11.46 * 107% / (8.7% - 7%) = $721.02].
If a person was to buy at the recent price of $350, and the stock did trade at $721 in six years, they would generate a total return of 206%, or an annualized return of 12.8%. CAPM indicates that an investor in a company with a beta of 1 should expect a return of 8.7%. Thus the alpha created is significant at 4.1%.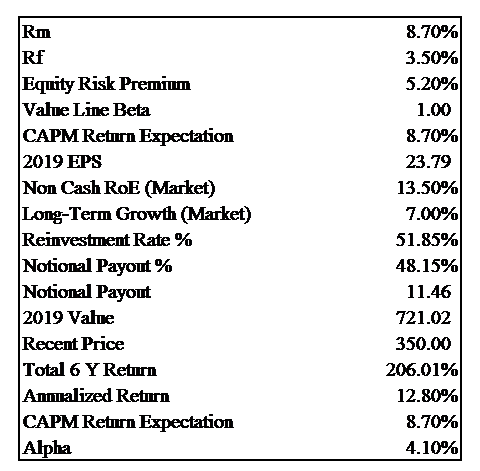 Why not buy Amazon?
The answer lies in the divisor. If you noticed, the notional payout adjusted for the forward year growth is divided by market return less the growth rate (the divisor). This has a spread of only 170 basis points. Historically US Market returns over the very long term have been 9%. About 2% to 2.5% of the return was generated through dividends, and another 2% to 2.5% was delivered via buybacks. The balance 4.5% was delivered through growth at rates consistent with US nominal GDP growth.
Today growth expectations have increased some 250 basis points to 7% because several S&P 500 companies are leveraged to average global growth rates instead of to U.S. growth rates. And instead of a rise in market return expectations, we have seen shrinkage in growth risk premiums (the difference between the market return expectation and the growth rate). One could argue that investor returns expectations should rise to 10.3% from 9% on account of the higher growth. Theoretically if we expect value returned via dividends and buybacks to yield about 4.5%, with growth at 7% investors should expect and demand a long-term market return of 10.3%: if this were to occur, the growth risk premium would rise to 3.3%.
Another way the divisor could expand is through the inflation, interest rate, and exchange rate channels. For instance, today I am looking at globally leveraged growth of 7%, and using U.S. risk free and market return rates to value stocks. We could find that a 7% growth rate is hard to achieve in U.S. $'s as the $ hardens to reflect the inflation differentials.
If growth risk premiums do expand to 3.3%, a person valuing Amazon's six-year forward earnings with no intent to pay for superior growth after that time horizon would be rewarded by a meager 1% annualized return by buying at current prices. Here is what would happen if market return expectations were to rise to 10.3%.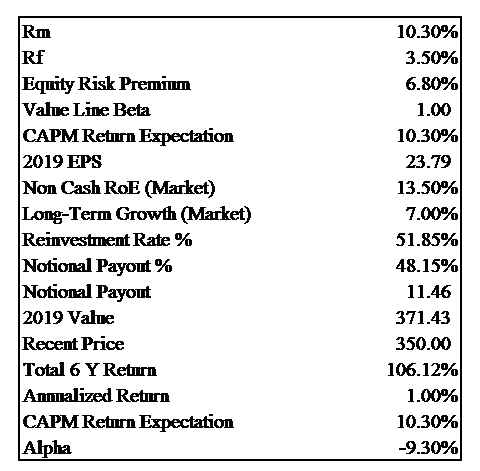 Why Buy Amazon?
The 2019 target value of $721 is about 30 times expected diluted earnings in 2019. That is not a terribly high multiple for a stock which can continue to grow at over 20% even after 2019. Thus all told, in my opinion if Amazon does realize the stated growth projections, a market price (not value) of $721 can be expected.
Would I buy Amazon at $350? No, at $350, assuming the $721 price target is met, the annualized return would be 12.8%. It is a generous return, but not after considering the model and macro risks. The spread in revenue, earnings and growth rates that we see from the large group of analysts on Reuters is unusually wide. That adds a lot of risk, and the reward in light of that risk is in my view insufficient.
My personal buy target would be $310 to $315 range if it ever gets there. From this level an annualized return potential of 15% is attractive. But it would be a tiny allocation: sized at a level where a loss would hurt my ego, but not my portfolio. Below $275 would deliver annualized return potential of 17.5%, at which price I would likely allocate further capital despite my hurting ego. And of course if we see a 2008/2009 like market, with Amazon trading down to $75 or lower, I would be a buyer despite the pain.
I will end with my usual caution: I have looked at Amazon and liked what I saw. I do not own Amazon. I have no intention of initiating a long position in Amazon, unless it falls to $315 or less, and as a long only investor, I do not short stocks.
This post is not a recommendation of any sort. Nor is it research. Nor can it be considered due diligence. It is merely an idea, or an investment thought-piece: if you like, it is a penny for my thoughts! I'd be delighted if you enjoyed it and it got you thinking, but if you buy, or if you sell, be sure to do your homework, research and due diligence first. If you did not like the post, or the thought that Amazon does not represent an interesting buy pick at $350 - that is fine too. There are two sides to every trade. We need a seller and buyer for two parties to walk away satisfied: if you are a buyer of Amazon, be glad that there are sellers available.
And if you got this far, here is the list I had mentioned at the start of the post!
List of top 20 Global Retailers by Revenue Excluding E-Retailers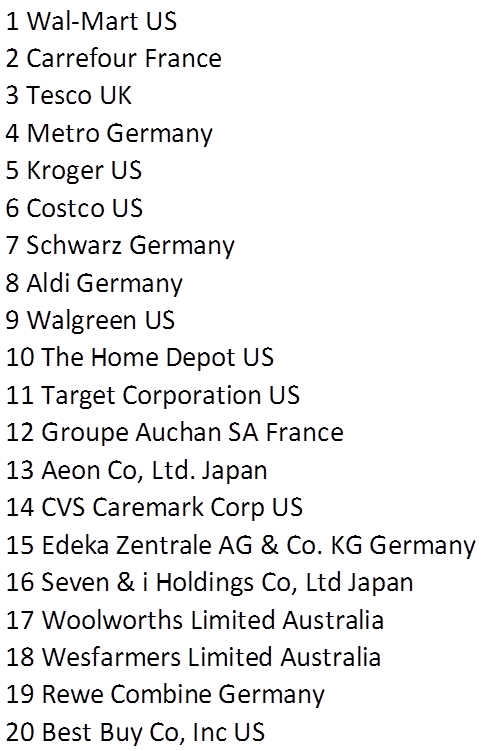 This data was sourced from an article in the Sydney Herald based on 2011 data. I ran a quick check for continuing applicability of the list by reviewing more recent historic data for most Global listed companies which Dr. Damodaran's, a Professor at NYU Stern, makes available annually here.
Disclosure: I have no positions in any stocks mentioned, and no plans to initiate any positions within the next 72 hours. I wrote this article myself, and it expresses my own opinions. I am not receiving compensation for it (other than from Seeking Alpha). I have no business relationship with any company whose stock is mentioned in this article.