By: Craig Bowles
Overview
Deere & Company (NYSE:DE) is slated to report 1Q 2014 earnings before the opening bell on Wednesday, February 12. The earnings release is expected at approximately 7:00 a.m. EST with a 10:00 a.m. webcast available through John Deere Investor Relations. The company represents farm and construction machinery on the S&P 500 Index. Late in the business cycle, the size and cyclical nature of the company increases in importance to the overall market and as an economic indicator.

Outliers & Strategy
Key measures:
Adjusted Earnings Per Share for 1Q 2014: The current Street estimate is $1.52 with a range of $1.38-$1.86. (Source: Yahoo! Finance). The estimate was $1.40 three months ago. Deere has beaten estimates the last four quarters by as little as 4c and as much as 39c.
Revenues for 1Q 2014: Revenues are seen declining 2.5% y/y to $6.62 bln (range $6.19 bln to $7.26 bln).
Equipment Sales (1Q2014): According to Zack's Investment Research, estimates are for $6.594 bln. The company's previous guidance was for down 2%.
Net Income Guidance (FY2014): In November, Deere gave net income guidance for FY2014 of $3.3 bln.
Equipment Sales Guidance (FY2014): Previous guidance was for down 3%.
Deere's P/E on trailing earnings is 9.4 compared to a five-year average of 15.7 and the industry's 13.2. The dividend yield is 2.4% compared to a five-year average of 2.0% and the industry's average of 1.9%, so there's good relative value assisted by the recent pullback in the stock.
Deere expanded their share buyback program by $8 Billion in December. Insiders sold 232,521 shares the last six months. Warren Buffett owns close to 4 mln shares.
Corn Prices, which tend to correlate closely with Deere, have flat-to-lower since Deere's 4Q 2013 release, using the Teucrium Corn Fund ETF (NYSEARCA:CORN). $4 corn seems to be what $2 was for decades, so it looks like we're putting in a floor there.
Deere is compared other farm and construction machinery companies with quarterly results possibly impacting Caterpillar (NYSE:CAT), Ingersoll-Rand (NYSE:IR), and CNH Industrial (NYSE:CNHI). Other sympathy plays include Joy Global (NYSE:JOY), Monsanto (NYSE:MON), Titan International (NYSE:TWI), Stoneridge Inc. (NYSE:SRI).
Deere shares have a 1-day average price change on earnings over the past eight quarters of 3.79%. Options are pricing in an implied move of 2.73% on earnings.
Recent News
02/07: The new corn crop is looking better, if not for prices. A new Agriculture Risk Coverage Guarantee bill when coupled with crop insurance will insure a profit for farmers in 2014, according to the weekly corn review on FarmFutures.com.
02/07: Consensus Ratings for Deere are 7 Sell Ratings, 12 Hold, and 3 Buy Ratings, according to AnalystRatings.net.
02/07: Deere underperformed Caterpillar off the 2009 low but has maintained levels closer to the 2011 high in the ensuing flat period that followed. Deere bounced back in 2012 where CAT leveled off. More recently, CAT has shown more life. The comparisons are intriguing on Yahoo! Finance.
12/23: Deere completed the majority interest sale of their landscaping business.
Technical Review
Deere's stock found support at the $84.40 200-day MA. $87.50 has the shorter-term MA's that could act as resistance. The second half of 2013 hovered close to $81, so that's the main support on negative news. Below that is the $75 area. Remaining above the 200-day MA has large upside potential after being flat for multiple years. (Chart courtesy of StockCharts.com)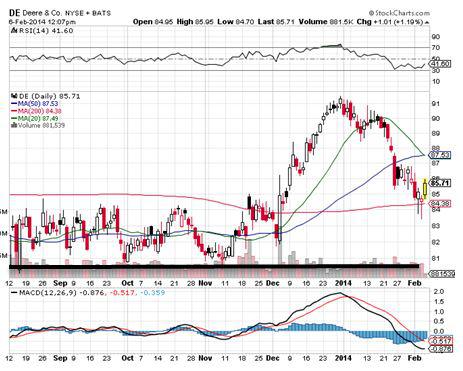 Summary
John Deere gave some worrisome guidance on revenues last quarter, so will be more of a focus in 2014. This assumes the company continues to beat estimates on earnings. Caterpillar held up better in January, so there could be some rotation by investors but both have traded pretty flat since 2011. A positive earnings report with no sales guidance shocker is probably all the bulls are asking for. The bears would like to see more negatives on the sales side and maybe a report where the company doesn't crush EPS expectations.
DISCLAIMER: By using this report, you acknowledge that Selerity, Inc. is in no way liable for losses or gains arising out of commentary, analysis, and or data in this report. Your investment decisions and recommendations are made entirely at your discretion. Selerity does not own securities in companies that they write about, is not an investment adviser, and the content contained herein is not an endorsement to buy or sell any securities. No content published as part of this report constitutes a recommendation that any particular investment, security, portfolio of securities, transaction or investment strategy is suitable for any specific person.
Disclosure: I have no positions in any stocks mentioned, and no plans to initiate any positions within the next 72 hours. I wrote this article myself, and it expresses my own opinions. I am not receiving compensation for it (other than from Seeking Alpha). I have no business relationship with any company whose stock is mentioned in this article.