By: Craig Bowles
Overview
Cisco Systems, Inc. (NASDAQ:CSCO) is slated to report 2Q 2014 earnings after the bell on Wednesday, February 12. The earnings release is expected at approximately 4:30 p.m. EST with a 4:30 p.m. webcast that is available through Cisco Investor Relations. The company represents the networking equipment industry on the S&P 500 Index.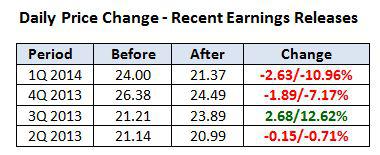 Outliers & Strategy
Key measures:
Non-GAAP Earnings Per Share for 2Q 2014: The current Street estimate is $0.46, the midpoint of company guidance of $0.45 to $0.47. (Source: Yahoo! Finance). Cisco has beaten estimates an average of 2c over the last four quarters.
Revenues for 2Q 2014: Revenues are seen declining 8.9% y/y to $11.03 bln (range $10.88 bln to $11.15 bln).
Cisco's trailing P/E of 11.9 compares to a five-year average of 16.0 and industry average of 39.1. The Price/Book is 2, so the stock is relatively low priced for the technology sector.
Insiders have sold 3,139,480 shares the last six months but the company announced a $15 bln buyback in November.
Cisco shares have a 1-day average price change on earnings of 6.20%. Options are pricing in an implied move of 5.88% on earnings.
Recent News
02/04: Cisco and Google (NASDAQ:GOOG) announced they have entered into a long-term patent cross-licensing agreement covering a broad range of products and technologies.
01/27: JPMorgan downgraded Cisco to Underweight from Neutral with a price target of $17.00 (from $21.00) due to weakness in emerging markets and delayed spending in switches, according to a post on StreetInsider.com.
01/11: Barron's had a positive story entitled "Cisco Battles Back" stating that fears of losing market share are overblown and the stock could return 20%.
Technical Review
Cisco retested 2010's high last summer but stumbled back to below the 200-day moving average which has acted as resistance in 2014 at $23.00. The main body of support is in the $17-18 area. The stock has ranged from $13-$26 since 2008. The more immediate balance area is just above the 50-day moving average's $21.50. So a positive earnings report would likely retest $23.00 and target the top of the range at $26. Conversely, a negative report breaks the $21.50 support and possibly tests December's $20 low or the larger support area below. (Chart courtesy of StockCharts.com)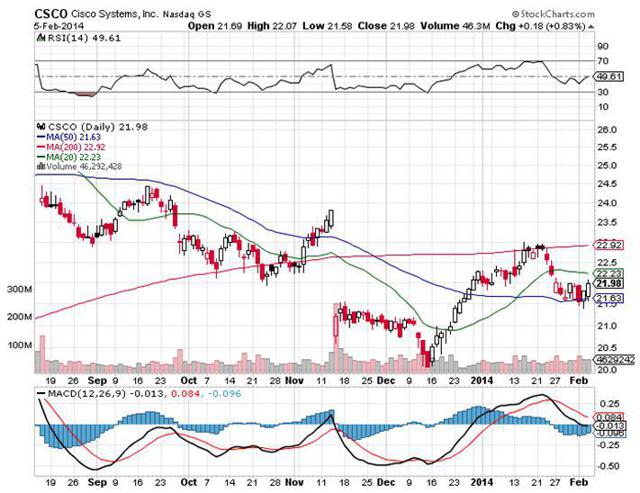 Summary
If Cisco has become a value play in the technology sector similar to Microsoft (NASDAQ:MSFT), we might expect it to trade similarly with long, multi-year periods of consolidation between sharp rises. The upcoming earnings release on Wednesday may determine if we're headed back toward the top of the range at $26.00 or closer to the middle in the $17-18 area. It's an interesting trade with the stock having found support at $21.50. The company needs to beat estimates by at least 2c and show better than expected revenue. The revenue decline is expected to ease up as the year progresses but the expected 8.8% y/y decline for this 2Q release is the immediate concern.
DISCLAIMER: By using this report, you acknowledge that Selerity, Inc. is in no way liable for losses or gains arising out of commentary, analysis, and or data in this report. Your investment decisions and recommendations are made entirely at your discretion. Selerity does not own securities in companies that they write about, is not an investment adviser, and the content contained herein is not an endorsement to buy or sell any securities. No content published as part of this report constitutes a recommendation that any particular investment, security, portfolio of securities, transaction or investment strategy is suitable for any specific person.
Disclosure: I have no positions in any stocks mentioned, and no plans to initiate any positions within the next 72 hours. I wrote this article myself, and it expresses my own opinions. I am not receiving compensation for it (other than from Seeking Alpha). I have no business relationship with any company whose stock is mentioned in this article.