By: Craig Bowles
Overview
Whole Foods Market, Inc. (NASDAQ:WFM) is slated to report 1Q 2014 earnings after the bell on Wednesday, February 12. The earnings release is expected at approximately 4:00 p.m. EST with a 5:00 to 5:30 p.m. webcast available through Whole Foods Investor Relations. The company represents grocery and health food industries on the S&P 500 Index.
Outliers & Strategy
Key measures:
Adjusted Earnings Per Share for 1Q 2014: The current Street estimate is $0.44 with a range of $0.41-$0.47. (Source: Yahoo! Finance). Whole Foods has beaten estimates an average of 1c over the last four quarters with the 2Q 2013 report beating by 2c.
Revenues for 1Q 2014: Revenues are seen increasing 11.4% y/y to $4.29 bln (range $4.23 bln to $4.36 bln).
Earnings Per Share Guidance (FY2014): Current guidance of $1.65-$1.69 compares to a street estimate of $1.69 (range $1.65-$1.71). Original 2014 guidance by the company was $1.69-$1.72, so they've come off slightly and analysts have followed.
Revenue Guidance (FY2014): Guidance was lowered 1% across the board in November. Sales are now expected to grow by 11% to 13%, down from a range of 12% to 14%, while same-store sales should rise by 5.5% to 7%, below the previous guidance of 6.5% to 8%.
Institutions own 85% of the shares but have lightened up 9.4% in the current quarter versus the previous quarter.
Whole Foods shares have a 1-day average price change on earnings of 7.72%. Options are pricing in an implied move of 6.99% on earnings.
Recent News
02/06: Whole Foods has to worry about minimum wage hikes but also is being protested in Chicago among which is the Chicago Teachers' Union president, according to a post in the Chicago Sun Times.
02/03: Whole Foods purchased seven Dominick's leases in Chicago from Safeway.
02/03: Piper Jaffray upgraded Whole Foods Market to Overweight from Neutral but has the same price target of $61 as Sterne Agee who had previously downgraded the company.
01/28: Barron's article, "Whole Foods' Deceleration Is Natural" sited Sterne Agee's opinion that structural concerns are exaggerated but had previously downgraded the company to Hold from Buy.
Technical Review
Whole Foods recently found support at $51 below which is a support area around $45. The stock has to move above $55 to get back above the 200-day moving average. The stock underperformed relative to the market in January, so could move up 3% just to get back to an even relative performance. A positive earnings report would help push the stock back above $55 and put the momentum crowd at ease. On the negative side, the stock is running the risk of having inverted moving averages. $51 is important support. MACD at the bottom of the chart is turning up as is RSI at the top, so the technicals are setup well for a good reaction if the company produces positive news on Wednesday. (Chart courtesy of StockCharts.com)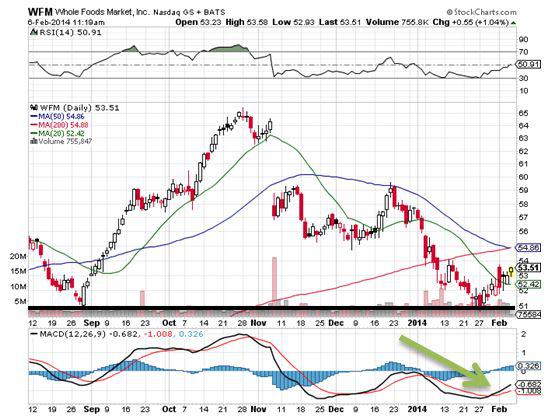 Summary
Whole Foods' stock was at all-time highs in November when the company suddenly lowered guidance for all measures of revenue by 1%. The stock fell 22% before finding January's low at $51, so the company doesn't need more negative news from Wednesday's earnings report or investors will rethink the relatively lofty valuations placed on the grocer. A beat by 2c on earnings with better than expected revenue should provide more bounce. Conversely, comp store sales coming in below 6.25% might be blamed on the weather but could be seen as reaffirming a less positive reality.
DISCLAIMER: By using this report, you acknowledge that Selerity, Inc. is in no way liable for losses or gains arising out of commentary, analysis, and or data in this report. Your investment decisions and recommendations are made entirely at your discretion. Selerity does not own securities in companies that they write about, is not an investment adviser, and the content contained herein is not an endorsement to buy or sell any securities. No content published as part of this report constitutes a recommendation that any particular investment, security, portfolio of securities, transaction or investment strategy is suitable for any specific person.
Disclosure: I have no positions in any stocks mentioned, and no plans to initiate any positions within the next 72 hours. I wrote this article myself, and it expresses my own opinions. I am not receiving compensation for it (other than from Seeking Alpha). I have no business relationship with any company whose stock is mentioned in this article.