After Intel's (NASDAQ:INTC) last unceremonious earnings report, there's been a lot of focus on the company chalking up 2014 to another "rebuilding" year as the company tries to right itself in the tablet and mobile market.
Intel did, however, finish trading last week looking a little bit stronger, in the middle of a market that ultimately decided that bad news was good news when it came to January's job report.
(click to enlarge - source Yahoo!)

I've been covering Intel over the last couple of weeks, which has seen the company close its app store that not a lot of people knew existed - as well as change the compensation structure of the company with a bigger emphasis on stock based compensation. Both of these recent developments, as an Intel shareholder, I liked.
I came along a great interview with Intel CFO Stacy Smith and Tiernan Ray at Barron's - one that bulls like myself should dig.
Music to my ears was how Smith answered some questions relating to the margins behind chips for smartphones and tablets - Intel's modus operandi right now:
I cited a report put out yesterday by Bernstein Research's Stacy Rasgon , who speculates that the expected hit to gross margin this year implies Intel will be selling tablet chips at or below cost. Rasgon pointed out what seemed to be an embedded cost, or implicit cost, if you will, of $51 incurred by Intel for each tablet chip shipped, including subsidies, in terms of the impact to gross margin.

Smith brushed aside a copy of the report proffered to him, when asked to review Rasgon's numbers, instead rejecting the premise outright, shooting back, "Anyone who thinks we have a $50 cost for these chips is wrong."

In particular, he points out that the special costs Intel is incurring that are pushing down gross margin for the company this year are not the cost of the chip itself.

Rather, rebates, in the form of "contra revenue," and one-time engineering fees, called "NRE," are meant to reduce the "total bill of materials," which includes the higher cost of things such as DRAM and other circuitry that must go along with Intel's tablet chips.

The chips themselves will maintain "competitive prices" compared to offerings from other vendors, he insists, without Intel having to sacrifice gross margin, even for tablets whose retail price is $199 or lower. "Across all tablet segments" is Intel's rallying cry.
What they answer tells me is that not only do they have the margin issue well under control, there seems to be a bit of confidence emanating from Smith with regards to mobile. I have repeatedly said that Intel has the team and resources to execute in mobile and tablets - just because they're going to be last to the party doesn't mean they're not going to make great strides when they get there.
But, for the bears, I guess it really all depends on what it is you're worried about with Intel. Pricing, entry into mobile, and the dividend continue to come up. With regards to the dividend? Smith covered that, too:
Another topic was the dividend: it hasn't risen in almost two years.

Smith noted that investment in capital expenditures, primarily to build and outfit Intel's chip factories, or fabs, is a priority because, as Intel sees it, "Investment in capex is something investors can't get any other way."

I noted that capex is supposed to be about flat this year compared to last, at roughly $11 billion. If Intel is not spending more, than why not up the dividend?

Smith replied that "Our goal for the dividend is 40% of free cash flow" annually, and that the company has been disciplined in sticking to that metric.
I like what he's saying. It's a level headed and disciplined approach for a company that needs to sure up the fundamentals first, then worry about things like the dividend. Especially in the midst of companies that have been doing all sorts of things, sometimes too much, to appease shareholders - notably ADT's buyback that is being harangued by analysts on the web and on the cable news networks.
I had talked specifically about the dividend in several of my past articles, saying that I want a company that I'm invested in to raise the dividends commensurate with growth and cash available. If the company doesn't have it - why spend it on the dividends? You're getting short term gain for long-term pain - so, Intel is doing the responsible thing here by not raising their dividends, which - by the way - have grown steadily over the last few years.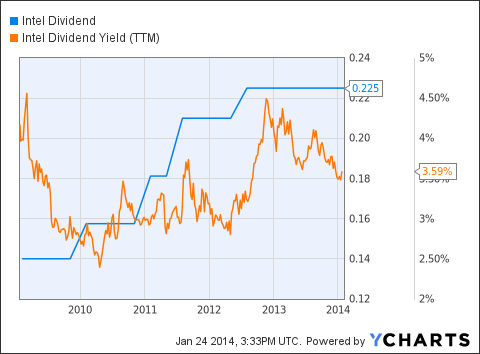 As Intel starts to head forward and really perfect their foray into mobile and tablets, they can also expect the tide to eventually turn in the PC market. Analysts across the board have commented that the PC market, which has had an awful 2013 on the heels of increased mobile and tablet purchases, is likely to have bottomed.
To benefit of Intel, Mac sales continue to buck the trend and remain "robust", even in the midst of the downward market. As Mac sales continue and the PC market turns at the same time, it should pay off for the chipmaker.
I think the market is giving Intel a pass, too. The company had a strong end to trading last week, where I added a little to my long position that I staked a couple of bucks higher. I remain long and strong on Intel into 2014.
Disclosure: I am long INTC. I wrote this article myself, and it expresses my own opinions. I am not receiving compensation for it (other than from Seeking Alpha). I have no business relationship with any company whose stock is mentioned in this article.