In 2008, at its peak, MySpace was getting 76 million visitors a month. One year later it brought in over 470 million dollars in advertising revenue. Nowadays, MySpace receives only about 36 million monthly visitors and 34 million dollars in revenue. Facebook (NASDAQ:FB) has now become the social network of choice.
MySpace's dramatic fall was brought about as a result of a plethora of mistakes over the course of five years, beginning with its acquisition by Rupert Murdoch's old media News Corporation (NASDAQ:NWSA).
In 2005 Rupert Murdoch bought MySpace and a year later incorporated it into Fox Interactive Media, a division of his News Corporation.
Only a year later, problems began to emerge. Although MySpace was gaining hundreds of thousands of users daily, it began to attract scrutiny from the media and the public. In 2006, CBS News launched a segment exacerbating concerns from parents that MySpace was a site where, in the words of Hannah Storm of CBS, "sexual predators easily prey on children."
Under pressure to hit high revenue targets for the short-term benefit of the newly public company (under the News Corporation banner), MySpace sacrificed much of the security of its user interface for better short-term results, which further contributed to the belief that MySpace was a website where spam and crime were rampant.
As MySpace was giving up its user experience for enhanced short-term results, Facebook became the social network of choice, in large part because it was perceived to be more secure and clutter free, with ads that kept to the sidelines of the user experience.
Today, Facebook in turn is sacrificing user privacy to meet its investor revenue expectations as a newly public company, under similar pressure from Wall Street to meet expectations (and it has been achieving and surpassing those expectations as its rising share price has shown.)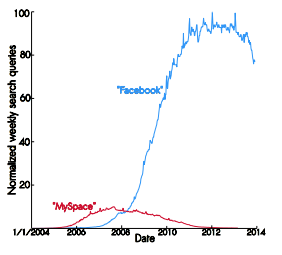 Source: Princeton University study, linked below
Over the past fifteen years, dozens of social networks have come and gone, from Bebo, to MySpace, to Friendster and now; Facebook?
A recent Princeton University study (pdf) looked at the rise and fall of online social networks, and concluded that Facebook was in the early stages of decline, due to falling search engine metrics. Essentially, fewer people were searching for Facebook on Google and other major search engines, which led the authors to believe that Facebook would continue to decline. Search engine trends are seen as an accurate measure of determining the popularity of a social network because they indicate the number of users interested in the website, as opposed to the raw number of users, large numbers of whom are inactive, bots, or otherwise worthless to Facebook.
While the study was lambasted by Facebook (which wrote a lengthy response to the study) for its focus on search engine metrics, the study did give some insight into Facebook's growth. Critics of the study have pointed out that using the same metrics, the very University producing the study is also in decline. Unfortunately for Facebook, as an online only business, search engine metrics are more important to them than a University with a history spanning multiple centuries.
Despite waning interest by users, Facebook has steadily increased its earnings from a stock perspective. Facebook's results are reflected in its share price, which has increased by 60% since its shaky initial public offering in 2012 (though it should be noted that the Nasdaq gained 44% during the same period).
So what is the trouble facing this social networking giant? Earlier in November of 2013, Facebook's CFO David Ebersman confirmed what had long been speculated; Facebook is losing its younger audience, as well as seeing a decrease in the number of daily users as a whole. The hard number of Facebook users continues to increase, but user interaction with the website is more worrying, as is shown by the decline in daily active users.
You might say that Facebook can survive without younger teens, but time has proven that younger users are often the sign of the next big thing, and that in this case, the next big thing is a number of big things.
78% of young adults and teenagers use mobile messaging services like WhatsApp to communicate with their friends, a number that has risen rapidly as the number of smartphone users has increased, as well as the decline of user activity on Facebook. Private messaging services might seem like a thing of the past, of the same era as AOL Instant Messenger and MSN, but on mobile devices they have many different areas of appeal.
As the young adults and teenagers who helped cause the dramatic rise of Facebook's parents and employers begin to take advantage of social networking, many are leaving to messaging services for private, and more intimate social networks that offer something of the opposite of Facebook: anonymity.
Just like Facebook won using exclusivity, these social networks of the future plan on winning using intimacy, and anonymity. Just look at Snapchat, the instant messaging app that has a user base that Forbes estimated to be approximately 50 million with an average age less than half of Facebook's 40 years, and advertisers as big as the 31 billion dollar Yum! Brands. In December of 2012 Facebook offered Snapchat founders 3 billion dollar for the company, and they turned it down.
In 'the Social Network', the film based on the founding of Facebook, Zuckerberg discusses Facebook as "the greatest party on campus", but now your mom, your grandparents, and even your employers have joined in. In the same film, Facebook's user base was compared to a line of dominoes, you lose one, and you begin to lose thousands more as the friends of influential users leave.
While the decline of young users is worrying, many point to the fact that advertisers are willing to pay more to target demographics with more disposable income, and it is true that most under-24s are not the most desirable demographic for advertisers, but there are other reasons Facebook needs teens.
The younger the user, the more malleable their preferences are, and while this can be useful to advertisers in the short term, it's also crucial for Facebook over the long term to build loyalty among young users to Facebook.
So what is Facebook doing to recover these losses? A lot, it seems.
Besides its 3 billion dollar offer for Snapchat, Facebook has ramped up efforts to acquire other competitors taking market share away from the Facebook website. In 2012, Facebook paid 1 billion dollar for a startup with no revenue, and while it was a bold move at the time, Instagram's worth is now estimated to be as high as 10 billion dollar, a year and a half later.
From an investor's standpoint, investing in social networks continues to be a high-risk endeavor. Their dependency on users' tastes and vulnerability to a "domino effect" of users leaving the service leaves them always open to competition, and this is an issue that other web companies, like Google (NASDAQ:GOOG), do not face because they do not rely on users for their content in the same way.
Facebook may not lose the 80% of its user base in the near future that was predicted by Princeton researchers, but the decline of young users on Facebook is a worrying trend. It is particularly worrying for investors when considering the high-growth expectations that come with Facebook's share price, and means that it will have to target even more aggressively fast-growing online markets like India and China.
Disclosure: I have no positions in any stocks mentioned, and no plans to initiate any positions within the next 72 hours. I wrote this article myself, and it expresses my own opinions. I am not receiving compensation for it (other than from Seeking Alpha). I have no business relationship with any company whose stock is mentioned in this article.