Put simply, I thought Ford (NYSE:F) and General Motors (NYSE:GM) both looked like buys after GM reported earnings last week that were anything but a beat. The market inadvertently dragged down Ford alongside General Motors when the news was released.
Then, as the market did on Friday with the jobs report, investors decided that bad news was really good news, and - after hours of prodding by the bulls on CNBC - both stocks pared their losses to end the week in respectable territory.
However, both stocks remain extremely cheap on the heels of a one month period that has found Ford down nearly 5% and GM down more than 10%.
(click to enlarge - source Google)

I took my first stake in Ford a few trading days ago, and I've been in GM since the beginning of the year. I've done well by adding GM on its dips as I've disclosed on my StockTalks and Twitter - and doing so usually through the company's "B" warrants, although I do hold some of the more speculative "C" warrants that the company has issued. For why I'm buying the warrants and what makes them seductive, read this article I wrote about them.
Bearish complaints against both companies have focused on rising inventories and incentivized selling doing more harm than good for both companies. Also, bulls and bears alike point out the exposure both companies have overseas and in China. Bears call it exposure, bulls call it opportunities for growth. China has the world's largest automobile market.
Reuters reported over the weekend that both companies are focused on increasing discounts on full sized trucks in the coming months:
GM (GM.N) is running a national Presidents Day sale through February 28 at Chevrolet and Buick-GMC dealers that provides incentives of up to $7,092 on the 2014 Chevrolet Silverado and up to $7,588 on the 2014 GMC Sierra. The more generous discounts are being implemented just eight months after the redesigned trucks hit the market last summer.

Ford (F.N), whose full-size F-series pickup has been the best-selling U.S. truck for 37 years, is providing much lower incentives of up to $3,250 on its big trucks. The F-series is due for a major overhaul late this year.

But many Ford dealers are advertising much richer deals on the carryover 2014 F-Series, with discounts ranging up to $9,000.
The article noted that GM has fallen behind Ford in trucks, but that the GM has had an increase in its average transaction price.
While customers of GM await their heavy duty versions of their Silverado and Sierra, Ford truck buyers are going to be looking forward to the new, aluminum fused F-150. Ford has paired with Alcoa (NYSE:AA) to shed some weight off of its F-150 using aluminum, which would help boost the vehicles fuel economy.
GM's report last week did have some positives, as it posted its 16th straight profitable quarter and great earnings in the U.S. and North American markets. But, its losses in Europe are what investors feared.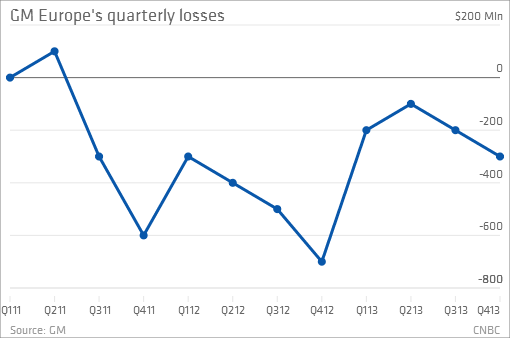 Like General Motors, however, I think Ford has the team in place to take down the European market.
Ford Europe CEO Stephen Odell went on record last month claiming that the worst of the sales decline overseas was over:
Ford's European market share in 2013 will likely be about 7.8 versus 7.9 in 2012, said Stephen Odell, CEO of Ford of Europe, in a telephone interview. Full year industry data will be published by the European Automobile Manufacturers Association on Thursday.

Odell said he expects full-year industry sales to total about 13.7 million. Prior to the recent recession, annual sales had totaled more than 16 million. For 2014, Ford is projecting industry sales to come in between 13.5 and 14.5 million.

Odell expects a "modest recovery," and said the rate of sales acceleration will depend more on improving unemployment numbers than the already rising rate of consumer confidence.
GM CEO Mary Barra, who continues to push innovation from the company, has made it clear she wants to revamp GM's Opel brand overseas:
G.M.'s new chief executive, Mary T. Barra, chose Europe as her first international trip since taking the top job last month.

During her visit, Ms. Barra reaffirmed the company's commitment to fixing its Opel brand on the Continent and bolstering overseas sales of its Cadillac luxury models.

But she acknowledged that the company still needed to contain costs in Europe, even as it has made "tremendous progress."
Both companies, when they do start to perform in Europe, are going to be valued at significantly more than what they're valued now. Overseas and international expansion will be major catalysts for both companies and will move their stock price correspondingly.
I'm going to continue to buy both of these automakers on dips moving forward - they're both offering attractive dividends now as well. My price target for GM is $50 and Ford is $22 - both levels I think we can see from each automaker before the end of 2015.
Best of luck to all GM and Ford investors.
Disclosure: I am long F, GM. I wrote this article myself, and it expresses my own opinions. I am not receiving compensation for it (other than from Seeking Alpha). I have no business relationship with any company whose stock is mentioned in this article.