For investors looking to add an independent oil and gas company to their portfolio, the recent pullback in Apache Corporation's (NYSE:APA) stock price has presented an outstanding investment opportunity.
Over the past couple of months Apache Corp. has had a significant sell-off. There are a couple of reasons for this sell-off. They are: expected stagnant oil prices over the next few years and uncertainty surrounding their projects in Egypt.
Macro View
Oil price estimates
One of the reasons for the recent sell off of Apache's share price is the expectation of stagnant oil prices over the next few years. According to the EIA, they estimate that oil prices will remain volatile but stagnant over the next few years. In 2014, WTI crude oil is projected to average $93/bbl while in 2015 estimates are that WTI averages around $90/bbl. There will be many variables that create volatility over the next few years. As the chart below indicates, WTI could range from ~$120.00 to ~$80.00 per barrel.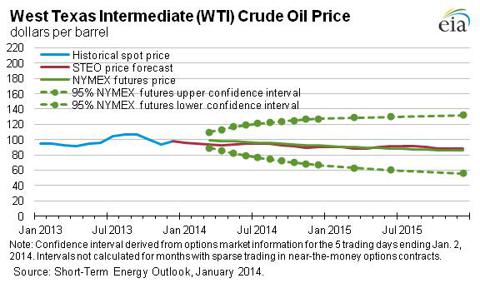 Natural gas
Even though the price of oil is expected to remain relatively stagnant over the next few years, there is a different story for the price on natural gas. The EIA [pdf] believes the demand is growing for natural gas. In its Annual Energy Outlook 2013, the EIA notes that exports will be a driving factor in the increased demand for natural gas over the long term:
"Exports (will) continue to grow at a rate of about 17.7% per year from 2020 to 2040. Net exports in 2020 are less than 1 percent of total consumption; in 2040 they are 12 percent of consumption."
In the chart below, the EIA displays five different scenarios regarding the price increase of natural gas. These scenarios are based on a multitude of events. They range from a shortage of natural gas where the price increases very quickly, to a glut of resources where the price acceleration is much slower.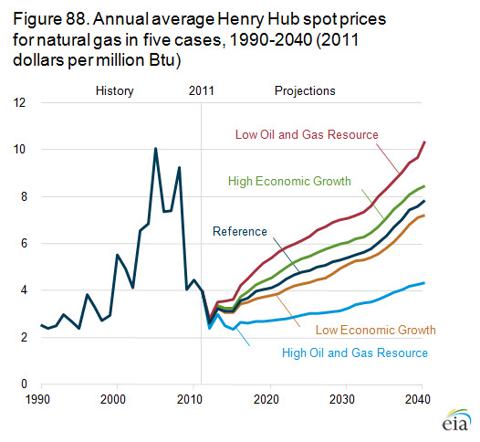 Global consumption oil
As the price of oil is expected to average just over $90.00 in the next 2 years, global consumption is expected to continue to grow.
According to the EIA, global consumption grew by 1.2 million bbl/d in 2013. The organization expects global consumption to grow by a similar pace of 1.2 million bbl/d in 2014 and increase to 1.4 million bbl/d in 2015, exceeding 93 million bbl/d by the second half of 2015.
Concerns in Egypt
As around 60% of Apache's production in Egypt is oil, the turmoil in the region has caused concerns for investors. This concern has been part of the recent sell-off of the company's shares. To alleviate recent concerns, executives at Apache and Royal Dutch Shell (NYSE:RDS.A) (NYSE:RDS.B) have stated they have been able to continue operations in Egypt without significant interruptions. They have been able to achieve this, as most of their oilfields are located in isolated regions within the Sahara Desert.
In a recent release issued by Apache Corp they elaborate on their current operations in Egypt. The company states:
"We currently have 27 drilling rigs in operation - including four drilling horizontal wells - as well as 5 million exploration acres and 2 million development acres in the target-rich, stacked-pay environment of the Western Desert. Apache sees continued opportunity for profitable investment developing Egypt's oil and gas resources," said Thomas M. Maher, Apache's region vice president and general manager in Egypt.
North America
As Apache is focusing on its onshore North America projects, they believe this region has great investment potential. The company has been working on its extensive resource potential in the Permian Basin and the Anadarko Basin. Over the past year Apache was able to grow its North American liquids production by ~35%. To combine with the projects listed above, recent drilling results in the Liard Basin in northern British Columbia have validated one of the most prolific shale gas plays on the continent.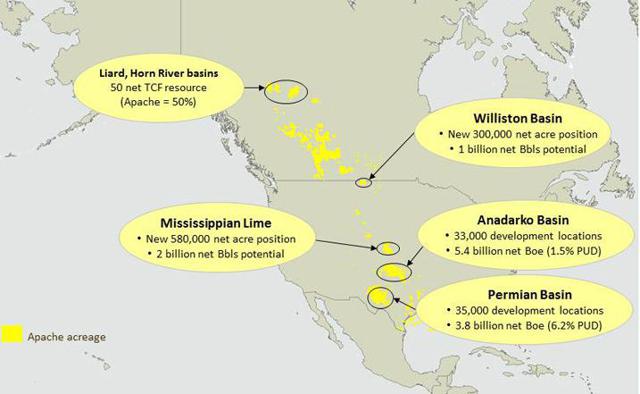 Photo source by Apache Corp.
Western Canada
Apache Energy along with Chevron Canada (NYSE:CVX) have spend significant capital in Western Canada. The two companies who are 50/50% owners of the Kitimat LNG plant, the Pacific Trail Pipeline and 644,000 acres of undeveloped land in the Horn River and Liard basins are expecting to create growth by expanding on their long-standing relationships in key Asian markets.
Key Ratio
Return on capital employed = EBIT / (Total Assets - Current Liabilities)
This ratio indicates the efficiency and profitability of a company's capital investments. The higher the percentage the better.
ROCE should always be higher than the rate at which the company borrows otherwise any increase in borrowing will reduce shareholders' earnings, and vice-versa. A good ROCE is one that is greater than the rate at which the company borrows.
2011 = $8.093 billion / $47.088 billion = 17.19%
2012 = $4.877 billion / $55.201 billion = 8.83%
2013 TTM = $5.115 billion / $55.716 billion = 9.18%
According to the list above, all of Apache's calculated return on capital employed ratios is higher than the rate at which it has borrowed. As compared to the current WACC 6.57% this indicates that the company is making money on the capital invested.
Valuation
EV/EBITDA = Enterprise Value/Earnings Before Interest, Taxes, Depreciation and Amortization
In the next section, I will use the EBITDA to calculate the EV/EBITDA. The adjusted EBITDA takes into account foreign exchange and share-based payment expenses. The EV/EBITDA ratio is one of the most commonly used valuation metrics, as EBITDA is commonly used as a proxy for cash flow available to the firm. Independent oil and gas stocks typically have an EV/EBITDA ratio that trades in the 4.0x to 5.0x trading range.
Enterprise Value or EV = Market Capitalization + Total Debt - Cash and Cash Equivalents.
EV - $32.487 + $10.925 billion - $1.251 billion = $42.161 billion
EV = $42.161 billion
EBITDA = $11.790
EV/EBITDA = 3.58
As the independent oil and gas sector often trades in the 4.62 trading range, an EV/EBITDA ratio of 3.58 indicates at current levels the stock is trading just fair value compared to other companies in its sector.
Other metrics that indicate the stock is undervalued are: Apache Corp has a P/B of 0.99, below the industry average of 1.77, a P/S of 1.95, which is below the industry average of 2.39 and a P/FCF of 3.48, which is above the industry average of 5.73.
Forward P/E to create a target
To create a target price for Apache Corp. I will use Apache Energy's forward P/E ratios with estimated earnings to find a target. Currently, Apache has a forward P/E of 11.21 and FY 2015 high earnings projected at $9.16. These two metrics lead to a target price of $102.68.
As of February 9th, Apache Corp. was trading at $81.40. Using the forward P/E model, this indicates that the stock has a 26.14% potential upside from this point.
Conclusion
Since the beginning of December Apache Corp has had a significant pullback. There are a few reasons for this pullback. The reasons are: stagnant oil prices and concerns in Egypt. Even though the concerns over Oil prices and Egypt are valid, global consumption rates are still very strong and as the ROCE indicates, Apache is profiting with energy prices at these levels. At current levels using the valuation metrics above, I have concluded that Apache is currently trading at a discount and I have a price target of $102.68.
Disclosure: I have no positions in any stocks mentioned, but may initiate a long position in RDS.A, RDS.B, CVX over the next 72 hours. I wrote this article myself, and it expresses my own opinions. I am not receiving compensation for it (other than from Seeking Alpha). I have no business relationship with any company whose stock is mentioned in this article.