For this article, I shall be discussing the previous year for Imperial Tobacco, summarizing its top brands and what areas are showing signs of growth, how it plans on reducing cost production to increase profitability over the medium term and what its plans are going forward to benefit shareholders.
Company Information
Imperial Tobacco (OTCQX:ITYBY) has powered ahead since it was released from conglomerate Hanson in the late 1990s. Brands include Embassy, Regal, John Player Specials and Lambert & Butler alongside Castella cigars. Like its rivals, expansion has seen it go continental with the acquisition of Germany's Reemstma in 2001, which promoted the group into the fourth biggest tobacco company in the world.
What Happened In 2013
Imperial Tobacco is currently in the middle of a transition plan which is estimated to save $492 million a year from 2018. For 2013, $49 million was saved and this is expected to increase until 2018 as mentioned above. This is being done by optimizing their portfolio which is helping drive cost production down and refining their operating model.
Growth Brands That Are Outperforming Competitors:
JPS is making volume gains in many markets including Europe which has been suffering from weak industry volumes recently. Growing in popularity with value-seeking consumers.
Davidoff and Gauloises Blondes are growing in several markets including Russia, Turkey, Greece, Germany, Algeria.
West is continuing to generating growth in Asia.
Parker & Simpson, new for this year already showing some good initial results.
Bastos is increasing volume in Vietnam.
USA Gold looking to strengthen results in USA.
Specialist Brands That Are Increasing In Revenue:
Style continuing to perform in Russia / Ukraine
Gitanes strong growth in Iraq
Golden Virginia / Drum / Route / 66 and Rizla maintaining its world leadership position in fine cut tobacco and papers.
Cohiba / Montecristo / Backwoods and Romeo & Julieta cigars performed well in emerging markets.
The brands listed above have helped increase revenue in this area by 5%.
Valuation
Price / earnings - 10.50
Price / book - 3.83
Price / sales - 0.8
Return on equity - 16.60%
Return on assets - 3.30%
Picture below represents the revenue growth over the past 5 years.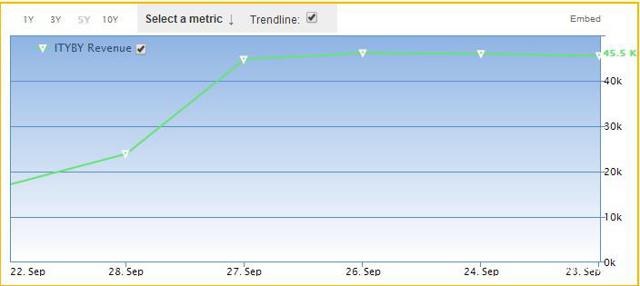 Click to enlarge
Picture below represents the earnings per share and dividends per share over the past 5 years.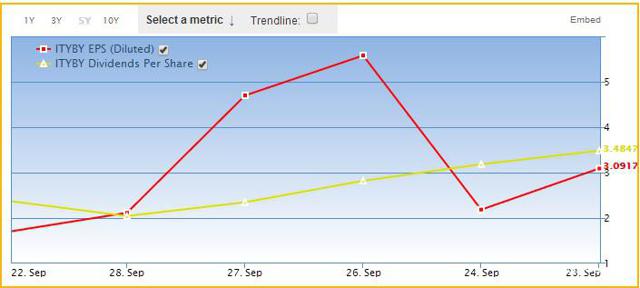 Click to enlarge
Both of the pictures have been provided by gurufocus.com along with all statistics seen within this article.
Five year average revenue growth rate: 14.06%
Five year average earnings per share growth rate -0.10%
Five year average dividend growth rate: 14.70%
Current dividend yield: 5.03%
Revenue has stumbled I admit, compared to its competitors such as Philip Morris International (NYSE:PM) Altria Group (NYSE:MO) or British American Tobacco (NYSEMKT:BTI).
It has been a challenging year due to austerity measures and rising unemployment within western Europe. Emerging markets have also suffered recently, destabilizing currencies within South Africa / Indonesia / Brazil / India and Turkey.
We are seeing a rise of e-cigarettes in Europe which could slow revenues within the tobacco sector but in emerging markets it is growing in popularity and this is where it is driving its growth brands.
However it is committed to maximizing returns for the shareholders by growing dividends by 10%+ a year over the medium term.
It has also enhanced returns by spending $820 million to acquire 21.3 million shares through their buyback programme. By doing this, it has doubled annual cash returns to shareholders by $2.6 billion.
Conclusion
Imperial Tobacco is attractively valued at 10.50 price / earnings, it has the free cash flow (currently at $3,296 million which has not been seen since 2010) to reward investors with 10%+ dividend growth over the medium term with a healthy yield. Dividend payout ratio currently at 70% with share buybacks at 1.30%, which will ensure safety and an improvement on earnings per share growth.
Brand strength, pricing power, competitive advantages and vision for market share gains will help see the company through the difficult trading period last year. I feel this stock has been overlooked and is being underestimated.
If you are investing for the long-term, now is definitely the time to add to your income portfolio while the stock remains a buying opportunity.
Disclosure: I am long ITYBY, BTI. I wrote this article myself, and it expresses my own opinions. I am not receiving compensation for it (other than from Seeking Alpha). I have no business relationship with any company whose stock is mentioned in this article.