Recently, the US' largest homebuilder, as measured by number of homes closed, revenue and pre-tax income, reported solid fiscal 2014 first-quarter results, lifting spirits across much of the industry. D.R. Horton's (NYSE:DHI) homebuilding revenue leapt 33% thanks primarily to a 19% increase in homes closed in the quarter and an average sales price increase of 10%, to $275,600. Home sales gross margin advanced 350 basis points, to 22.3%, helping drive a 76% increase in pre-tax income for the period. The company's diluted earnings per share increased 80%, to $0.36. The pace of orders was also robust, jumping 14% in value to $1.5 billion and 4% in homes to 5,454. D.R. Horton's sales order backlog also swelled 20% in value to $2.1 billion and 5% in homes to 7,684. We were quite pleased to see the reference to pricing power by Chairman Donald R. Horton:
"Our fiscal 2014 is off to a great start. First quarter pre-tax income increased 76% to $189.7 million and our pre-tax income margin improved 290 basis points to 11.4%. The dollar value of our homes sold, closed and in backlog all increased by double-digit percentages. Our average sales price increased 10% to $275,600, reflecting pricing power across most of our markets and increased demand from move-up buyers.

Housing market conditions continue to improve across most of our operating markets, and our weekly sales pace has accelerated in January. We are well-positioned to capture demand in the spring selling season with a solid balance sheet, an increased community count, a robust finished lot supply and a strong inventory of homes available for sale."
Though we like the trends in pricing, we do note that such strength is cyclical and of lesser-quality than, let's say, a brand name consumer giant raising prices above inflation year after year. Still, pricing strength works wonders on a firm's bottom line, and we think it bodes well for the rest of the industry, given the homebuilder's diversified operations. The Southeast, South Central, and Eastern US were the strongest as it relates to orders, with the Midwest, Southwest, and Western markets lagging.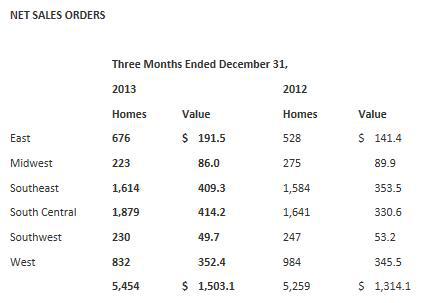 Image Source: D.R. Horton
Valuentum's Take
The recent meltdown in housing during the Great Recession is a prime example of the extreme pricing cyclicality of the homebuilding industry. Housing market health is determined by a number of variables: consumer confidence, employment, household formation, replacement demand (natural disasters), inventory (existing/shadow), interest rates, lending standards, and housing prices themselves. The market is far from homogenous, and stronger builders focus on regions with favorable supply/demand characteristics and pursue lot options instead of land purchases. Though we don't like the structure of the group given its boom and bust nature, we did like many of the things we saw in D.R. Horton's quarter. Still, we're not anxious to add any homebuilder to our actively-managed portfolios at this time.
Disclosure: I have no positions in any stocks mentioned, and no plans to initiate any positions within the next 72 hours. I wrote this article myself, and it expresses my own opinions. I am not receiving compensation for it (other than from Seeking Alpha). I have no business relationship with any company whose stock is mentioned in this article.