It was just a short success for Tesla (NASDAQ:TSLA) shorts - it lasted just a small time from October to December - finally catalyzed by the company's lackluster earnings report that it ended 2013 with. However, it wasn't but a couple of weeks after that the company came out, beat production estimates for the fourth quarter, and the stock righted itself.
In the midst of an unsure market to start 2014, Tesla has surged 24% this year, 35% in the last three months, and is still up 375% from its price just one year ago.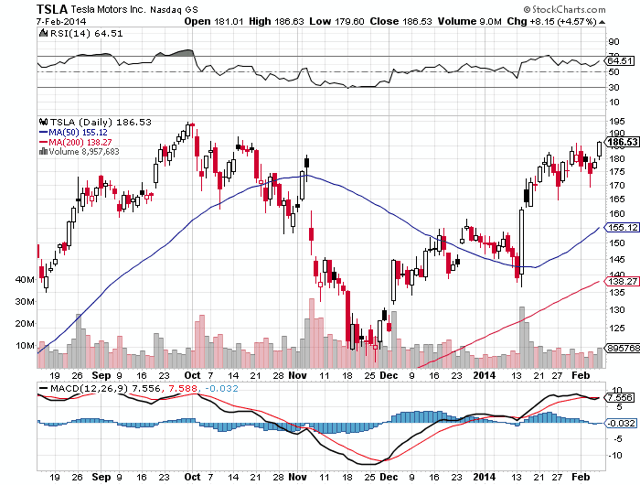 (Source: StockCharts)
The technical picture for Tesla looks strong. It broke its downtrend in mid-December and is quickly approaching the stock's next resistance at $195. When the stock passes through $195, $200 should be relatively easy.
And the good news keeps adding up for the auto maker. It was announced that Tesla made a huge jump in Consumer Reports' latest brand survey - it was graded on styling and technology, as well as performance. CNN reported:
If you see Tesla Motors' CEO Elon Musk smiling Wednesday, he might be thinking, "You like me, you really like me!"

That's because Tesla (TSLA) has made a big leap in Consumer Reports' latest brand perception survey.

The electric carmaker is now the fifth best-perceived brand among American car owners, jumping from 11th last year.

More traditional -- and well known -- automakers continue to top the list. Toyota (TM) remains number one in perception, ranking ahead of Ford (F,Fortune 500), Honda (HMC) and General Motors(GM, Fortune 500)' Chevrolet.
It seems in 2014, the only thing we've gotten with regard to Tesla has been great news. Forbes recently ran a story that Model S cars that are being sold used are worth more than they are new. The report stated:
Taking stock of how well assorted electric cars hold their value, the statisticians at the used-vehicle website iSeeCars.com came up with a doozy of an observation: A used Tesla Model S can command more in the used market than a brand new one off a dealer's showroom floor. A lot more.

Based on a survey of 45 million used car listings for sale/sold in the U.S., the average used Model S is said to be going for a whopping $99,734, which is considerably richer than its model-year 2013 base price of $69,900 (or, for that matter, the top-end version's $89,900). This is even more remarkable when one considers that an original buyer is subject to a $7,500 federal tax credit that effectively lowers the luxury EV's retail price to the $62,400-$82,400 range.

Of course with U.S. sales estimated at around 22,450 units last year, pre-owned Teslas aren't particularly plentiful - the Model S has yet to be listed on the online used-car price guides we checked. We suspect there's only been a relative handful of used Teslas on the market over the last several months, with many likely coming off one-year leases. Still, the sky-high used-car prices would indicate Tesla is a long way from meeting the demand for its zero-emissions performance sedan and bodes well for its next anticipated EV, the Model X luxury SUV
Of course, as the company's backlog of production finally starts to come down and supply begins to eventually meet demand, this will likely right itself.
However, it was Musk himself a couple of conference calls ago who came out and said that the company wasn't in a huge rush to mass supply for all of the demand it has now. The company was of the school of thought that it was better to continue to have the demand than to try and rush out and immediately quell it.
Tesla's success thus far, and its coming success overseas (in my opinion) is going to be directly predicated not only by the performance of its vehicles, but by the prestige of the company's name.
Moving well into 2014, the brand doesn't seem to have anything to worry about in terms of its name and product reputation. The stories of fires that plagued the company through 2013, even with the recent recall, have basically fallen from the headlines.
Tesla is so in demand, that even some property buyers in South Florida are even throwing in a Model S as part of an incentive to purchase their properties.
From an investing standpoint, I continue to argue that the company is strong, even at its lofty multiple. Tesla has met its growth expectations and has the idea right to reshape the auto industry. If ever there was a stock that warranted a massive multiple, Tesla might be the case study.
With the company's technical momentum, and the macro market showing positive signs to end last week - even in the face of terrible jobs numbers - I'm expecting it won't be long before Tesla passes and holds $200/share. Long term, I remain bullish on the auto maker as well.
Best of luck to all investors.
Disclosure: I have no positions in any stocks mentioned, and no plans to initiate any positions within the next 72 hours. I wrote this article myself, and it expresses my own opinions. I am not receiving compensation for it (other than from Seeking Alpha). I have no business relationship with any company whose stock is mentioned in this article.