I'm gonna keep this pretty short and just hit the major points. I sold a lot of stock last Monday bringing my cash levels to over 60%. This run has been quite amazing and large momentum moves often end with a bang. Fundamental news often matches up with technicals at tops and bottoms, both intermediate and long term in nature. The Goldman Sachs (NYSE:GS) sell off seemed to fit the bill, no matter whether the SEC suit would materially effect their earnings power, which I don't believe it will. I can't repeat this enough, my alpha will always be made on the downside of the market, stepping out of the way when the market isn't right is paramount to everything else.
And so it seems that I may have been a bit trigger happy. We tested the 20 day moving average on Monday and bounced strongly. Looking back, I should have been a buyer into the close on Monday and not a seller. The market tested that rising 20 day moving average again on Thursday and bounced even stronger, I should have been a buyer off that bounce as well. And on Friday, the market broke out to new highs.
Make no mistake, a failure at the 20 day moving average now which was tested twice last week will be big. But taking a step back and looking at the larger trend, last week's action seems to constitute a very very bullish short term consolidation that was needed. At 1,217 the market sits only about 1% from the long term resistance level of 1,228 and the 61.8% Fibonacci retracement level. Given that fact, I am in hit and run mode now, very wary of this market running into major resistance any day now. I've been out of this world bullish since the very beginning of this rally in mid March, but I just believe it's time to take risk off the table now.
For the week the momentum book was up 110 basis points but lost 110 basis points of alpha. I went from 26% cash at the end of last week to 41% cash by the end of this week, although cash levels were much larger earlier in the week, I did some buying mid week.
Positions added this week include TETRA Technologies (NYSE:TTI), Silver Wheaton (NYSE:SLW), Apache Corp. (NYSE:APA), and DISH Network (NASDAQ:DISH). I also added to $Dril-Quip (NYSE:DRQ) and Mead Johnson Nutrition (NYSE:MJN).
Positions sold this past week include Mindspeed Technologies (NASDAQ:MSPD), Atheros Communications (NASDAQ:ATHR), Cree Inc. (NASDAQ:CREE), Priceline.com (NASDAQ:PCLN), Skyworks Solutions (NASDAQ:SWKS), China North East Petroleum (NYSEMKT:NEP), Patriot Coal (PCX), Green Mountain Coffee Roasters (NASDAQ:GMCR), United Therapeutics (NASDAQ:UTHR), La-Z-Boy (NYSE:LZB), and Stillwater Mining (NYSE:SWC). The last three in that list were hit and run trades that took place intra week.
As you can see, I sold out of technology last week. My long held position in CREE is now gone, I was out before the earnings drop. I feel like I just let my best player walk due to free agency because he was overpriced and not worth the money. I'll hope he has a bad year and can buy him back at a lower price because his long term prospects are very bright. I goofed on selling ATHR into the earnings number, there was no reason to do so other than overall long exposure. MSPD, NEP, PCLN, SWKS and GMCR were timely sells. I will be back in PCX shortly I believe, that sell was unwarranted.
As you can see, my long exposure to materials and energy is getting significant. I now have very large positions in TTI, DRQ, APA, SLW and Ivanhoe Mines (IVN) along with a long position in the US Gasoline ETF (NYSEARCA:UGA).
I missed most of the retail melt up, probably my greatest mistake of the year so far, but I did get a piece. My positions in True Religion Apparel (NASDAQ:TRLG) and Nu Skin Enterprises (NYSE:NUS) have paid off nicely, I took some profits into the end of the week.
I will continue to focus on energy and materials here as I believe over the intermediate term the risk reward there is better. I think we'll see technology, retail, and financials (which I have pretty much completely ignored) take a rest as things which hurt when you drop them on your foot lead the market.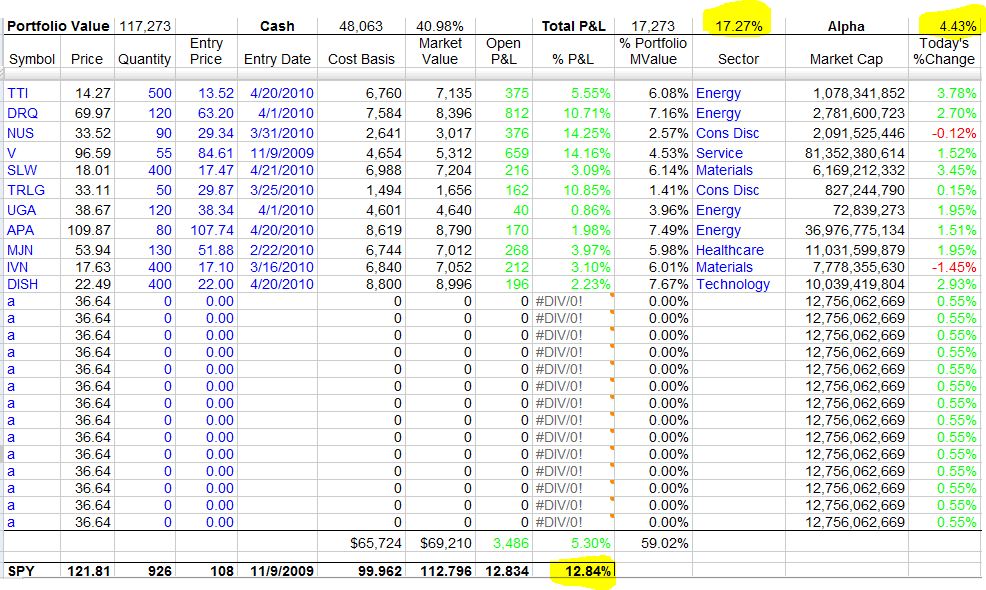 click on charts to enlarge