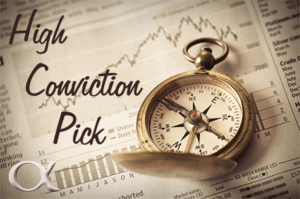 Greg Donaldson, an RIA, is founder and director of portfolio strategy for Donaldson Capital Management, based in Evansville, Ind. With 35 years of experience in the securities business, he's founded or co-founded three different investment management companies.
Greg's investment approach involves looking for the correlation between stock price growth and dividend growth. He's found that for a few hundred companies, buying stock when its price is below its projected dividend line has been profitable - and, conversely, stocks whose price is outpacing dividend growth often end up as disappointments.
Seeking Alpha recently got the chance to ask Greg about his current highest-conviction pick:
To start, tell us a bit about your firm.
Donaldson Capital Management was founded in 1994. We are a company oriented toward rising dividends. We have developed numerous valuation tools that help us value companies that are committed to paying dividends.
We serve clients in 30 states. Our assets under management are over $370 million, and our assets under supervision total near $400 million. Our minimum account size is $500,000. We also manage bonds and preferred stocks.
What is your current highest conviction pick, long or short?
Emerson Electric (NYSE:EMR) is my No. 1 long pick in the markets today. Emerson is one of the world's leaders in manufacturing and marketing electrical, electromechanical, and electronic products and systems. It was incorporated in 1890 and sells its products in every corner of the world. Many people think of Emerson as that old-fashioned company that makes electric motors. They are right, and they are wrong.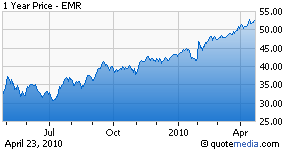 Emerson does, indeed, make electric motors of all kinds, but it has morphed into a global technology and engineering company with its fingers in every part of the automation and process control business. If you think of the incredible increase in productivity that has occurred over the last few years, think Emerson. They operate in five major industry sectors: Process Management, Network Power, Industrial Automation, Climate Technologies, and Appliance and Tools. Some 55% of EMR revenues come from outside the U.S., with China and Europe producing about 21% each as the biggest foreign contributors.
How much is Emerson Electric an "industry pick" as opposed to a pure bottom-up pick?
Emerson is a company we have owned off and on for many years. We began buying the stock this time as a blue-chip way to play the industrial sector - which was devastated by the recent recession, as sales for many companies in the industry fell by over 25%.
Yet when China, India and the rest of the developing world continued to grow right through the U.S. recession, we realized that something new was at hand: the industrialization of these countries was not abating. It was a short leap of logic from there to realize that many American industrial companies hold a commanding lead in many manufacturing and automation technologies.
Thus, we took the position that the industrialization of China and India, in particular, was a secular phenomenon and was not likely to end anytime soon. Couple that with the mauling that many of the industrial companies took in the recession, and you have fertile grounds for a counterintuitive play.
But there is more. Emerson is an automation and engineering firm. They correctly saw in late 2008 that their business was falling off the table, and they undertook a massive rightsizing of their company. Indeed, Emerson's cost of sales has fallen by nearly 25% over the past 16 months. In the early stages of the recession, EMR slashed employment, inventory, capital expenditures and production. But they did not use a machete to just reduce costs across the board; they used their own expertise in process management to reconstruct their company to fit a 21st century model, where a greater and greater percentage of their business would come from outside the U.S.
The deeper we got into the industrial sector, the better we liked it. It is now our most overweight sector.
Can you describe Emerson's competitive environment?
As I said earlier, America is the leader in the industrial sector and Emerson faces competition in all of the subcategories in which they operate. Having said that, however, they are the leading company in three of their five subcategories.
In the other two, there are bigger companies, but
EMR
is dominant in their more narrow part of the sector.
Can you talk about valuation? How does valuation compare with competitors?
When we began buying Emerson, our dividend valuation model was signaling that the company was about 35% undervalued. Our models are now saying that the stock is about 20% undervalued. That is a bit more undervalued that many of the other stocks in the industrial sector because they have all been marching higher in recent months.
Emerson might be lagging a bit because it hasn't yet reported earnings; it's scheduled to report on May 4.
EMR
has a dividend yield of 2.6%. We believe the dividend will grow at a low double digit rate over the next five years.
How does your view on Emerson differ from the consensus sentiment?
EMR's rating by Wall Street is slightly better than the average stock. Since it's our top pick, we are much more bullish on the stock that the Street. We believe it can grow earnings in the mid-teens for the next three to five years.
Does the company's management play a role in your position?
EMR has one of the best management teams in all of corporate America. The job they have done to rightsize their company during one of the toughest markets anyone has ever seen is remarkable. We think they have done an outstanding job of assembling a line of products and services that have both defensive and offensive characteristics.
In addition, we commend the company's board of directors. They raised the company's dividend for 53 consecutive years. This is the epitome of what we call a "Dividend All-Star."
What could go wrong with this pick?
The biggest task facing Emerson and many other companies in the industrial sector is inventory. If the economy comes back in Europe and the U.S. faster than we now expect, EMR could find itself without enough inventory to meet the demand. Deere (NYSE:DE), another company we like in this group, is facing some inventory issues.
Thanks for sharing your ideas with us, Greg.
Disclosure:
Donaldson Capital Management is long
EMR
.
If you are a fund manager and interested in doing an interview with us on your highest conviction stock holding, please email Rebecca Barnett.