Organovo (NYSEMKT:ONVO) will be one of the beneficiaries of an enormous outflow of capital from broader 3D printing names and into specialty companies that focus on a viable niche. As 3D Systems (NYSE:DDD) guided earlier last week, the Company will not meet its guidance on FY2013 earnings. ExOne (NASDAQ:XONE) said in January that a longer-than-expected sales cycle would bring revenues in below expectations for 2013, also. Altogether, the 3 largest 3D printing companies (by revenue) will report an aggregate of $1.2B in sales for fiscal 2013 - a rounding error on 0.1% of global manufacturing sales. Organovo is expected to remain pre-commercial until the end of 2014, meaning revenues will not be significant until that time.
| | |
| --- | --- |
| Company | Revenue (in millions $), est. |
| Stratasys | 670 |
| 3D Systems | 513 |
| ExOne | 40 |
The reason broader 3D printing companies will continue to be a non-factor in global manufacturing is that input prices will not fall fast enough to make 3d printers competitive in consumer markets and large-scale industrial applications. 3D Systems echoed this in their recent press release:
"Compared to its expectations, the company experienced much stronger professional 3D printers and materials demand and softer on-demand parts and consumer demand during the fourth quarter."
Specialty manufacturing is the only foreseeable growth driver for Stratasys and 3D Systems (and their peers). As expectations begin to weigh on reality, there's a growing friction between market growth and earnings growth of the companies selling into this market.
While 3d printing sentiment has spilled over to Organovo, the Company continues to be the best-performing name in its segment.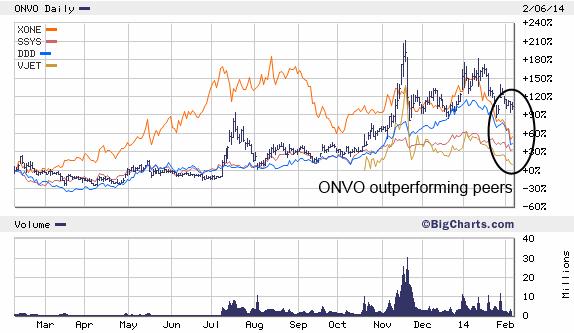 A Better Business Model Than 3D-Printing Peers
Organovo is unique in its technology and business strategy. Unlike 3D Systems, Stratasys et al., the Company focuses on "printing" 3-dimensional tissue for drug development and testing. This is referred to as "bio-printing." The product produced by Organovo's 3d printer becomes an important input in the drug development cycle itself. This distinguishes Organovo and allows the Company to position itself to benefit from the value-add of its 3-d tissue. Here's what this means:
1. Organovo can sell its 3-d tissue models to generate recurring revenue rather than sell the infrastructure that creates it, i.e. the printer. The benefit of this model is (A) recurring revenue, (B) higher margins, (C) shorter selling cycle and easier adoptability. Clinicians and researchers are used to purchasing cell assays, which means convincing them to purchase a printer to print their own would prove challenging, costlier, and take longer than convincing them to switch to cell models that are more predictive of substances later tested in humans.
2. Collaborations with researchers will position Organovo to earn a royalty on products successfully developed using the Company's models. This effectively means that Organovo could grow bigger than the entire market for cell assays because the Company would benefit from sales of drugs developed using its infrastructure. Another way to think of this is to consider Organovo's 3d printer a licensing machine. These collaborations could come as the biggest surprise to investors who view the Company through a narrow lens (akin to "just another 3d-printer").
3. Services. If we've learned anything, margins in services tend to be higher than those for product sales. Organovo's management understands this and has hinted at providing contract research organization (CRO) services in-house in their quarterly conference call.
"The overall market for CROs hits $35B annually. However, most of this annual figure is devoted to clinical studies. Approximately $7B is preclinical in which $5.25B is allocated towards animal studies and the remaining $1.75B for in-vitro lab based research. With the impending liver tissue, Organovo could penetrate the $1.75B in-vitro market by offering lab research service in the toxicology space."
Interestingly, L'Oreal recently signed on to use Organovo's skin-tissue to test cosmetics after the EU banned testing on animals. If the US were to follow suit, this would create yet another vertical for Organovo to enter.
Cash Will Fuel Growth as 2014 Validates 3D Bio-Printing
Earnings performance of 3D Systems and Stratasys should have no bearing on Organovo's share price or valuation. In fact, as speculative investors sell these names into bearish sentiment (or poor performance, whichever weighs on investors first), Organovo will likely be the beneficiary of new investment inflows. The reasoning is simple. If you want a piece of the 3D printing space without having to pay high multiples on mature companies like 3D Systems, Organovo is one of the best options. Organovo is also the only way to play "bio-printing."
2014 is a year of validation. Remarks from key opinion leaders ("KOLs") and collaborations will be in focus as a determinate of Organovo's future growth. The 3D liver assay, expected near the end of 2014, will mark the first commercial product for the company. Given that the delivery to KOLs for experimentation was achieved a full quarter before the April 2014 target date, there could perhaps be a possibility that the liver product is also launched before the target November 2014 date. In addition, I would expect management to give clarity on pursuing the CRO model and hint at the next targeted tissue (ex. kidney, breast or skin). An increasing R&D budget and headcount will allow Organovo to speed up the development of tissues in the pipeline. As the focus shifts from the liver assay and onto other targeted tissues, investors should expect accelerated development in coming months.
Organovo can be compared to 2010 as 3D Systems' "breakthrough" year. It was the year the Company saw growth for the first time in at least 3 years. As cash inflows grew, it enabled the Company to go on an acquisition spree that has fueled much of its growth. In the ensuing 3 years, shares rose from $5 as high as $97.
As of December 31, Organovo had $49.8 million in cash and equivalents. 3D Systems held $37 million by YE 2010 and was able to generate robust growth, nonetheless. But what most Organovo investors have missed is that an at-the-market agreement with JMP Securities dated November 27, 2013 disclosed that the Company would offer up to 4M shares at market prices when and if appropriate. If these shares were sold in the last two months, it would add $40M to the Company's coffers while diluting shareholders just 5% (20-day moving average price is $10.03, and shares traded considerably higher in January).
Organovo's overhead is relatively small compared to most R&D or early commercial-stage companies. This puts its cash-management into focus. Like 3D Systems in 2010, Organovo could be sitting on more than $80 million that can be used to fuel growth, organically, and perhaps even through - dare I say - acquisition?
Disclosure: I am long ONVO. I wrote this article myself, and it expresses my own opinions. I am not receiving compensation for it. I have no business relationship with any company whose stock is mentioned in this article.