By David Russell
Nasdaq OMX Group (NADQ) reports earnings Friday morning, and one trader is positioning for a big move.
optionMONSTER's tracking systems detected the purchase of 5,000 January 22.50 puts for $2.40 and an equal number of January 22.50 calls for about $2.41, resulting in a net debit of $4.81. The so-called straddle trade pushed total options volume in the stock-exchange company to 14 times greater than average.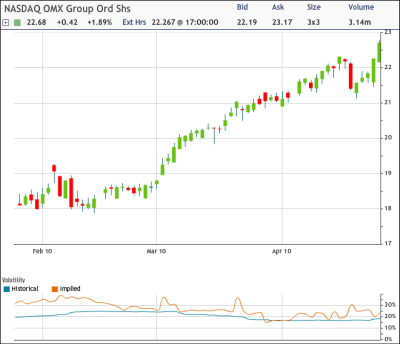 NDAQ rose 1.89 percent to $22.68 last Friday and is up 24 percent in the last three months. The operator of financial markets narrowly beat analysts' forecasts the last time it published results on February 8 and is scheduled to issue its next report before the market opens on April 30.
Friday's options trade is designed to profit from NDAQ popping higher or selling off, making money if the stock falls below $17.69 or rallies above $27.31. The strategy will also benefit if implied volatility climbs above its current 28 percent level, the lowest reading on the stock in more than three years.
Buying a straddle that expires in January protects the investor from losing a lot of money to time decay for several months and gives them more time to profit from a potential volatility spike. (See optionMONSTER's Education section)
NDAQ has been fighting its way back to the $22.50-$23 area that has served as resistance during most of 2009. The shares have been climbing along with the rest of the financial sector since they found support at $18 in February.
While stock-exchange companies have faced increased competition, some value investors may consider NDAQ inexpensive because it trades at less than book value and has a price-earnings growth ratio under 1. It's also still down more than 50 percent from its peak in early 2008.
(Chart courtesy of tradeMONSTER)