In the book The Little Book of Value Investing, Christopher H. Browne wrote:
Long-term, value investing is like flying from New York to Los Angeles. While you may encounter some air turbulence over Kansas, if your plane is in good shape, there's no reason to bail out. You will eventually reach your destination safely.
What a better "value plane" to travel in than Omega Healthcare Investors (NYSE:OHI). This specialty healthcare REIT is ranked #1 in ten-year total shareholder return (or TSR) among ALL publicly traded REITs. In addition, the $3.8 billion (market cap) REIT is ranked #1 in TSR among ALL healthcare REITs in 2013, with TSR of 33%.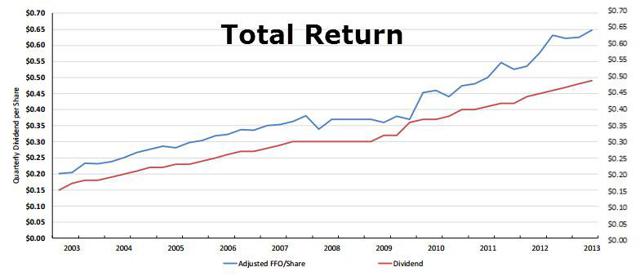 Ben Graham reminds us that earnings are the principal factor driving stock prices and value investors have the extra security of knowing that they own stocks that have one or more characteristics of long-term winners and that they have paid careful attention to investing with a "margin of safety". It's not every day that you find a "true gem" that offers a stress-free route to investment success; however, when you do discover the secret sauce, it is usually consists of these ingredients (as Ben Graham explains in The Intelligent Investor):
It is the consistency in the products that creates consistency in a company's profits. Consistency and durability are attributed for competitive advantage.
Omega Healthcare Investors Has a Circle of Competence
Omega Healthcare Investors is a pure play nursing home REIT that provides financing and capital to the long-term healthcare industry, with a particular focus on skilled nursing facilities located in the United States. As a public company since 1992, OHI owns or holds mortgages on 538 skilled nursing facilities, assisted living facilities, and other specialty hospitals, with approximately 61,178 licensed beds (58,885 available beds) located in 37 states and operated by 49 third-party healthcare operating companies. As of December 31, 2013, OHI's portfolio consisted of $3.9 billion of gross investments.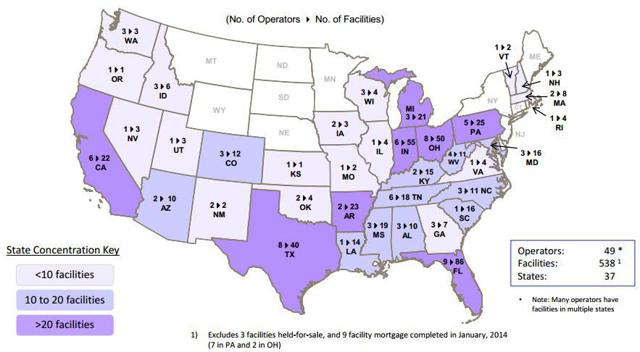 OHI is considered a mid-cap REIT, and although not as large as the three dominating Diversified Healthcare REITs - Ventas, Inc. (NYSE:VTR), HCP, Inc. (NYSE:HCP), and Health Care REIT (NYSE:HCN) - OHI is one of the larger REITs that specializes in its strategically-focused business model of skilled nursing.

OHI has a well-balanced portfolio of revenue, and the company's top four states (FL, OH, IN, and TX) represent over 40 percent of income. Recently, OHI announced a sale/leaseback transaction that will strengthen the company's footprint in the southeastern US. On November 27th (2013), the company completed a $529 million monetization of 56 facilities operated by Ark Holding Company.
As part of the transaction, OHI acquired titles of 55 skilled nursing facilities and one assisted living facility, and leased them back to the prior operators, pursuant to four 50-year capital lease agreements, with rental payments to OHI yielding 10.6% per annum over the term on lease.
The 56 facilities represent 5,624 licensed beds located in 12 states, predominantly in the southeastern United States. The 56 facilities are separated by a region and divided amongst four cross-defaulted master leases. The four regions include the Southeast, the Northwest, Texas, and Indiana. The initial year one contractual rent is $47 million, with 2.5% escalators beginning in year five.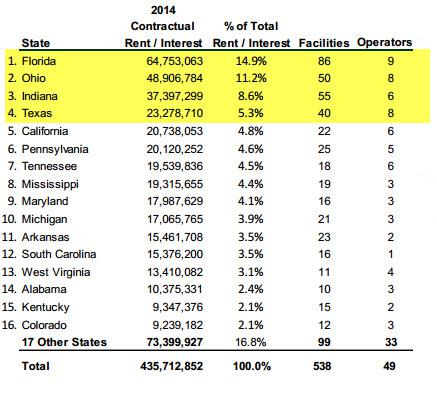 The large majority (97%) of OHI's facilities are leased (or mortgaged) to Skilled Nursing operators and the remaining properties are leased (or mortgaged) to Assisted Living operators (2.1%) and Specialty Hospitals (.9%). OHO receives fixed rent payments from tenants with annual escalators (although the Ark Holding deal has 5-year bumps), and the company's operators receive revenues through reimbursement of Medicare, Medicaid, and Private Pay.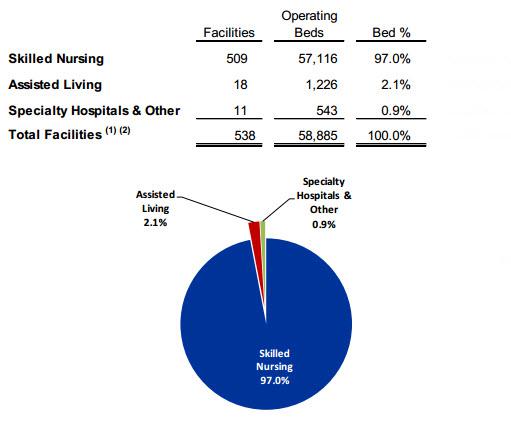 Effective October 1st (2013), the Medicare rate increased 1.3 percent and Medicaid rates are expected to increase modestly on average across OHI's states (per Investor Presentation). Also, dual eligible integrated managed care plans have been initiated by some states. OHI's diversification helps minimize the impact of rate changes in any particular state.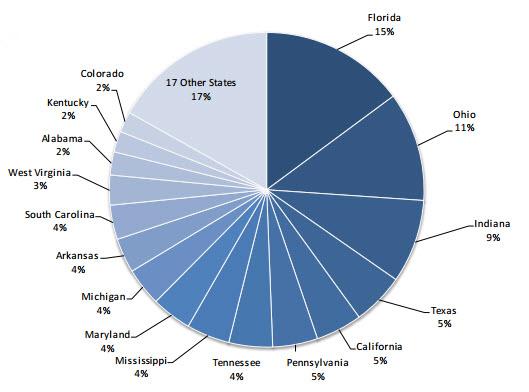 As noted above, OHI recently closed on a transaction with Ark Holding, and now the operator is the largest tenant of OHI (based on number of locations/leases). Other primary operators include Genesis, Inc., Health & Hospital Corp., and Airamid Health Management.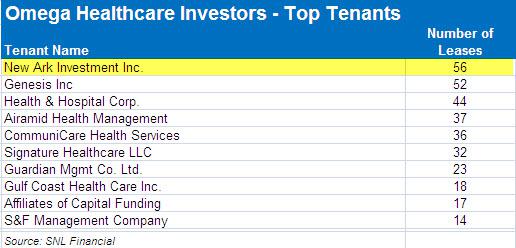 On OHI's earnings call last week, Green Street's Jeff Theiler asked OHI management about the Ark Holding deal, and specifically he wanted to know why OHI had "no escalators for the first five years" of the Ark leases. He asked if OHI was starting "a pattern" or just "thinking about moving away from the typical 2 percent bumps we've seen for skilled nursing investments". Taylor Picker, CEO of OHI, replied:
The Ark (deal), is obviously, very big and very long-term and so that was just part of the negotiation of the underlying economics. They have escalators, and it's consistent with the master lease when it's crossed in two's. So that's I'd say, more traditional in terms of the economics.
Another analyst asked about the supply and demand and whether or not there were other larger deals in the market like the Ark Holding deal. Pickett replied:
So I would say, we are seeing more of the $50 million to $100 million deal size, which has sort of been our bread and butter for the last several years. And we were seeing that sellers are traditionally more mom and pops.
My Take on the Ark Deal: I believe OHI did a terrific job of sourcing the Ark Holding deal. Given OHI's low cost of capital (more on that later), I believe the recent investment is highly accretive given that the (Ark Holding) portfolio is yielding 10.6% per annum over the term on lease. Clearly, OHI has developed as outstanding circle of competence - another reason to sleep well at night.
Omega Healthcare Investors Building a Fortress Investment Model
The word "fortress" is derived from the Latin word meaning strong. Of course, we know that in order to be strong you must protect yourself from enemies or competitors. That's how Warren Buffett came up with the "wide moat" analogy. It's very difficult for a competitor to attack a fortress when there is a wide moat.
OHI has been a public REIT for over 21 years, and since that time, the company has evolved into a loyal brand of dividend repeatability. Of course, that does not mean that OHI started out as a "poster board" for differentiation.
The company cut distributions in 2000, and eliminated them for 2001 and 2002. The primary reason for the cut was due to weak operational fundamentals (reimbursement) and of course, lack of diversification on OHI's portfolio.

However, here's my mantra: "Huge Failure, Makes for Huge Success".
That's right, Omega responded to its difficulties in 2000, and since that time the focused Healthcare REIT has built up an enviable track record by growing its dividend for 11 years in a row. Accordingly, OHI has built its successful investment platform by being different (wide moat) from its competitors and creating a more lasting fortress capable of sustaining over time through constant change.
One way that OHI has grown its fortress brand is by increasing in size and reducing overall tenant concentration through diversification. Since 2004, OHI has closed on over $3.4 billion of investments. By pursuing a focused strategy of senior care operations, OHI has developed a durable and accretive portfolio using its credit facility (undrawn $310 million as of February 3, 2014) and replenishing it with long-term debt and equity. Here is a snapshot of investments made from 2004 through January 31, 2014.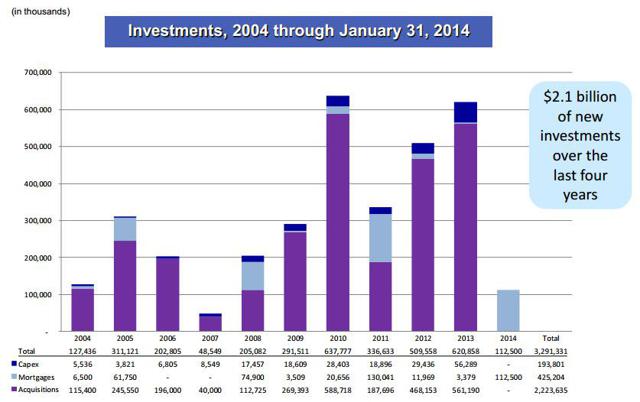 As a result of OHI's growth and continued diversification efforts, the company has built a portfolio of assets with minimal near-term lease expirations. Approximately 85 percent of portfolio expirations occur after 2020, and the combined EBITDAR coverage of leases expiring through 2020 is 1.6x.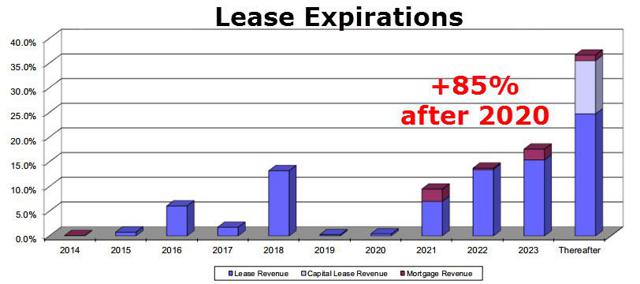 OHI's gross investments have soared from $900 million in 2004 to over $3.9 billion as of December 31, 2013. That translates into 17.2 percent CAGR during that period.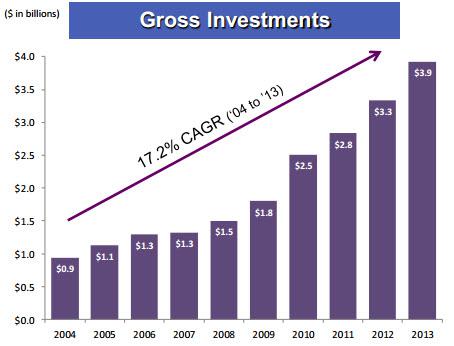 OHI doesn't have the strongest balance sheet in the Healthcare sector; however, the company has become much stronger, as evidence by a Moody's upgrade last year from Ba2 to Ba1. In addition, Fitch affirmed OHI's BBB- rating last year and S&P maintains a BBB- rating on OHI shares. Clearly, OHI is a seasoned market maker.
In March (2013), OHI refinanced approximately $59 million of debt related to 12 mortgage loans guaranteed by the Department of Housing and Urban Development. The 12 HUD mortgage loans had a blended interest rate of 5.55 percent per annum, with maturities in July, 2044. The refinanced interest rate is approximately 3.06% per annum.
Also, in May, OHI paid $51 million to retire 11 mortgage loans guaranteed by HUD. The loans were assumed as part of the 2010 CapitalSource acquisition and had a blended interest rate of 6.61%. The payoff resulted in an $11 million net gain for the extinguishment of fair market value of debt classified as interest refinancing cost on the income statement.
In October, OHI issued 2.875 million shares of common stock, generating net cash proceeds of $85 million. During the fourth quarter (of 2013), OHI completed $561 million of new investments financed primarily with borrowings under a $500 million unsecured credit facility and balance sheet cash.
In late December, OHI closed on a $200 million term loan priced at LIBOR plus 175 basis points, which is short liquidity for potential new investments. At December 31, the new term loan was completely available for use. In January, OHI borrowed the entire $200 million and used the proceeds to repay borrowings on its credit facility. OHI will likely look to the capital markets in the first part of 2014 for term loan financing.
For the three months ended December 31, 2013, OHI's funded debt-to-total asset ratio was 46 percent and debt-to-total market cap was 35.5 percent.

As of Q4-13, OHI's funded debt-to-adjusted annualized EBITDA was 4.7x and adjusted fixed charge coverage ratio was 4.1x. OHI typically uses drawings under its revolver to make acquisitions and later replenish the revolver with long-term debt and equity.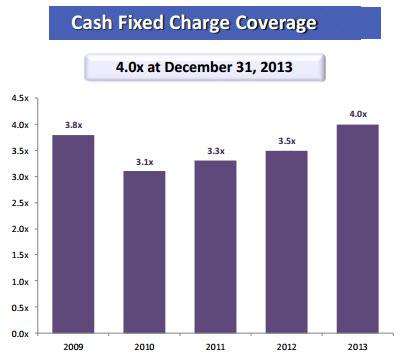 OHI has a $500-million unsecured revolver with a $200-million accordion (matures in December 2016). In addition, the company has two $200 million unsecured term loans (one expires in 2016 and one in 2017). The company has no near-term bond term maturities. Here is a snapshot of the company's debt maturity schedule: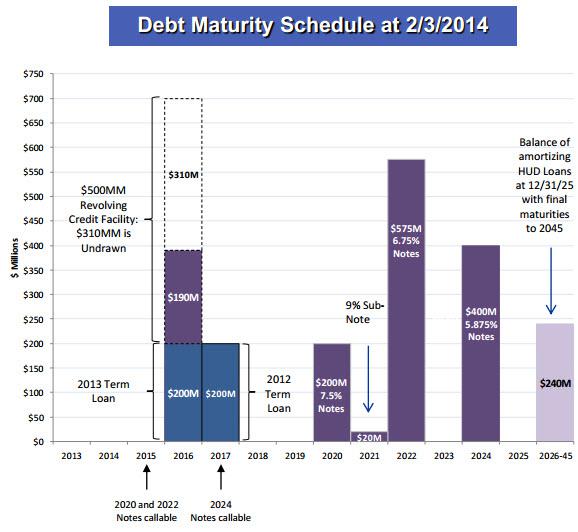 As evidence below, OHI has a conservative balance sheet with significant cushion on all financial covenants. All key credit metrics appear to be sound: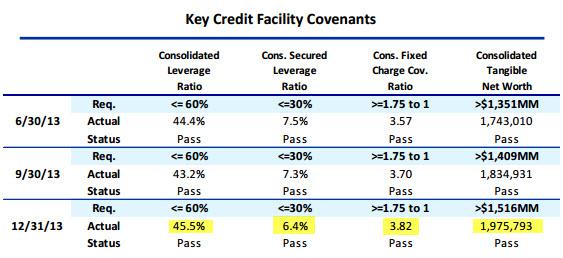 One of the notable improvements made by OHI over the years is the company's minimal reliance on secured debt. A majority of the company's secured loans are 30-year amortizing HUD loans (strong coverage ratios) and the unencumbered asset pool is over 88 percent.

Having a flexible balance sheet is a huge differentiator for OHI, and as evidenced below, the company has one of most risk-averse balance sheets in the Healthcare sector. That's a big advantage for OHI and one of the reasons that I own the stock today.

Dividends Speak Louder Than Words
I just finished reading the book, The Ultimate Dividend Playbook, by Josh Peters. There's a lot of good content (assuming you're a value investor like me), and one paragraph jumped out at me:
…dividends speak louder than earnings. A company's pattern of dividend payments - its dividend record - can offer valuable clues to underlying corporate performance, clues just as valuable as those provided by earnings reports and other financial data, and definitely more useful than conclusions someone might draw from looking at a three-month stock chart…Dividends are more than information; they provide insight that any investor can use to make useful investments.
Let's first take a quick look at OHI's latest earnings released last week…
OHI's Adjusted Funds from Operations (or AFFO) for the fourth quarter was $0.65 per share, which is a 12% increase over 2012 fourth quarter adjusted FFO of $0.58 per share. Normalized funds available for distribution (or FAD) for the quarter was $0.59 per share.
OHI announced a 2014 FAD guidance range of $2.44 to $2.47 per share and 2014 AFFO guidance range of $2.69 to $2.72 per share. For the twelve months ended December 31, 2013 OHI's AFFO was $299 million and the company's CAGR from 2005 through 2013 was a whopping 24.3 percent.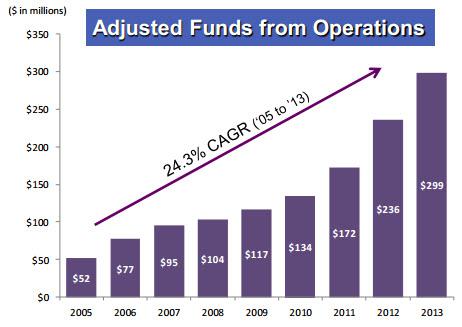 OHI's operating revenue for the fourth quarter was $111.1 million versus $95 million for the fourth quarter of 2012. The increase was primarily a result of incremental lease revenue from a combination of acquisitions completed since late fourth quarter of 2012, capital improvements, and lease amendments made during that same time period. For the year, OHI reported $419 million in annual core operations revenue. Here is a snapshot of the company's historical core revenue - 19.1 percent CAGR from 2004 through 2013.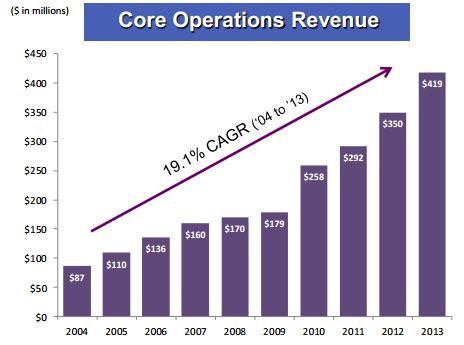 Now, as Josh Peters explains, "a dividend payment is the ultimate sign of corporate strength" and "dividend increases - even more than current earnings or earnings projections - are a forward-looking indicator of growth and total return prospects".
Last week, OHI announced an increase in its quarterly common dividend to $0.49 per share. This is a 2.1 percent increase from the last quarter and a 9 percent increase from the fourth quarter of 2012. OHI has now increased the dividend six consecutive quarters.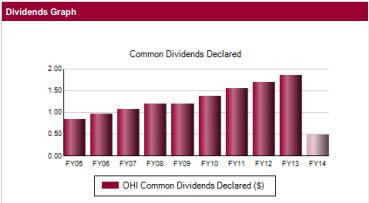 OHI has managed to pay and increase dividends for over 11 years in a row - earning the company a spot in my 3D portfolio (see my newsletter HERE). As Josh Peters said, "the safest dividend is the one's that's just been raised".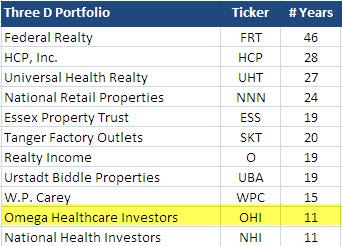 Notable, OHI's track record for dividend increases is extraordinarily better than most other Healthcare REITs. Here is a snapshot that compares OHI's 3- and 5-year average dividend increase performance with other stalwart performers: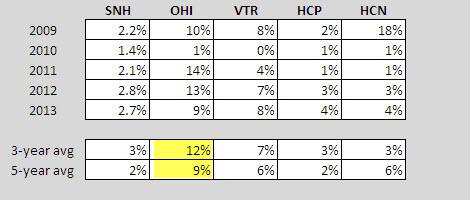 This illustration (below) compares OHI's dividend performance with a few select Healthcare REITs. As you can see below, OHI has soared back from its failures in 2000-2002 and is now one of the highest-paying REITs in the sector.

OHI has also maintained a sound margin of safety with respect to the 10-year Treasury.

Also OHI's dividend payout ratio is 75 percent of AFFO and 83% of FAD (around 77 percent of FFO). The dividend is well-covered, and this means that there is a reasonable chance for further solid dividend growth from OHI going forward.

OHI has one of the highest-paying dividend yields in the Healthcare sector:

Josh Peters explained "durability" an "earnings stream that, if not quite predictable in any given year, can be relied upon over a series of years, during which short-term fluctuations should average out. As illustrated below, OHI's occupancy is stable - reported 83.4 percent during the latest earnings period: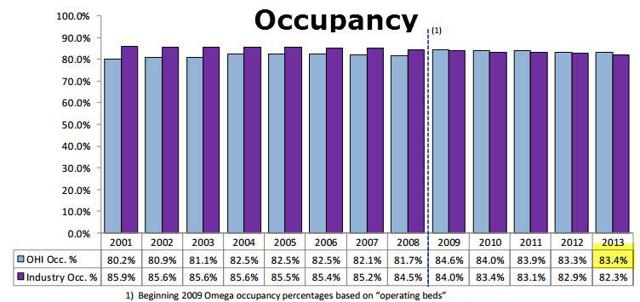 Omega is a Premium Brand That Delivers Something Special
Warren Buffett is famous for his words describing a "fortress brand":
Your premium brand had better be delivering something special, or it's not going to get the business.
It's now clear to me: Omega Healthcare Investors has a dependable dividend stream and that's a big reason that many people (including me) own the stock. However, a bigger attraction for me is the fact that I see above-average appreciation potential in addition to the safe and growing dividends. You see, I'm not looking for immediate gratification. Like most value investors, I'm looking to plant a seed and watch it grow into a powerful source of dividend repeatability.
As I mentioned above, OHI has evolved into a geographically diverse model and that has resulted in a wider "margin of safety" overall. However, I am most compelled to increase my exposure to OHI because based on intrinsic value; I believe the shares have a tangible "margin of safety".
Notably, I seem more confident that this REIT can survive in poor economic times and I see this company as a "battle-tested" example of success. With over 11 years of consistent profitability, I am less fearful of any negative implications that could result in a loss of principal. Accordingly, OHI has the cheapest valuation in the Healthcare sector (based on P/FFO):

Ben Graham summed up the "margin of safety" concept best when he said:
The defensive investor must confine himself to the shares of important companies with a long track record of profitable operations and in strong financial condition.
Omega Healthcare Investors is a quality stock, and the consistency in the dividend history has given me a competitive advantage that I plan to cash in on the dividends (by reinvesting). My previous BUY recommendation was $29.99, and I am now moving my target to $30.50. I believe the 6.44 percent dividend yield is safe and I consider the shares to be trading at a discount (on a risk-adjusted basis).
Although not the quality of Realty Income (NYSE:O), I consider Omega a staple REIT for the individual investor and I consider the current dividend yield a pretty good proxy for investment risk. In summary, Omega's secret sauce - the dependability of the durable dividend - is the big reason I own the stock and why it's "simply a premium brand that delivers something special". (Note: Omega Healthcare is one of picks in my "3D" portfolio in my monthly REIT newsletter)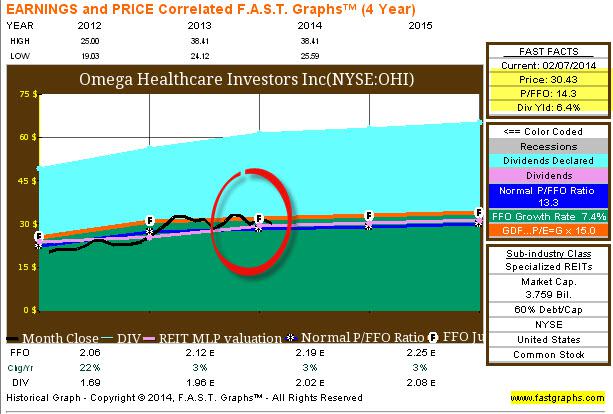 REIT Newsletter: The author is the Editor of a monthly REIT newsletter. For more information click HERE.
REITs mentioned: (NYSE:NHI), (NASDAQ:SBRA), (NYSE:HR), (NYSE:HTA), (NYSE:LTC), (NYSE:UHT), (NYSE:AVIV), (NYSE:MPW), (NYSE:DOC), and (NYSE:SNH).
Sources: SNL Financial, FAST Graphs, and OHI Investor Presentation.
Disclaimer: This article is intended to provide information to interested parties. As I have no knowledge of individual investor circumstances, goals, and/or portfolio concentration or diversification, readers are expected to complete their own due diligence before purchasing any stocks mentioned or recommended.
Disclosure: I am long O, DLR, VTR, HTA, STAG, UMH, CSG, GPT, ARCP, ROIC, MPW, HCN, OHI, LXP, KIM. I wrote this article myself, and it expresses my own opinions. I am not receiving compensation for it (other than from Seeking Alpha). I have no business relationship with any company whose stock is mentioned in this article.