Apple's (NASDAQ:AAPL) business operating performance momentum has slowed down relative to the heady growth rates it achieved from 1997 to 2012. Apple reported FY 2013 revenue of $170.9B and full year profit of $37B, or $39.75 EPS. Although Apple has generated a total return since it bottomed out in April, I believe that it is still a good value for investors. Apple announced that NTT DOCOMO began carrying its new iPhone 5S in December 2013. Although Apple's Q1 2014 guidance calls for stable revenue year-over-year, its gross margin is expected to decline by 6% due to $900M in revenue deferrals from software and the increased proportion of sales from tablet computers and its new MacBook and iMac products, which carry lower gross margins than the iPhone. At least its total return has been within the S&P 500 since April 19 (the Friday before it bottomed out). Investors should follow Carl Icahn's lead and use Apple's dip to selectively accumulate Apple shares.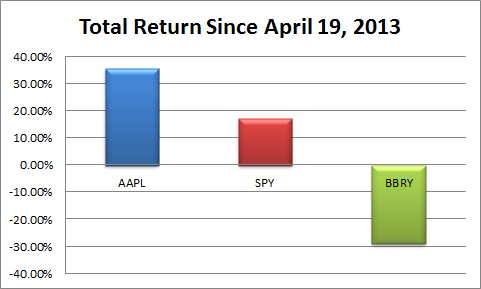 Source: Morningstar Direct
Apple also has $158.8B in cash and marketable securities ($124.4B attributed to overseas entities) representing 35.1% of Apple's Market cap. Apple initiated a $2.65/share dividend payment in August 2012, which was its first dividend in 17 years and it increased the dividend by 15% to $3.05/share in May 2013. Apple began its $10B share repurchase program in FY 2013, it increased its share repurchase authorization to $60B in April 2013, it repurchased $22.9B worth of its shares in FY 2013 and it repurchased $5B in Q1 2014. Apple was originally planning to return $45B in cash to shareholders from 2013-2015 and I was mollified that Apple boosted that figure to $100B in order to establish a firmer floor on its share price. Apple repurchased $40B over the last 12 months, including $14B in the last two weeks.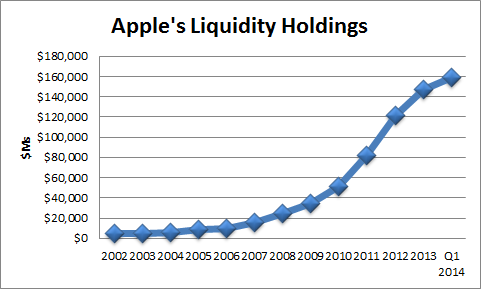 Source: Morningstar Direct
I agree with activist investor Carl Icahn's assertion that Apple's share price is undervalued as Apple is trading at less than eight times forward earnings excluding its $158.8B in liquid assets. I can also see why David Einhorn's Greenlight Capital still has $1.1B worth of Apple's stock. Other notable investors in Apple include Cliff Asness ($201M), Maverick Capital ($177M), David Tepper's Appaloosa Management ($116M) and Paul Tudor Jones ($61M). I disagree with Egan-Jones's opposition to Icahn's (non-binding) $50B FY14 buyback resolution since Apple has a huge pile of liquid assets and few opportunities to invest its $158.8B in liquid assets.
The iPhone continues to be Apple's best-selling product. Revenue from the iPhone increased 6% to $32.5B on a year-over-year basis. Units sold increased by 7% to 51M and average sales price per unit held relatively steady on a year-over-year basis (and increased by 10.3%) despite the introduction of the lower priced iPhone 5C device. This certainly outshined the revenues and units sold by Nokia (NYSE:NOK) and Research in Motion (RIMM), even though those companies have lower wholesale and retail costs associated with phones from those two vendors. While Apple's share price has certainly pulled back by 25% since its September 21, 2012 peak of $705.07, Apple's iPhone sales volumes are much stronger than what RIMM and Nokia have enjoyed at each firm's respective peak. I expect that the new iPhone 5S will enable Apple to recover consumer goodwill that was lost due to the poor perception of the iPhone 5 and Apple's new sales agreement with China Mobile to help boost Apple's growth rate in China.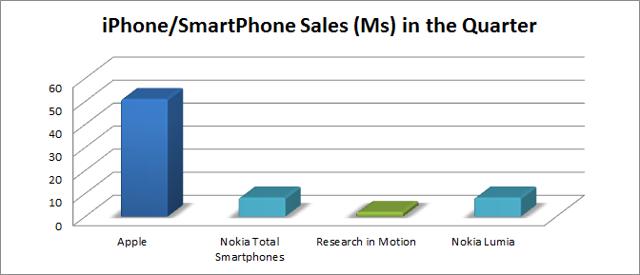 Source: MRQ Reports from Apple, Nokia and Research in Motion,
As Apple increased its R&D spending from $1.3B in 2009 to $4.8B in the last twelve months, I believe that investors should expect that Apple will potentially release new products or enhancements to its existing products. Other potential catalysts for new products or new enhancement to its existing products include including curved screens, enhanced biometrics, 3D gesturing, wireless charging and a major upgrade to Apple Maps. In a recent interview with The Wall Street Journal, Tim Cook hinted at likely new products for 2014 but declined to give specifics.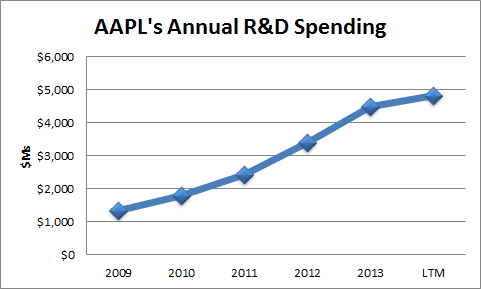 Source: MRQ Reports from Apple, Hewlett-Packard and Lenovo (OTCPK:LNVGF),
The iPad saw solid 14% volume growth but its revenues increased by only 7% due to demand for the iPad Mini displacing demand for the traditional iPad model. Although Apple is facing competitive headwinds in the tablet computing space I believe that Apple is not going to squander its presence in the sector like BlackBerry (NASDAQ:BBRY) did with the smartphone and Microsoft (NASDAQ:MSFT) did with the smartphone operating system. Apple released its newest iPad tablet computing devices on October 22 and I previously discussed how I believe its new products will give Apple investors new hope and renewed growth prospects.
One example in Massachusetts that shows how Apple's iPad is making inroads in the educational community is the iPad one-to-one program at Burlington High School. According to an end-of-the-year survey, the majority of students indicated that they were more excited to attend class and more organized in their learning than in previous years. Teachers are seeing a different level of engagement - including richer, deeper conversations - from students when they use iPad. Because of the program's success at Burlington High School, more than 50 schools from all over New England have come to observe the program in action. The school district has already expanded the iPad one-to-one program to its middle school, with the ultimate goal of expanding the program to grades K-12 across the district.
Unit sales of the Mac Desktops and Portables increased by 19% and product revenue increased by 16% versus the comparable quarter last year. I was disappointed in the Mac product line's performance last year because it had generated strong performance in FY 2012 versus Dell (NASDAQ:DELL) and Hewlett-Packard (NYSE:HPQ) but endured sales and revenue declines in FY 2013. Apple introduced the first Macintosh desktop computer in 1984 and it refreshed its Mac product line in October 2013. Apple's Mac growth was due to significantly increased sales of iMac and MacBook Air, while sales of MacBook Pro also remained strong. IDC estimates that the global personal computer market contracted by 6% during the December quarter, which resulted in the Mac increasing its market share. AAPL ended the quarter with Mac channel inventory below its four to five-week target range.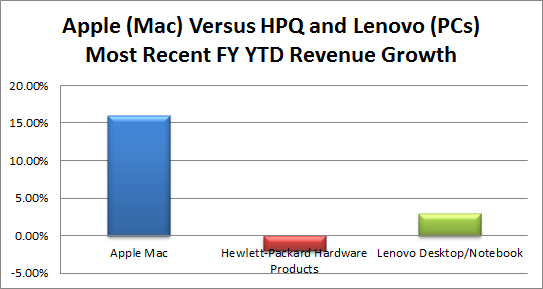 Source: MRQ Reports from Apple, Hewlett-Packard and Lenovo,
Performance of the iPod product line continues to be downbeat. The iPod's functionality is archaic when you consider its capabilities versus the iPad and iPhone and it shows as unit sales declined by 52% and product revenues declined by 55% Year-over-Year. So far, the updated iPod products Apple released in October 2012 have not helped this product line get its groove back. I do not see Apple giving up on the iPod considering it had a 70% market share in the U.S. for MP3 players as of March 2013. The iPod continued to be the top selling MP3 player in most countries Apple's management tracks based on the latest data published by GFK. I also believe that it can help preserve the strong growth rates achieved by the iTunes product. The iTunes and related software and services generated $4.4B in revenue during the quarter, up from $3.7B in the prior year period.

Source: Apple's Most Recent Quarterly Report
On a geographic basis, all the regions saw stable or positive revenue growth except the Asia Pacific region. Apple Europe's revenue only declined by 0.22% year-over-year even though Europe is still ailing from the sovereign debt crisis. Apple broke out its Greater China results from its Asian Pacific region and Greater China (Hong Kong, Taiwan and Communist China) generated 5.64% year-over-year revenue growth in Q4 2013 after generating 67.4% YoY growth in Q1 2013. If only China Mobile (NYSE:CHL) and Apple can come to a sales agreement like Nokia did, Apple would be unstoppable in China.

Source: Apple's Most Recent Quarterly Report
Q1 2014 Cash Flows from Operations were $22.7B and capital investments including acquisitions were $2.6B, resulting in free cash flows of $20.1B for the period. Apple opened four new stores, remodeled six existing stores and ended the quarter with 420 retail locations. About 39.5% of its retail store base (166 stores) is outside the US. Apple expects to open about 30 new stores in total in fiscal 2014 (two-thirds of which will be outside the U.S.) and to complete at least 20 store remodels. With an average of 418 stores open in the December quarter, average revenue per store was $16.7M, compared to $16.3M in the year ago quarter. Retail segment income was $1.7B. Apple hosted 114M visitors to its stores during the quarter compared to 121M in the year-ago quarter. Based on Ron Johnson's struggles at J.C. Penney (NYSE:JCP), he should realize that he never should have left Apple Retail. In hindsight, Ron Johnson should have resigned gracefully from JCP and begged for his old job back running Apple Retail before Apple hired Angela Ahrendts from Burberry to serve as Apple Retail's new boss.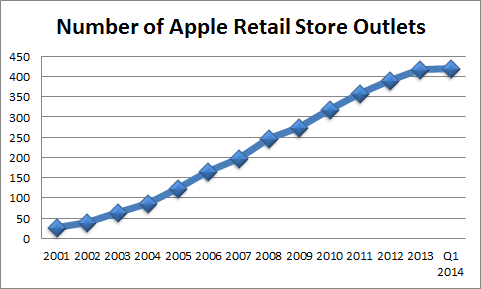 Sources: Apple's Most Recent Earnings Call
In conclusion, while I am never happy to see companies in my portfolio give downbeat forecasts, investors should not count Apple out. Apple's stakeholders are relieved that its nightmare FY 2013 fiscal year is over. I believe that those few investors who have been short Apple and long Nokia should wind up that trade because Apple's shares have been through the worst that the market could throw at it. Apple has made a number of recent missteps however; it has taken steps to fix the problems in order to avoid suffering the fate of Nokia and BlackBerry. Here are the reasons why investors should follow Carl Icahn's lead and use Apple's recent declines to accumulate a position in Apple:
Carl Icahn bought $500M worth of Apple's stock in response to its recent price drop
Apple bought back $14B worth of its stock in the last two weeks
Apple is trading at a price that is 25% lower than its all-time peak
I expect Apple to resume its EPS growth in FY 2014 and to grow by 11% from 2014 to 2018.
Apple's Forward FY 2014 PE of 12.1X represents a PEG of 1.1X based on my projected 11% long-term EPS growth
Apple's Q1 2014 EPS of $14.50 exceeded the analyst consensus of estimates of $14.07
Disclosure: I am long AAPL. I wrote this article myself, and it expresses my own opinions. I am not receiving compensation for it (other than from Seeking Alpha). I have no business relationship with any company whose stock is mentioned in this article.