In the several years I have been writing on SeekingAlpha I have penned more than 2,000 articles. These pieces have covered topics ranging from small speculative biotech stocks to low volatility yield opportunities, the outlook for the economy, the huge domestic energy boom and attractive turnaround plays.
I have covered hundreds of stocks over that time period. Some like Apple (NASDAQ:AAPL), the current largest holding in my portfolio, I have written about dozens of times. Others like Furiex Pharmaceuticals (NASDAQ:FURX), I have written about once and wish I would have highlighted more for my readers given its monster run in the past two years.
One stock I rarely cover and have not done so since 2011 is AT&T (NYSE:T) despite allocating about 25% of my writings to high yield stocks. I have concentrated on more esoteric income plays like Business Development Companies (BDCs), Real Estate Investment Trusts (REITs) and Master Limited Partnerships (MLPs).
However, AT&T's high yield and low volatility look attractive here for the first time in quite a while in a market that is not behaving anything like the one that brought investors ~30% gains in 2013. There are myriad reasons for this opinion.
Dividend Yield:
Obviously the main attraction to owning this American corporate icon is its substantial dividend yield. AT&T's current dividend payout is 5.7%, one of the highest yields available outside of MLPs, BDCs or REITs available in the stock universe.
The company has historically lifted its payout annually in a methodical & incremental way. It is one of the few major large cap stocks that did not have to cut its payout during the financial crisis.
Much has been said about the company's declining free cash flow recently in relation to the solidness of continuing to pay out this high yield. However, a good portion of this declining free cash flow is due to the build out of the telecom's 4G network which should be largely finished in 2014. Cap ex needs should shrink $6B to $8B annually once the network is complete.
In addition, the company has a large stock repurchase program it could decelerate way before considering a dividend cut. The stock's dividend yield is significant higher than the interest rates on its long term corporate debt; a divergence that will probably narrow over the medium term as well.
Opportunity & Valuation:
The shares have declined some 15% from its highs in May before the Federal Reserve began its 'taper' talk and the stock is offering an attractive entry point for long term income investors. AT&T recently broke through on the downside below some medium term technical support but is hovering just over 5% above longer term technical support levels (See Chart).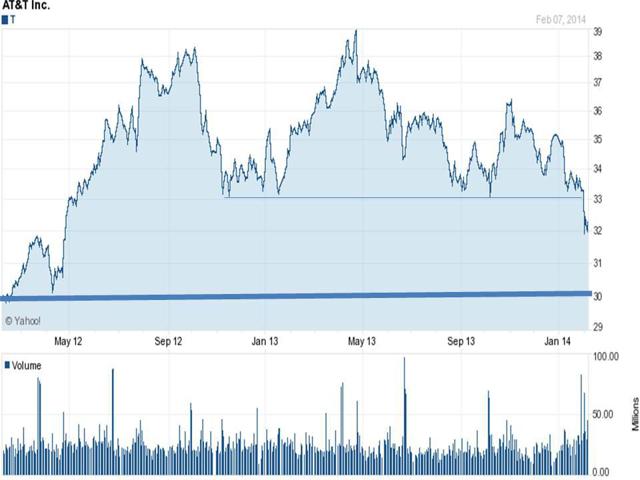 The shares go for ~11.6x forward earnings, an over 20% discount to the overall market multiple (~15x) and AT&T's five year historical average (12.8). True, revenue is only projected to grow 1% to 3% annually over the next 12-24 months, but revenue growth is anemic right now too for the overall market given the quarterly earnings reports that have hit the wires so far.
Market Environment:
One of the main reasons AT&T is attractive at current levels is the market environment has changed. In 2013, high growth/high multiple stocks like Amazon (NASDAQ:AMZN) and Tesla Motors (NASDAQ:TSLA) led the market much higher even as interest rates rose precipitously in the back of the year. This was a terrible environment for a slow growing dividend payer like AT&T.
In the first six weeks of 2014, volatility has returned to a market in a significant way and interest rates have declined nicely in the New Year. This is much more supportive environment for a low volatility stock with a high yield - the stock has a beta of .45. I think AT&T can recover half of its decline since May by year end in addition to its almost six percent dividend yield. This would give an investor a total return in the low teens for the year. A solid "single" in a market that looks like it will be nothing like 2013. ACCUMULATE
Disclosure: I have no positions in any stocks mentioned, but may initiate a long position in T over the next 72 hours. I wrote this article myself, and it expresses my own opinions. I am not receiving compensation for it (other than from Seeking Alpha). I have no business relationship with any company whose stock is mentioned in this article.