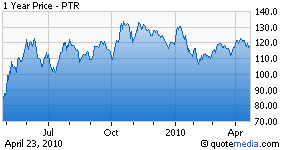 Contrarian Buy-recommended PetroChina (NYSE:PTR) offers unlevered appreciation potential of 34% to a McDep Ratio of 1.0 where stock price would equal Net Present Value (NPV) of $150 a share. Second half 2009 results released on March 25 exceeded our estimate from six months ago for unlevered cash flow (Ebitda) and earnings. Exploration and production gained with recovery in oil price while downstream (other) remained positive.
Natural gas growth is strong at 18% for the fourth quarter, but controlled price is too low as China overly promotes coal in its primitive, last century, energy economy. Domestic oil production is mature, but profitable as a source of cash for reinvestment overseas. Controlled prices for refined products allow a modest positive margin, but it should be higher for the company to serve the world's largest growth market for oil. Gasoline sales grew 12% in the global recession last year and may have accelerated in 2010 with all those new cars streaming from China's assembly lines.
Considering the volume growth and margin potential, natural gas and downstream values may be understated in estimated NPV. We believe PTR stock offers attractive value at the current McDep Ratio. While the current quote is below the 200-day average of $118, the stock may be timelier for patient, contrarian investors.
Originally published on March 26, 2010.