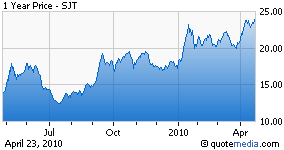 Buy-recommended San Juan Basin Royalty Trust (NYSE:SJT) is an income and small cap pure play on what buy-recommended large cap ConocoPhillips (NYSE:COP) cited as the most competitive of resource opportunities in North America at its analyst meeting on March 24. SJT gets 75% of cash flow after reinvestment from a sample of COP wells distributed throughout the San Juan Basin. COP ranks San Juan economics ahead of exciting new shale plays where the company is spending 40% of its 2010 budget for U.S. and Canada exploration and development.
While those comparisons relate to new drilling, the lowest cost natural gas of all is that which is already flowing because no new investment is required. Moreover, San Juan gas will be flowing for a long time because of a slow decline rate. Normally, new wells would be drilled to replace decline and keep overall volume flat. The new supply from shale may impact the rate at which new wells are likely to be drilled in San Juan. Because shale is a new source, much of the drilling continues despite low prices as operators are committed to drill to keep expensive new leases.
In the San Juan most of the leases were secured by production decades ago and operators have the optionality to drill when the market calls for new supply. That call is coming as natural gas is the world's most rapidly growing major fuel and SJT has the reserves to meet it.
Estimated Reserves Up in 2009
Part of the investment opportunity in SJT arises because the mechanism of reporting operating trends presents a misleading negative picture. Prominently displayed in the trust's annual report are the estimates of royalty reserves that trace a steep decline for the past three years. The calculation is influenced almost entirely by short-term natural gas price that has been decliningover the same period. In contrast, the net reserves in the properties underlying the royalty interest are up sharply. Underlying reserves are not disclosed directly, but can be calculated by multiplying a production index for underlying reserves disclosed in the text of the annual report by net underlying production.
Truthfully, we do not believe underlying reserves were as low as stated in 2008 and 2007. We believe the 2009 production index of 13.7 years is realistic in the context of normal industry reporting. It is still conservative as it includes developed reserves primarily, which typically are two-thirds of total proven reserves.
Physical volume produced is about the most authentic data. It has shortcomings, too, especially when it is reported as royalty volumes that are wholly sensitive to price. Fortunately SJT discloses quarterly underlying volumes along with royalty volumes. Underlying volumes are the only volumes disclosed monthly. Underlying volumes point to a more realistic trend.
NPV Amply Supported by Increase in Reserves
Using latest futures prices for the next twelve months, we see that our current estimate of NPV looks solid in an industry context. SJT NPV of $23 a unit is lower than the approximation of $26 using reserve life and cash flow multiple for some 45 stocks. In the end we agree with COP that the San Juan Basin will be producing for generations more.
Distributions Entering Seasonally Lower Periods
Trust distributions may have been the highest for the year in the winter quarter just ended as is often the case. Factual declines in industry prices for February, March and April point to likely lower distributions in April, May and June. Compared to the previous year, distributions are in an uptrend. Futures prices point to further year over year increases, but the trend in average futures prices for the next six years is down as measured by current quote of $5.99 compared to the 40-week average of $6.55. More important, stock price trend is up compared to the 200-day average as investors anticipate that cheap natural gas will be more appreciated as the most economic clean fuel for global growth and prosperity.
Originally published on April 2, 2010.