Although crude oil is moving this year, offshore drillers have not moved in lock step. This is primarily due to excess capacity of rigs and more deepwater rigs coming onto the market in 2011. Although there is excess capacity, one needs to see where that capacity is, and through a bit of digging you can see it in the shallow water Jackup market. The deepwater segment is running at a higher utilization and I feel that this area will be growing at the end of 2010, not at an Amazon (NASDAQ:AMZN) or Apple (NASDAQ:AAPL) type growth, but faster growth than what the consensus is estimating.
The main reason for is the Obama Energy Plan. Just after Obama announced new areas of exploration opening up in the Gulf of Mexico [GoM] and the East Coast, the Minerals Management Service [MMS] announced it was opening up 18.8 million acres of GoM land in August of 2010.
Click to enlarge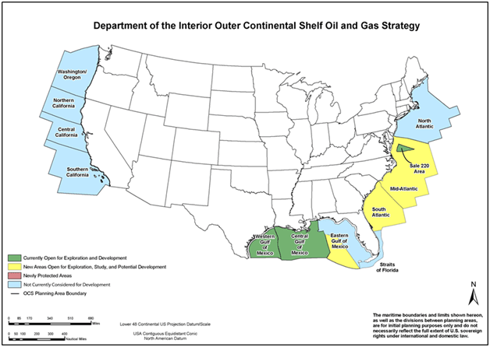 This area is off the coast of Louisiana, where the Transocean (NYSE:RIG) recently had an accident. As can be seen from the graph below, most of the sites are near the coastline in the shallow water region, with more sites now going into the deepwater region.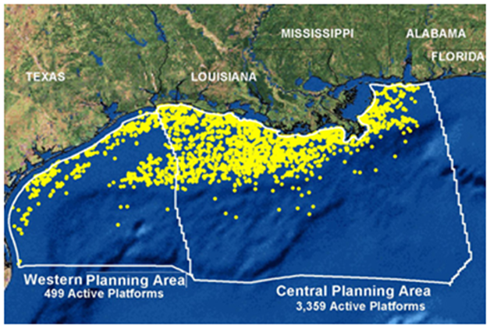 Further evidence of deepwater exploration can be found from news reports; I'll just put a summary below:
3/19/2010 – Shell's (NYSE:RDS.A) 'significant new oil discovery'
o Deepwater 7200ft

o Transocean semisubmersible
4/1/2010

August 2010 MMS will put up 18.8 million acres (29K+

mi2) of offshore

Western Gulf for lease
o Block 215 is for lease

o 9 -250 miles offshore

o 16ft – 10,975 ft depth

o 242-430 mBOE probable

o 1.64-2.65 tcfe probable natural gas

o Total probable reserves 25-45b BOE
4/9/2010 Chevron (NYSE:CVX) exploring 190 miles off GoM @ 7000ft
o ($1m/day in fees)
BP relocated its E&P headquarters from Europe to Houston due to emerging growth in the GoM.
Clearly this region will be growing in the coming future, what remains unclear is how much of this information is priced into the stocks of the drillers, and other players in the region.
I feel that companies such as Gulf Island Fabrication (NASDAQ:GIFI), Dril-Quip (NYSE:DRQ), and Noble Energy (NYSE:NE) would be candidates to move near the end of 2010 due to the new leases coming online. The stock price of these companies could move prior to the end of the year, but is more likely to do so as more news of these leases comes to fruition. In this analysis, I'll touch upon why I like NE, for the others I still have to do quite a bit of research. In the case of NE I'm focusing on its GoM operations specifically.
Noble Energy
Although NE has 43 Jackups and this market is the weakest of the offshore drilling segments, NE also has 13 semis, 2 submersibles, and 4 drillships. Most of its non Jackup units are utilized, but near the end of 2010 one semi could be coming off contract which could take advantage of the new leases. This is not to say that its Jackups would still be cold stacked, rather Block 215 has a water depth of 16ft -10,975ft, so it is likely some of its Jackups could be utilized.
Even if dayrates moved up, NE's Jackups have generally been in the lower end of the rates, essentially putting its Jackups to work at the expense of margins (which is not the case with its higher end products). How much of this is Pemex vs. other supermajors would be one area to analyze, I believe most of its lower dayrates are via Pemex contracts.
So why do I think NE is more likely to move vs. others who are playing in the same region? I feel that Noble's sock is undervalued and a catalyst such as new leases or contracts will push this stock higher than others expect. When you look at it on historical norms, it's currently undervalued on:

I also created a DCF based on a stagnant 2010 (0% growth) and a slight bump from new leases in the GoM. The bump is based on the probable reserves in the GoM based on the MMS estimates vs. the Tupi oil field in Brazil, which is significantly bigger than the GoM estimates.
In conclusion, I feel NE will be in the $48-$52 range by the end of the year. $52 if it gets a couple of contracts from the GoM for 2011, which is not in the radar at this time, or else $48 based on historical valuation and DCF.

Disclosure: Limit order on NE @ 39.50