France's economic malaise and political problems are not new. However, even after over a year of destructive policies from president Francois Hollande, French stocks are still priced at the highest levels since the beginning of the European debt crisis. While longs claim that easy monetary policy from the Fed and ECB will continue, I believe that France's hollowed out economy will start to be reflected by a falling French equity prices. The combination of a continually weakening economy since 2007 and French political decisions that have undermined the private sector, will ultimately sink French markets.
The economic data for France is bleak. Retail sales have remained weak with 1.5% year over year growth or less since 2007. Industrial production has been in contraction for every month since January 2012 with the one exception of July 2013. French GDP has been stagnant for the past five years and the unemployment rate has climbed from 9.5% to 10.9% since January 2012. None of these are the sign of a healthy economy or one on the verge of recovery and warrants high stock valuations.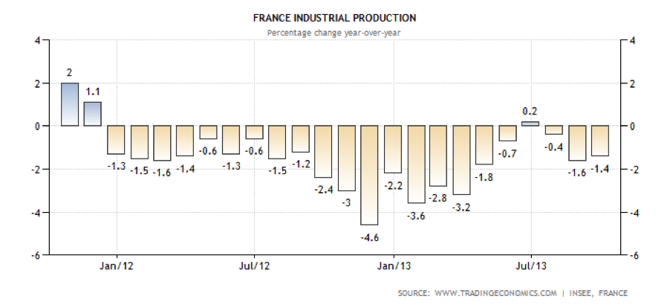 Politically, France is doing just about everything in its power to make the country a hostile climate for business. By 2014, France will surpass Denmark with the highest percentage of government spending of GDP at 57%. With the French economy not growing fast enough to increase tax revenues, the government has resorted to over 40 tax increases since the election of Francois Hollande in May of 2012. These have included exit taxes on wealthy individuals, higher gas taxes, farm taxes, an ecotax on savings, a proposed top income tax rate of 75%, increased VATs, and many more. 70% of the historically socialist French people find taxes to be excessive and both the wealthy and the youth of France are seeking opportunities in the UK, Quebec, Switzerland, and other international outlets.
Other misguided policies such as massive payroll tax penalties for any layoffs, forced government purchases of locally made goods, and lowering the retirement age to 60 are only adding fuel to the fire. France's debt to GDP has risen from 68% to 90.2% since 2009 despite the tax hikes and having one of the highest tax burdens in Europe. France has been trying to live off its past laurels and the hard work of others since its post WW2 recovery. However, it is now come to the point where the country has run out of other people's money to redistribute and the consequences of this will start to play out.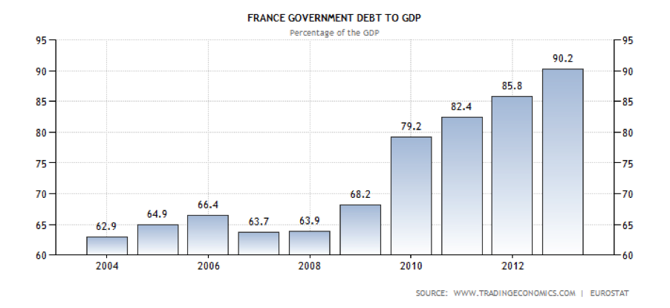 I am short France through the iShares MSCI France Index ETF (NYSEARCA:EWQ) with a 1.44 trailing stop. You can also short France through CAC 40 futures, but these are not as accessible to most investors.
Disclosure: I am short EWQ. I wrote this article myself, and it expresses my own opinions. I am not receiving compensation for it (other than from Seeking Alpha). I have no business relationship with any company whose stock is mentioned in this article.