There has been a lot of buzz around the RNAi biotechnology companies lately, and that trend seems like it will be continuing on. One such example is when Dicerna Pharmaceuticals (NASDAQ:DRNA) did an IPO on January 30th and edged up higher than 206% in one day. The company raised $90 million in one day despite being in early clinical stages of its pipeline. The huge Buzz comes off of the latest craze in the biotechnology industry, which is RNAi therapeutics. One of the major leaders in this industry is Tekmira Pharmaceuticals (TKMR).
Tekmira has been able to overcome past failures of RNAi biotechs by developing what this RNAi space calls a "delivery vehicle" for the RNAi oligonucleotide. In the past scientists attempted to deliver RNAi oligonucleotides as a single naked siRNA--small interfering RNA--that would attempt to penetrate targeted cells. The problem with the RNAi sector came about when many biotechs failed to get the RNAi strand into cells successfully. This is where Tekmira's "lipid nanoparticle" technology comes in.
Lipid Nanoparticle Technology - LNP
As we have mentioned above it all starts with the main component of RNAi, which is siRNA. These siRNA -- small interfering RNA -- components are responsible for silencing the targeted genes of these diseases. These siRNA though are not able to get to their target cell successfully, which can be due to degradation -- degraded or shrunk molecule -- by the human body. In order to deliver these siRNA molecules successfully Tekmira has developed its lipid nanoparticle technology or LNP. The LNP is responsible for encapsulating the siRNA to keep it secure until it reaches its target successfully.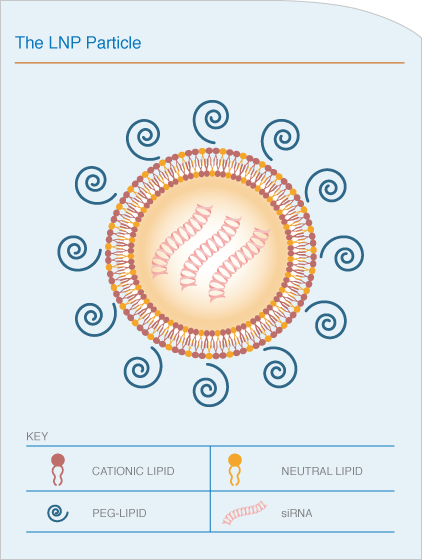 As you can see above the LNP technology can be used as a delivery vehicle for many nucleic acid molecules, and not just siRNA molecules. The picture above describes the shield barriers that encapsulate the siRNA that are shown all the way inside the inner circle. The three lipids together make the outer shield wall that have three key responsibilities inside the patient's body. The first is to protect the siRNA molecules so they can reach their targeted cell safely, and unleash the payload at the proper time. The second is to act as a shield penetrator -- penetrate the cell wall easily outside the targeted cell. The third key function is to reduce system toxicity in the patient's body. With any type of nucleic acid molecule that is encapsulated into the lipid there is highly unlikely any probability it will spill into the fluid stream of the body. This LNP technology is the key science behind delivering any nucleic acid molecules -- like siRNA -- with increased potency, and reduced system toxicity. With this technology Tekmira has been able to establish the ability to license out its technology to multiple partners that want a piece of this stellar delivery vehicle.
TKM-PLK 1 In Solid Tumors
Tekmira has incorporated its LNP technology to target patients with solid cancerous tumors. The first product candidate known as TKM-PLK 1 targets a protein known as polo-like kinase 1. The reason for the company targeting this protein is because the ability of tumor cell proliferation. Tumor cell proliferation means the ability for cancerous cells to divide at a rapid pace, which in turn leads to substantially larger tumors in clinical patients. Results from a Phase 1 trial using 0.6 mg/kg showed a clinical benefit in 6 out of 15 patients or 40%. This clinical benefit deals with a response in tumor reduction using TKM-PLK 1. The Phase 1 clinical trial was broken down into patients with two different types of solid tumors: Gastrointestinal Neuroendocrine tumors -- GI-NET-- and Adrenocortical Carcinoma -- ACC. GI-NET is a type of solid tumor malignancy that produces peptides that cause a hormonal syndrome in the body. The current approach to attempt to cure the patients of GI-NET would be through surgery. This is where the tumor would have to be removed from the patient's body, but the problem is that most patients diagnosed with GI-NET are at the late stage form of the cancerous tumor. This makes the ability to remove the tumor by surgery highly unlikely. ACC is a rare cancerous tumor that develops in the patient's adrenal gland. This type of tumor causes hormonal syndromes, and other hormonal imbalances in the body. Tekmira hopes to combat against these rare cancerous tumors by leveraging its LNP technology. The LNP technology may be able to increase potency, and safety of the delivered compound. Such a treatment would be welcome over attempting late stage surgery that can prove to be fatal. Expanding upon the positive Phase 1 results, Tekmira has enrolled 20 patients for its Phase 1/2 study for TKM-PLK 1. The Phase 1/2 trial had been set up to enroll at least 10 patients that have GI-NET, and the rest that had either been ACC or GI-NET. This Phase 1/2 trial is a single arm trial using RECIST criteria to determine efficacy of the compound. It is also meant to test the safety, and pharmacokinetics -- what the body does to the TKM-PLK 1 compound drug. RECIST -- Response Evaluation Criteria In Solid Tumors --is a set of rules established to determine the efficacy of solid tumors. This includes the categorization of how well a tumor responds to the treatment of choice. The three categories for RECIST are: respond, stabilize, or progress.
Catalysts For TKM-PLK 1
Report results from Phase 1/2 trial using TKM-PLK 1 in patients with GI-NET, and ACC by mid 2014
Start additional trial in GI-NET solid tumor patients by end of 2014
Initiate Phase 1/2 trial using TKM-PLK 1 in patients with Hepatocellular Carcinoma - HCC- 1st half of 2014
The Need For The LNP Technology For Delivery
As mentioned above Tekmira has figured out a way to increase potency of delivering RNAi oligonucleotides using a Lipid Nanoparticle. One company that has licensed this delivery technology from Tekmira is Alnylam Pharmaceuticals (NASDAQ:ALNY). Alnylam has been using Tekmira's technology to deliver the RNAi oligonucleotides into cells effectively, and without degradation. Matter in fact Alnylam has been obtaining great results with its lead compound known as ALN-TTR02. This compound targets a disease known as TTR-Amyloidosis, which is a mutation of the TTR gene in the body. The mutation of the TTR gene causes the proteins to fold improperly, leading to amyloid fibrils that deposit tissues in the peripheral nerves and heart. Alnylam reported a high gene knockdown rate of 94% in patients with TTR-Amyloidosis. These results were published in the New England Journal Of Medicine under the title "Safety and Efficacy of RNAi Therapy for Transthyretin Amyloidosis." Tekmira had made an arrangement to license its delivery technology with Alnylam back in 2012. The deal entailed an upfront milestone payment of $10 million initially, and then $5 million more upon hitting each clinical trial milestone. Upon commercialization of such LNP related products Alnylam will also have to pay royalty fees to Tekmira. As we can see Alnylam is leveraging Tekmira's delivery technology, and has delivered amazing results thus far. Alnylam is currently in a Phase 3 clinical trial for TTR-amyloidosis, and all gene knockdown seen thus far is possible thanks to the LNP technology from Tekmira.
Another Deal For The LNP Technology
It seems that Tekmira's delivery technology is making its way outside of other RNAi companies. This became true when Tekmira signed a deal with Monsanto (NYSE:MON). Monsanto was interested in being able to use Tekmira's LNP delivery technology for agricultural use. With this deal Monsanto would not only have access to the LNP technology, but Tekmira's IP patent portfolio as well to use as it deems necessary. This was a good deal for Tekmira, because this Option Agreement has the potential to be worth $86.2 million if all milestone payments are reached. The good news out of all this that we think investors should pay close attention to is the fact that with this deal Tekmira expects to receive a near-term payment of $16.5 million. This should be substantial for a small cap biotech company currently undergoing early stage clinical trials. Before Monsanto entered into this deal there were extensive agricultural tests performed to determine if the LNP technology would be suitable for the company's bottom line. Monsanto is expecting to form new biological solutions for farmers where there are new options for sustainable pest, virus, and weed controls. If Monsanto chooses to continue on with this agreement they will have to continue to pay an option exercise fee, and exclusive rights to use the LNP technology only for agricultural products. This deal is also good for Tekmira, because it protects the therapeutic use of the LNP technology. Monsanto under the license agreement can only use the IP patents from Tekmira for agricultural use. Tekmira's President and CEO Dr. Mark J. Murray had this to say in a quote:
"Our proprietary delivery technology is enabling the most advanced applications of RNAi therapeutics in the clinic. This new agreement points to the broad applicability of Tekmira's delivery platform, and underscores the promise of applying this science within the field of agriculture. We are pleased to have this additional validation of our technology"
As you can see in the quote above the CEO discusses how Tekmira can enable its LNP technology to be used in a variety of different ways. The deal with Monsanto, and the deals with Alnylam prove the point of just how successful the LNP technology is to the advancement of RNAi therapeutics. We believe that further clinical license agreements can be leveraged out to other companies seeking the ability to use the LNP technology. With this in mind Tekmira is in a good place moving forward. We believe that it will be able to form additional license agreements that will continue to bring in more funds for the company to meet its financial obligations.
Financials
As of September 30th 2013, according to the Form 6-K, Tekmira had cash and cash equivalents of $36.9 million. Following the report Tekmira had completed an offering to sell 4.3 million shares of its common stock. The company had priced to sell its shares at $8 per share, and earned a total of $34.5 million. This offering along with the current balance allowed the company to end 2013 with a total cash balance of approximately $71.4 million. Tekmira believes that this cash balance should be sufficient enough to run clinical trials, and meet financial obligations all the way until early 2016. With this cash runway Tekmira is set up to continue its uptrend in share price without the big risk of dilution in the near term. We feel that Tekmira should be able to establish further partnerships with its LNP delivery technology. The additional partnerships should produce more funds for the company to keep up with its current clinical trials.
Risks
Tekmira is in early stage clinical trials so there is no guarantee of success against the clinical targets in current trials
Positive Phase 1 and Phase 2 proof of concept trials that show positive results, may not automatically mean positive results in Phase 3 trials
Clinical license agreements can carry risks, because a lot of the work is dependent on the licensee
Monsanto can terminate the Option Agreement at any time, therefore there is no guarantee that Tekmira will receive milestone payments as future funds
Alnylam will have to continue to meet its clinical milestone agreements otherwise Tekmira will fail to reap any benefits in terms of milestone payments
Failure to obtain funds through milestone payments, and license agreements will result in stock dilution to keep operations running
Even upon successful completion of all clinical trials, There is no guarantee that the FDA will approve the clinical products
Conclusion
We think that Tekmira has a substantial lead in the RNAi field. With the fact that Alnylam's success is in large part due to Tekmira's LNP technology, we can see that Tekmira will be trading at higher share price in the future. Further license agreements, and partnerships could also boost the share price higher from where it is today trading at around $14.64 per share. The Current share price at $14.64 per share gives Tekmira a $273 million market cap. With positive trials along the way, and greater shareholder interest we see the share price doubling to around $30 per share, which should give it a fair market cap value of $546 million. With further validation of the LNP delivery technology we can see a bright future for this technology delivering Superstar.
Disclosure: I have no positions in any stocks mentioned, and no plans to initiate any positions within the next 72 hours. I wrote this article myself, and it expresses my own opinions. I am not receiving compensation for it (other than from Seeking Alpha). I have no business relationship with any company whose stock is mentioned in this article.