On Tuesday, February 18, the 25-day SEC-enforced quiet period on underwriter research that has followed the January 24 IPO of Care.com Inc. (NYSE:CRCM) will come to a close, allowing IPO underwriters to release research on the online family care marketplace to the public. A fresh wave of positive information will likely lead to at least a brief increase in the price of CRCM shares.
After a surprisingly successful IPO at $17 per share, above the expected range of $14-$16 per share, CRCM showed impressive first day returns in excess of 40%. The stock has since risen as high as $29.25 per share before cooling slightly; it closed at $26.72 per share on February 7. See chart below, highlighting CRCM's solid growth.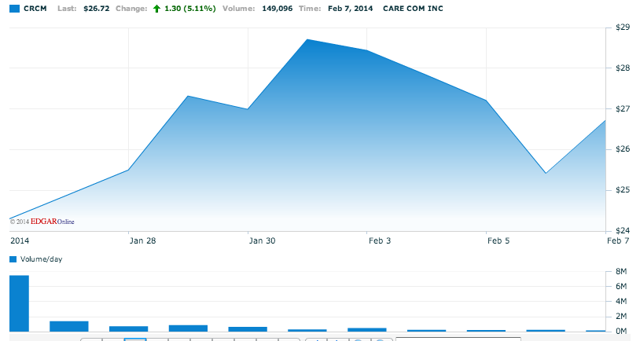 (Source: Nasdaq.com)
The firm's underwriters, including BofA Merrill Lynch, Stifel Nicolaus & Company Inc, J.P. Morgan Securities LLC, Morgan Stanley & Co LLC, and Alley & Company LLC, will seek to capitalize on CRCM's early success with the release of positive research reports, beginning on the seventeenth.
Our own research over the past two years, as well as the findings of recent academic studies, have demonstrated an empirical correlation between the reputation and quantity of IPO underwriters and a rise in the price of shares at the conclusion of the quiet period.
The increase in price typically begins several days ahead of the end of the quiet period as savvy investors make purchases in an effort to take advantage of the upcoming underwriter research reports. (Investors anticipate that IPO underwriters will release exclusively positive information about a firm that they just underwrote.) These purchases create a picture of rising demand and place upward pressure on the price of shares before the reports are actually released.
Care.com Business Overview
Care.com is an online marketplace that connects families with care needs to available care providers. CRCM currently has over 9.7 million members, including approximately 4.5 million caregivers and 5.2 million families, spread across 16 countries. Caretakers offer a variety of services on the side, including childcare, special needs care, tutoring, senior care, pet care, and housekeeping. Caregivers develop online profiles, advertising their backgrounds and skills, and may use Care.com to find both full-time and part-time work. Care-related firms can also recruit new workers and advertise their services through the site. Families have the option to pay caregivers directly through the website, ensuring that payments will be punctual and documented.
Management
Chairman, President, and CEO Sheila Lirio Marcelo founded Care.com and has been with the firm since 2006. She previously served as an Entrepreneur-in-Residence at Matrix Partners and as Vice President and General Manager of TheLadders.com. She also worked for five years in executive roles at Upromise, Inc.
Ms. Marcelo holds a J.D. and M.B.A. from Harvard University. Marcelo was one of Fortune's Most Powerful Women Entrepreneur Winners in 2009. It should be noted that Marcelo's total 2012 compensation was $463,917-excessive, given that CRCM is losing millions for its shareholders.
Conclusion
Despite CRCM's increasing losses-$3.5 million in 2010, $12.2 million in 2011 and $20.4 million in 2012-and lack of well-defined path towards profitability, investors seem to have been beguiled by this family care marketplace. Though we don't recommend CRCM as a long-term portfolio addition, aggressive investors may look to take advantage of the upcoming quiet period expiration as a long opportunity.
The firm certainly succeeded in selling itself in its IPO and may be able to garner a significant price boost through the release of positive research reports by the investment firms on the seventeenth, even if the prices ultimately return to more reasonable levels.
Disclosure: I am long CRCM. I wrote this article myself, and it expresses my own opinions. I am not receiving compensation for it (other than from Seeking Alpha). I have no business relationship with any company whose stock is mentioned in this article.