Beijing, November 2013: After four days of deliberation, China's Central Committee led by President Xi Jinping announced it will ease its decades-long one-child policy and allow couples to have two children if one of the parents is an only child. China's one-child policy was first introduced in the late 1970s to slow down the growing population by limiting urban couples to one child, and rural couples to two children if the first-born child was a girl. Since the one-child policy was implemented, the percentage of China's elderly population (aged 60 and over) increased rapidly and was expected to exceed one-third of China's population by 2050. Chinese officials, concerned this increase will lower the workforce portion in China's population drastically, thereby impacting the country's economy, supported the Central Committee's decision to ease the one-child policy in order to increase the relative size of the work force in the long term. In the short term, China will experience an increased number of births that will stimulate demand for infant formula and increase market size.
Two months earlier, in September 2013, Chinese Central Television ("CCTV") reported that Dumex-Danone's local operation in China had bribed doctors and nurses in hospitals to recommend its infant formula to mothers. A formal investigation by the Chinese authorities resulted in medical workers (doctors and nurses) being accused of bribery. An internal investigation in Danone ended with a management change in its infant nutrition operation in China. Shortly after the bribery scandal was revealed, Dumex recalled its infant formulas in Asia when fatal bacteria were found in proteins included in its infant formulas. The bribery scandal was followed by a product recall of the damaged Dumex brand, which until then, had the second-largest market share in the Chinese infant nutrition market.
Mead Johnson Nutrition (NYSE:MJN), the largest infant nutrition supplier to the Chinese market, has received a great deal of attention from analysts lately as a result of the one-child policy changes and the Dumex scandals. In their analyses, they emphasize the opportunity that the company has to increase its sales and market share in China. First, in September 2013, JPMorgan upgraded Mead Johnson's rating from Neutral to Overweight, with a target price of $88, stating the possibility of China easing its one-baby policy and the slight increase in US birth rate as a catalyst for MJN to increase its earnings. Second, Citi upgraded MJN's rating from Neutral to Buy, with a target price of $95. In its report, Citi mentioned that Mead Johnson is gaining in market share in China and benefiting from its competitor's product recall to increase its own market share further. One month later, Oppenheimer upgraded MJN's rating to Outperform, with a target price of $100, calling out Mead Johnson's good positioning as a premium children's nutrition provider in China to benefit from loosening the one-child policy. Then, Deutsche Bank raised the price target to $94 with a Buy rating for MJN. The Deutsche Bank report points to the potential upside in China and US birth rate recovery as catalysts for increased earnings. Last, Credit Suisse noted in its report that MJN is increasing its market share in China at Danone's expense as a result of Danone's product recall and involvement in the bribery scandal. Credit Suisse set a $92 price target. As shown in the graph below, an average of analysts' price targets reflects a 21% upside for MJN stock.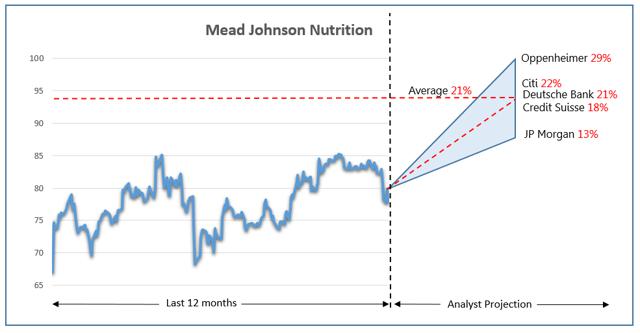 Click to enlarge
In its Q4 2013 earnings release, Mead Johnson presented strong evidence of sales and market share growth in China. The company reported an 11% ($212.3M) increase in Asian market sales for 2013 over 2012. 70% of that increase is from volume growth driven by market share gains and category growth. In its 2014 outlook, MJN provided an EPS range of $3.44 to $3.56 that reflects an upside of 10%-13% in stock price based on a 24.8 P/E. Stock upside inferred from the company's outlook is lower than the 21% upside of the analyst average described above.
Conclusion
China's announcement of loosening the decades-long one-child policy, together with Danone's bribery and product recall scandals give Mead Johnson Nutrition - China's lead infant formula provider - a leap ahead of its competitors towards 2014. These events will enable Mead Johnson to increase sales in China and gain more market share, which will have a positive impact on the company's earnings. Analysts quantified this leap as a 21% worth in MJN price, while the company estimated a conservative 10%-13% upside. However, in both scenarios and after stock is down 8% year-to-date, I see MJN as a good investment opportunity for 2014.
Disclosure: I am long MJN. I wrote this article myself, and it expresses my own opinions. I am not receiving compensation for it (other than from Seeking Alpha). I have no business relationship with any company whose stock is mentioned in this article.