Cal-Maine Foods (NASDAQ:CALM) has been a solid and growing company for decades. I have written an article in April 14 about the company, and I have emphasized its potential. Naturally, Calm share price has followed the success of its activity, and has been climbing steadily.
The company, which is headquartered in Jackson, Mississippi, is the largest producer and distributor of fresh shell eggs in the United States and sells the majority of its production in approximately 29 states across the southwestern, southeastern, mid-western and mid-Atlantic regions of the United States.
Though the shell egg production industry remains highly fragmented, CALM has completed since 1989 seventeen acquisitions ranging in size from 600,000 layers to 7.5 million layers. In 2013, the company sold approximately 948.5 million dozen shell eggs, which represented approximately 21% of domestic shell egg consumption.
Retail sales of shell eggs are greatest during the fall and winter months, and prices fluctuate in response to seasonal factors. Consequently, Calm generally experiences higher sales and net income in the second and third fiscal quarters ending in November and February.
Net sales for the second quarter of 2014 were $354.3 million, an eight percent increase compared with net sales of $328.9 million for the second quarter of 2013. The Company reported net income of $26.1 million, or $1.08 per diluted share, for the second quarter of 2014 compared with $14.3 million, or $0.60 per diluted share, for the second quarter of 2013.
For the second quarter of 2014, Cal-Maine Foods will pay a cash dividend of approximately $0.361 per share. The company pays a cash dividend to shareholders in an amount equal to one-third of each quarterly income.
We must remember that the acquisition policy of the company has been and will continue to be a key factor for its growth.
Analyzing the chart below, what stands out is the sequence of higher highs, which is remarkable. It has to be noted that the corrections that have followed each one of them are quite healthy.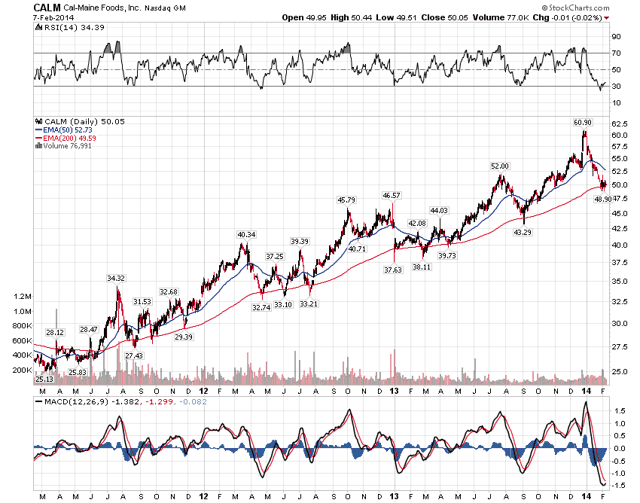 Charts courtesy of StockCharts.com
The last excellent results have led to two days of tremendous rise in stock prices that reached a maximum value ever of $60.90. The subsequent correction was healthy, but it took too long since it was carried out for 19 consecutive trading days. Indeed, a month of continuous decline is exaggerated, but the current consolidation which is supported by the EMA(200) is likely to be a great buying opportunity.
Conclusion
The company has shown a remarkable strength and growth in sales and profits. With a time horizon of one year, an annual EPS of around $4 is quite acceptable. With a P/E of 15, the company will have a valuation near $60 per share. At this point, we note that many investors are cautious with the evolution of CALM's stock, and intend to set prices in attractive levels​. However, the upside potential is quite large and, in my opinion, CALM is now a strong buy.
Disclosure: I have no positions in any stocks mentioned, and no plans to initiate any positions within the next 72 hours. I wrote this article myself, and it expresses my own opinions. I am not receiving compensation for it (other than from Seeking Alpha). I have no business relationship with any company whose stock is mentioned in this article.