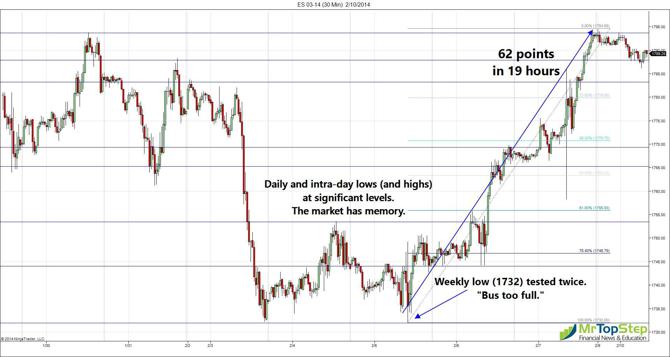 608 days since last 10% correction
As of Friday's close the S&P futures [ESH14] have rallied 62 handles in nineteen hours and 15 minutes in approximately 3 trading days, closing up +2.6% in two days and closing out the week with its first weekly gain in four weeks.
The S&P took Friday's bad news of a lower-than-expected jobs number and made good of it. The S&P closed out the two-day rally with its best two-day gain in four months.
Jobs Friday
Predicting the growth of the US job market is nearly impossible. What we do know is there is a lack of jobs.
When you take November's miserable 75,000 jobs created and Friday's (December's) 113,000 jobs that equals 188,000 jobs, basically one bad month. That's less than 4,000 jobs per state in two months.
Maybe my way of looking at it is slightly archaic and we understand people are retiring but when you consider that it would take 260,000+ jobs a month for an extended period of time to get the US economy back on track these numbers are way off. There is no job growth.
Timing is everything
By the end of January the S&P was already unstable. Last January the S&P closed up 16 / down 5 out of 21 trading days. This January the S&P closed up 11 out of 21 trading days with some big losses in between. Overall, it was down 3.6%—its worst monthly loss since May of 2012.
Believe it or not, the S&P has actually been up 4 out of the first 5 trading days of February: Feb 3 – 43.8, Feb 4 +10.9, Feb 5 +.30, Feb 6 +22.6, Fed 7 +26.9. This leaves the S&P up 0.80% for the month.
The key to the rally is the timing. In the first 5 business days of February, the mutual funds showed up in force. While many traders overlook money flows and historical stats, we don't and last week was a perfect example of why it's so important to follow month-end and beginning-of-the-month flows.
JP Morgan has advised investors to stay the course and buy the weakness rather than brace for a larger 7%-10% correction. It doesn't matter what side you're on; the 62-handle turnaround was both jaw-dropping and stunning and goes right back to our rule:
Want to know where the S&P is going? Follow the money
The big stories over the weekend were mostly about the lower-than-expected jobs number and the big stock market rally. That the S&P again took bad news and turned it into good news.
That's what the other writers want to tell you but that's not really how it worked.
You know what? I will go one step further; it didn't matter what Friday's NFP number was because the S&P was going up either way and it had nothing to do with the jobs number or some earnings name.
It had everything to do with beginning of the month mutual fund inflows. I have not seen any one else write about it but what I am going to show you is just the buying in the SPX from Feb 3, 2014 to Friday Feb 7. It totaled 5.75 billion in SPX to BUY.
Monday Feb. 3 Buy $1.bil SPX
Tuesday Feb. 4 Buy $1.9 bil SPX
Wednesday Feb 5 Buy $900mil SPX
Thursdays Feb. 6 Buy $950mil SPX
Friday 7 Feb Buy $1.bil SPX
= +5.75 billion To BUY in 5 days
Bull vs. Bear
S&P traders as a whole are used to the quick u-turns. Unlike many of last year's "false starts" it will be hard to just overlook the last five 14- to 44-handle drops in the S&P since Jan 2. Has the S&P been tested? Yes.
Is the decline over? We don't think so but we also want to point out that the Fed is still buying $65 billion a month in bonds and the PPT never said they were going to just disappear. As we have said several times... the Bulls are not going down without a fight.
The Asian markets closed mostly higher and in Europe 8 of 11 markets are trading modestly higher. This week there are a total of 15 economic releases, 10 T-Bill and T-Bond announcements and auctions and four Fed governors scheduled to speaking. Today's trade starts with no economic releases and earnings from Loews Corp. [L:NYSE], Sprint Corp. [S:NYSE], Cisco Systems [CSCO:Nasdaq], Deere & Co. [DE:NYSE] , PepsiCo Inc. [PEP:NYSE] , MetLife Inc. [MET:NYSE] and McDonald's [MCD:NYSE] January sales. According to Thomson Reuters, data shows that, of the 343 companies that have reported earnings in the S&P 500 through Friday morning, 67.9% have beaten Wall Street's expectations, just above the 67% gain of the last four quarters.
The S&P has made a stunning turnaround. The speed of the rally tells us that not everyone has covered yet. Right now we don't think it will pay to be overly bullish or bearish. Including today we have 10 trading days until the January S&P options expiration.
Our view
The S&P is a fast market right now, moving 20 to 45 handles a day. SPX volatility took a big hit with the VIX trading down to 15.29 during Friday's late push higher, its largest retreat since October 2013. What we learned last Friday is exactly what we said, the algos locking on to the jobs number headlines and after wiping out the sell stops down to 1732 earlier in the week it was time to chase the upside stops with all the new money going into stocks greasing the way. Sure, some people will say they "called" the low on Monday but I bet they were not screaming buy, buy , buy on Wednesday morning when the ESH14 was pouring lower down to 1732. As for today the numbers speak for themselves. Mondays are never kind to the S&P and we suspect after such a big rout that bulls may get tired today. Above 1794 will be the first trap for the longs… you take it from there.
As always, keep an eye on the 10 handle rule and please use protective stops when trading futures and options.
In Asia, 7 of 11 markets closed higher: Shanghai Comp.+2.03% , Hang Seng -0.27%, Nikkei +1.77%
In Europe 8 of 11 markets are trading higher: DAX and FTSE unchanged at 6:22 AM CT
Morning headline: "Asia, Euro stocks rise, US uncertain ahead of Yellen Tuesday remarks"
Total volume: 2.33Mil ESH14 and 11.5K SPH14 contracts traded
S&P Fair Value: 1792.37, futures 1787.75 (-4.62) at 7:19 AM ET
Economic calendar: No scheduled US economic releases
E-mini S&P 500 1790.00-3.50 - -0.20%
Crude 98.55-0.22 - -0.22%
Shanghai Composite 0.00N/A - N/A
Hang Seng 21579.26-57.59 - -0.27%
Nikkei 225 14718.34+255.93 - +1.77%
DAX 9307.41+5.49 - +0.06%
FTSE 100 6581.13+9.45 - +0.14%
Euro 1.3638