One of the most misunderstood asset classes on the market is the REIT (Real Estate Investment Trust). They aren't the complicated structures that many investors seem to think they are. A REIT is a company that owns a portfolio of real estate properties which generate income from rentals and capital appreciation when the property is sold. The IRS has mandated that because of its unique tax structure, a REIT must pass on 90% or more of its profits on to investors, thus making them a staple in any dividend-oriented portfolio.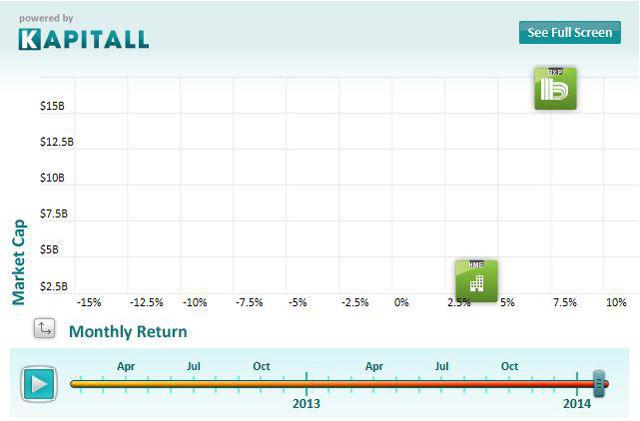 Click to enlarge
Click here to get more information on these companies.
Investors may wonder why this sector has lagged so badly in the past year. A look at the Vanguard REIT Index ETF (VNQ) reveals an almost flat return in the past 12 months (-0.7%) versus the S&P 500's gain of about 19%. The financial crisis of 2008 seems to have scared a lot of investors away from anything with a mortgage attached, and the Fed taper and associated rise in interest rates isn't convincing anyone to return to this sector.
The "hatred" towards REIT's seems overblown, however, considering the facts. First, interest rates are still at historic lows and most companies have been able to refinance and structure debt to avoid getting slammed by a sudden jump in rates, if that should happen. Secondly, REIT's aren't as debt laden as most investors think. According to the National Association of Real Estate Investment Trusts, a rising rate environment is actually good news for these real estate companies because an improving economy translates into rising rental rates.
While all REIT classes should see higher stock prices this year, residential and office REIT's have some additional catalysts working for them. Small businesses, which account for half of all jobs in the U.S., have begun hiring again according to the National Federation of Independent Business. The vacancies left behind by office REIT's are getting filled thanks to the fastest small business hiring pace in 8 years. For residential REIT's the catalyst is the improving economy and an increase in jobs for twentysomethings. These young workers are far more likely to rent than buy a house, and as they rotate from part time jobs to full time careers the rental market will benefit.
Read more on real estate development stocks.
Boston Properties (BXP) is a $16 billion office REIT with properties in Boston, New York, Princeton, San Francisco, and Washington D.C. Same-store net operating income growth year-over-year was 5.9% for the 4th quarter while same-store occupancy increased by 210 basis points to 93.2%. Boston Properties has high liquidity with a cash balance around $2.4 billion allowing it to pay a special dividend of $2.25 per share or $385 million at the end of the 4th quarter. The stock pays a regular dividend yield of 2.5% to investors. The company also has high operating margins of 32.5% and gave guidance for next year's earnings to be in the $5.20 to $5.33 range - an EPS increase of about 10%.
Home Properties (HME), as its name suggests, is a residential REIT with a market cap of just over $3 billion. The company manages apartments along the East coast of the U.S. with plans to invest $250 million over the next 12 months in purchases of multi-family communities. EPS growth this year is 62% while quarterly earnings growth year-over-year was 51.7% for the 3rd quarter. The company reports 4th quarter results on Feb 6th, and analysts expect results to be around $0.41 per share. Home Properties has strong operating margins at 33.5% like Boston Properties. Arguably, the most appealing aspect of this stock is the high dividend yield of 5% which has increased 20% since 2010.
Rising rates are being carefully watched by REIT's, but too much increase too fast will be hard to manage. Other risks to the sector include less than expected economic growth, which will hurt business spending and job creation. Without these stimulants, REIT's will continue to tread water while getting outpaced by the market as a whole.
Disclosure: I have no positions in any stocks mentioned, and no plans to initiate any positions within the next 72 hours.
Business relationship disclosure: Kapitall is a team of analysts. This article was written by Daniel Cross, one of our writers. We did not receive compensation for this article (other than from Seeking Alpha), and we have no business relationship with any company whose stock is mentioned in this article.