(Editors' Note: This article covers a stock trading at less than $1 per share and/or with less than a $100 million market cap. Please be aware of the risks associated with these stocks.)
Introduction
Everyone has methods and means for searching out new investment ideas. Whether it's talking with your broker, or friends and family that follow and manage their own investment portfolios, or news and commentary web sites like Seeking Alpha, The Motley Fool, Reuters, or Bloomberg. However, one of the worst sources for investment ideas, in my opinion, has been banner ads placed on investment or news web sites.
I really don't understand what some of these promotional firms are thinking when they purchase advertising on the web. Perhaps they are only concerned with finding the space to place their clients that they never really think seriously about the audience. I've done a few articles in the past that were prompted by banner ads, and I know if I just wait long enough, another opportunity to highlight a poor investment idea will come along.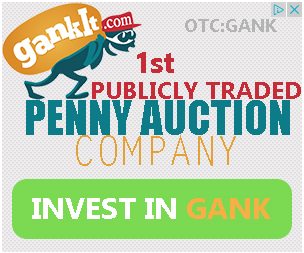 Lo and behold, today it has. GankIt.com (GANK) has advertised not their services as a penny auction site, but the company itself as an investment option. I have seen these ads on at least three different web sites, and decided to take a quick look at the company. This article will cover what GankIt.com does, the marketplace they operate in, and what fair value of the company should be.
The Company
From the company's website we find:
GankIt.com is an online marketplace powered by crowdsourcing, a web phenomenon that uses the power of a crowd to accomplish a goal. This translates into better deals for the consumer and an efficient, transparent marketplace for manufacturers of products. We only sell brand new, factory-sealed items. We think you will find our product lineup to be packed with cool, current & desirable products (emphasis theirs).
Feel free to check out the website and the auctions that they are advertising. However, realize that they are not the only pony prancing in this prairie. You can also go to QuiBids, or HappyBidDay, or Bidcactus, or OrangeBidz. Here's an entire website devoted to penny auctions, if you please.
The Penny Auction Business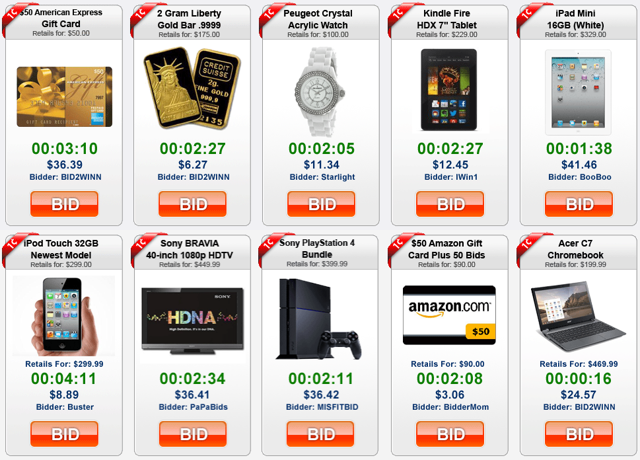 Not that I'd suggest participating in any of these sites, but the process is straightforward. You purchase bids, then spend your bids trying to "win" an auction on a specific product or service. The hope is that you will be able to purchase that new $550 tablet computer for a bargain price of $29.95.
USA Today does an excellent job explaining the bid process that occurs on these sites.
Here's how penny auctions work. First know that they are nothing like eBay. Users don't post auction items; the site does. Items are usually popular, high-end electronics like iPads, laptops, cameras and televisions. Bidding isn't free. You need to buy a bid package. You may get 100 bids for $50, but often bids are $1 each. The price of auction items usually starts at $0. Each bid bumps the price up a penny. It also adds 10 to 20 seconds to a countdown clock. The goal is to be the high bidder when the clock runs out.
And, while it seems straightforward, there is a dark component to these types of web sites, as outlined by this Fraud.org Notice. That's not to say that GankIt.com is doing anything wrong in either trying to advertise its website or conducting its auctions. My big questions come with respect to the underlying financials and the promotion of the company's stock as an "investment".
The Fundamentals
The company last released un-audited financials this past November. It has been in operation for almost two years. With 30 MM shares outstanding, and a market price of $0.70 per share, its market value is $21 MM as of today's close. The company is projecting rapid growth in members and claimed 50,000 as of November 2013, however no official 8K has been filed. And, we are left guessing about the number of active daily users, member turnover, and stats that would allow us to forecast monetization or project revenue levels.
A quick review of the balance sheet shows exactly what shareholders are buying for their collective $21 MM.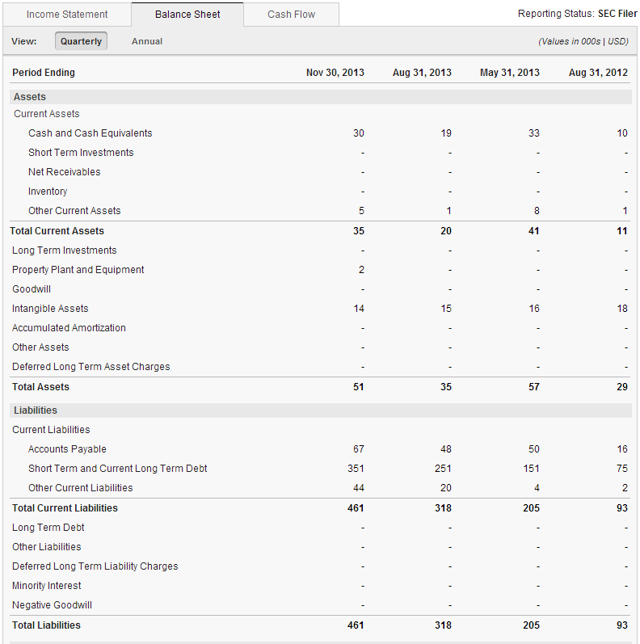 The company has $30K in the bank, and a total of $51K in assets. Yes, you read that right; new shareholders are buying $.0017 for their dollars. But, on top of the miniscule amount of assets, there is a whopping $461K in liabilities, including $150K drawn on the company's $1MM credit line extended by a Marshal Island entity, Levantera. This results in an overall shareholder deficit of $410 K.
As a result, the company issued a statement on going concern in their last 10Q. "Without additional capital, the Company will not be able to remain in business." Management also commented on possible dilution, "Management anticipates that significant dilution will occur as a result of any future sales of the Company's common stock and this will reduce the value of its outstanding shares. The Company cannot project the future level of dilution that will be experienced by investors as a result of its future financing, but it will significantly affect the value of its shares."
So, this begs the question: Is the advertised investment opportunity initially posted above the company's idea of raising additional capital?
Conclusion
If so, then retail investors should run with arms flailing wildly from this stock. There is no real justification for any price north of a fraction of a penny per share for this company, and the promotional placement of their advertisement in a forum such as Seeking Alpha was foolish. Why not wear a meat necklace and go for a stroll through the lions' den instead.
Caveat Emptor!
Disclosure: I have no positions in any stocks mentioned, and no plans to initiate any positions within the next 72 hours. I wrote this article myself, and it expresses my own opinions. I am not receiving compensation for it (other than from Seeking Alpha). I have no business relationship with any company whose stock is mentioned in this article.