"What we obtain too cheap, we esteem too lightly; it is dearness only that gives everything its value." - Thomas Paine
Predictably, Apple (NASDAQ:AAPL) has bounced back nicely off its post earnings disappointment lows of late January. It is important to remember that Apple beat both top and bottom line expectations during that quarter. The main driver of the ~8% sell-off was that iPhone sales for the quarter came in at 51mm - an all-time record - but were short of the consensus estimates (55mm to 57mm).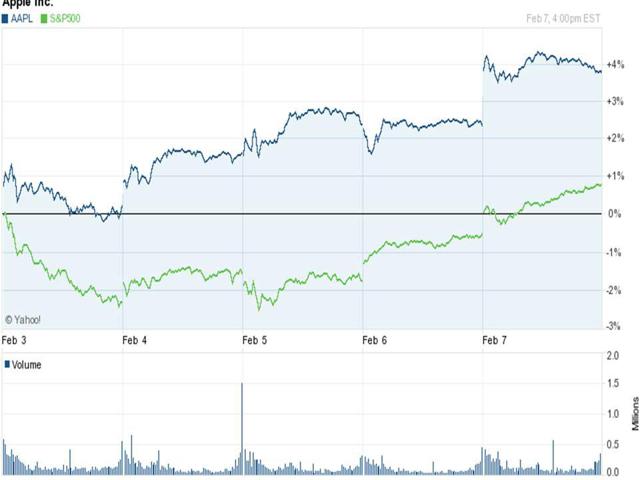 I still see Apple as a value stock at this stage of its existence but with growth kickers that could be significant catalysts to capital appreciation as they become apparent to a larger audience.
The Value Story:
Apple sells for under 13x this year's expected earnings, a discount to the overall market multiple of ~15x. The company should also see year over year revenue growth of 5% to 7% which is above the projected 4% sales increase that is the current consensus for the S&P 500 during 2014.
This S&P 500 revenue forecast should be taken with a grain of sale as well. In a piece in The Wall Street Journal on Monday, Thomson Reuters was cited as noting that with around half of S&P 500 companies reporting so far in the quarter, revenue growth was running just 1% above year-over-year levels.
This is far below the 4% gains the consensus forecast is calling for in 2014. It is even below the anemic 2% increases of 2013. At this point in time I have a lot more confidence in Apple hitting its projected revenue growth than the overall market.
These statistics do not even account for Apple's huge hoard of net cash and marketable securities. This stood at ~$159B at the end of the just completed quarter. In the quarter Apple added some $12B to this balance. Think about that. The company returned more than $40B to shareholders via buybacks and dividends over the prior six quarters, and it is still adding ~$1B a week to its net cash balance.
Evidently, the size of this balance was finally too much for the company. On the recent dip, Apple bought an additional $14B in stock. This should increase EPS by 2% in the coming year due to the reduce float. Not that shareholders should worry, at its current cash accumulation pace; the company should be back up past the ~$155B level by the end of the current quarter provided it takes no additional capital allocation actions.
Apple has now returned some $57B to shareholders in a little over a year and a half. The share repurchases have already retired ~10% of the company's outstanding float. This is almost enough to pay off Puerto Rico's - an island of some 4mm - total of $70B of outstanding debt which was just downgraded to junk status.
In addition, Apple still has ~$20B left on its current stock repurchase authorization plan. Carl Icahn is pushing for another $50B to be returned to shareholders via buybacks in short order during the upcoming shareholder meeting. I don't think his proposal will be approved by shareholders, but I do see a continuation of enhanced share buybacks in Apple's future.
In addition, shareholders can expect another dividend hike by the end of the first half of the year. The shares currently yield 2.4% and Apple last announced an enhancement to its payout late last April.
Subtracting the company's cash hoard from the equation, gives us a stock that is trading at approximately 7.5x FY2015's projected earnings. Combine that with the dividend yield, it is easy to make the case that Apple is one of best values in the large cap stock universe.
Growth Drivers:
Apple stands on its own as a value selection. However, it is not without its growth drivers. A fact the market seems to be giving no credit to its shares for at current levels.
The first iPhones were not available on China Mobile (NYSE:CHL) until January 17th. Now that the carrier's over 750mm subscribers can acquire an iPhone, I would expect a meaningful uptick in Apple's sales to the Middle Kingdom starting in the next quarter. In addition, the iPhone 6 should be unveiled by the end of the year. At least one version should have the larger screen sizes investors and customers have been clamoring for.
During the earning's conference call, CEO Tim Cook stated the company would reveal numerous products in different categories in 2014. My own opinion is that the company will release an iWatch and/or other wearable technology sometime this year. Given the company has over 500mm registered iTune subscribers, the payments area could be very interesting as has been speculated recently.
A new payment service would leverage the company's considerable ecosystem which gets short shrift in much of the financial press. For example, the AppStore opened in July 2008. Since then it has racked up ~$21B in download sales as of year end 2013. $10B of that came in 2013 with $1B generated just in December alone. Apple gets a 30% cut of each dollar of revenue from the AppStore which is a very high margin business - my guess is a range of ~65% to ~85% operating margins.
Think about that for a second. In December alone Apple generated ~$200mm to ~$250mm in profit just from the AppStore. Given its rate of growth this would mean that the AppStore will be generating annual profits in the ~$3.5B to $6B range by year end 2014 *Assuming 50% to 100% download growth with current margins.
Given the valuations being bestowed on fast growing, but basically profitless companies like Twitter (NYSE:TWTR), what would the AppStore be worth as a standalone company? I don't even want to hazard a guess.
Summary:
It is fairly easy to make a case that Apple is nicely undervalued just based on current fundamentals. Throw in several discernible growth drivers, a nice & growing dividend yield and increasingly shareholder friendly actions (Ex, stock buybacks); the case can be made that Apple is one of the cheapest large cap stocks on the planet for the patient, long term investor. These are the reasons it continues to remain as the largest holding in my portfolio and quickly becoming the same for noted value investor Carl Icahn as well. BUY
Disclosure: I am long AAPL. I wrote this article myself, and it expresses my own opinions. I am not receiving compensation for it (other than from Seeking Alpha). I have no business relationship with any company whose stock is mentioned in this article.