Over the course of the last few weeks I have been noticing a growing disbelief in the rally in equity markets.
Very few seem to believe that equity markets could well be at all time highs before the end of next year. Furthermore, too many commentators appear locked into "this is not a real recovery" mindset. They argue that it is merely the easy credit conditions and government stimulus programs that have led to the pick up in earnings.
Perhaps this mindset is why analysts are way behind the curve in earnings estimations.
To date about 1000 companies have reported and earnings have beaten expectations by some 21%. To all those disbelievers out there, remember this: stock prices are future prices in that they are based on expectations about the future. What happens here and now is largely inconsequential. Furthermore, movements in markets often drive fundamentals themselves. Soros popularized this idea in his "theory" of reflexivity. It is quite likely that the rise in stock prices is creating a wave of optimism within the crowd; in turn, crowd members spend more and, lo and behold, fundamentals improve!
There also appears to be a growing school of thought that is arguing that inflation will remain tame for some time to come; that the dramatic increase in government debt will not lead to a rise in interest rates or lead to a rise in inflationary expectations.
Is this "school of thought" merely reflecting the fact that the CRB index and US Treasuries have essentially gone nowhere in some 10 months?
If these commentators bothered to look at what is happening in the real world with respect to commodity prices perhaps they would think otherwise. Witness the JOC Industrial Commodity and CRB Spot Raw Industrials indices as of late. They are within a whisker of all time highs!
Have commentators been taking notice of what has been happening in India, Brazil, China, South Africa and the Philippines? It appears that the inflation threat there is immediate. Don't forget that emerging markets are the proverbial canary in the coal mine for developed market economies!
As always, seeing is believing. This week we expand our time frame to three years. Cast your eye over the charts below. What is the market telling you?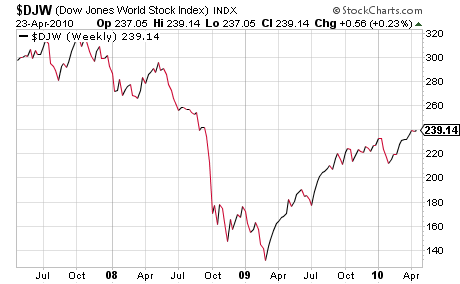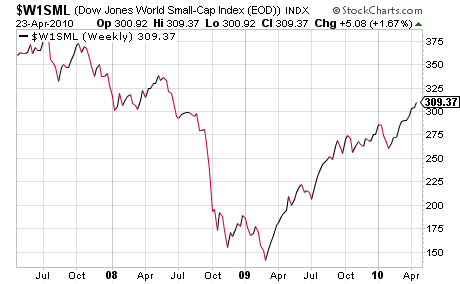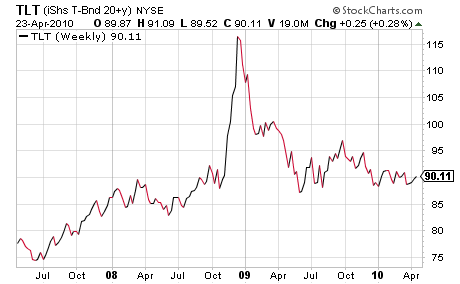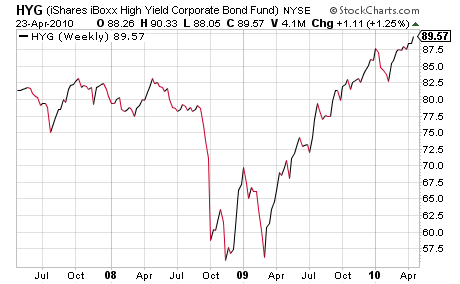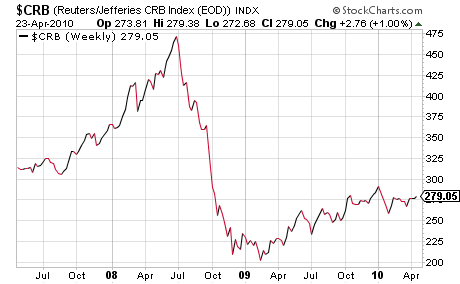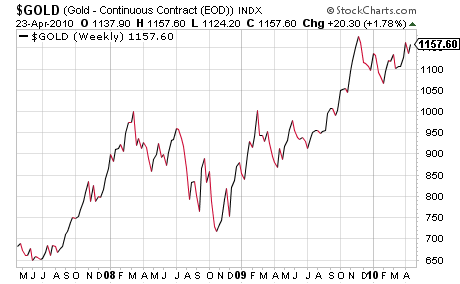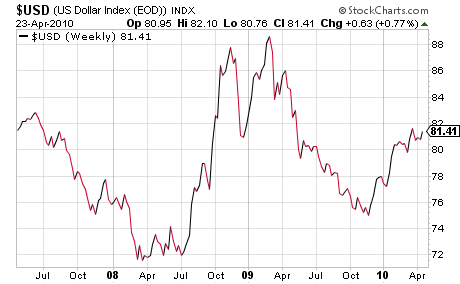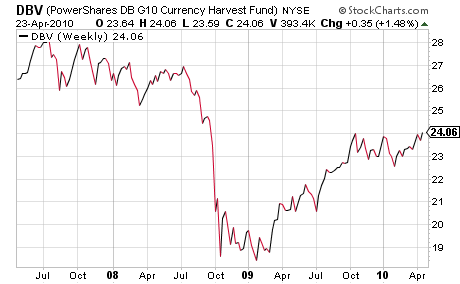 As far as the equity market is concerned, it is all systems go, with more upside to come.
This action is supported by the behavior of high yield corporate debt and currency markets. Commodities and US Treasuries are close to an "inflection point". Both markets have gone nowhere over the last 10 months but recent activity in the metals markets, in particular gold, suggests that the breakout for commodities will be to the upside and US treasuries to the downside.
Just what will be the final straw that breaks the camel's back..........well, only the gods know that!
Disclosure: Author holds long positions in VTI, GWX, TBT, DBC, JNK, GLD, CEW, DBV, UDN