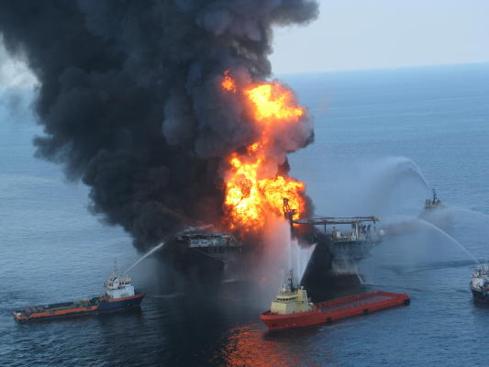 I've been following events at a distance, relying on press reports and blog comments to form an opinion of what happened and is likely to happen next.
This much is clear. BP (NYSE:BP) is financially responsible for every penny of expense to clean up the oil spill, presently estimated (loudly and insistently) at 1,000 bbls a day leaking from the ocean floor a mile beneath the surface. The blow out preventer was apparently damaged. Four ROVs were deployed to survey the damage and attempt various shut-off procedures.
I think it's obvious now that nothing further can be done to stop the well from leaking oil, because they're fantasizing science fiction band-aids:
Officials at BP, responsible for the environmental clean-up efforts as the rig's lease operator, said they were engineering a system to lower a dome-like structure over the well to capture the oil and funnel it to a collection tank on the surface. [Houston Chronicle]
Rubbish. There are deepwater currents in the Gulf. It would take many weeks if not months to engineer and fabricate a mile-long inverted funnel, sink and guide it into position, and nail it to the sea bottom. Those deepwater currents, by the way, are probably wafting lighter hydrocarbons (gas that caused the blowout and fire) halfway to Mexico by now.
The NOAA advisor attached to a multi-agency task force on the scene observed that 1 million boe per year seeps into the Gulf of Mexico naturally, so dissolved gases don't matter. Out of sight, out of mind. It's the visible surface oil spreading across 600 square miles near a wildlife refuge that has BP's executives at battle stations, leading 700 BP staff and 20 vessels tasked to clean up every pint of foamy wave-tossed goop.
To kill the well underground and stop the leak, two BP-leased Transocean (NYSE:RIG) deepwater vessels are en route. The semisubmersible Development Driller III arrives today, and drillship Discoverer Enterprise (pulled from drilling at South Thunderhorse) is expected May 2.
What they are going to attempt is not beyond Transocean's competence, but will take many weeks, perhaps many months to accomplish. They are going to drill directionally to intercept the Macondo well. Odds are high that the first few holes will miss, or that the drill bit will bounce off the well's steel casing pipe.
To recap the impact so far:
11 dead, 17 injured, plus emotional pain and lost income for survivors
loss of Deepwater Horizon, the Macondo Well, riser and BOP
up to $1 billion rescue, clean up, well intervention
up to $1 billion legal fees, settlements, executive & expert testimony
up to $3 billion lost revenue
nascent but looming likelihood of Obama Administration coming down hard on deepwater GOM drillers and platform operators, with endless forensic investigation and tougher safety regulation.
I hope I'm wrong about all of the above, especially the political fall-out. But greenies are triumphantly screaming about offshore pollution risk, and BP is a superprofitable Dirty Robber Baron responsible for a 2005 Texas City refinery explosion that killed 15 that was neither forgotten nor forgiven.
Disclosure: no position long or short in any oil or gas company