Possibly the most important currency for social networking sites going forward is the user data embedded in the numerous interactions and postings of people using the services. It is sure to result in various ways to monetize the data in the near future.
To that end, companies like Facebook (NASDAQ:FB) and Twitter (NYSE:TWTR) are experimenting with better ways to aggregate user data in order to make it more valuable to those companies it would benefit the most. Twitter's user data strength is probably the depth and immediacy of the information, which could be used in a variety of ways. That's especially true in the music industry, as music is the most talked about topic on Twitter. We'll take a more in-depth look at that later.
Amazon the social networking company
One company that most people don't consider a social networking site, but which probably has the most accurate data available, is Amazon.com (NASDAQ:AMZN). The obvious social networking element is the numerous product and service reviews that have been available for a number of years. According to L2 founder Scott Galloway, Amazon "has more user data than any other media company in the world." It is also the #6 in the world for web traffic.
What makes Amazon so powerful is it has a built-in mechanism for gathering data, which it simply has to input parameters to access. For example, if someone were to acquire a variety of similar products over the years, Amazon would immediately know if a customer bought a specific item, but also if the purchase was only made at a discount over time. It could also tell you the exact percentage of discount the customer required in order to make the purchase. This goes far beyond the general information Facebook and Twitter have at this time.
By general information I don't mean there aren't some specifics involved, such as favorite movies on Facebook or tweets about certain bands or singers. What isn't known is how much potential customers would pay for products or services associated with these interests. Amazon has all of that information right at its finger tips without the additional need to having to set up various software programs or algorithms to find out what the data are saying. It's already built into the acquisition process.
To appreciate the power of Amazon's model, Forrester Research released a study that said when it came to consumers, Amazon received 30% of all product searches, far beyond the 13% that originated with Google. That study was performed a little over a year ago, so those numbers are probably even better for Amazon. But even if they're the same, it's still a huge moat for the Internet retailer.
Not only has Amazon outperformed on the front end of the process, but on the back end as well, where its vertical integration from media to sales is superior to all companies it competes against. One click on an Amazon ad brings the consumer right to the product page where they can immediately make the purchase.
This is obvious of course, but thinking of Amazon as a user data powerhouse, as well as a social networking company via its customer feedback mechanism, isn't as obvious to many.
source: StockCharts.com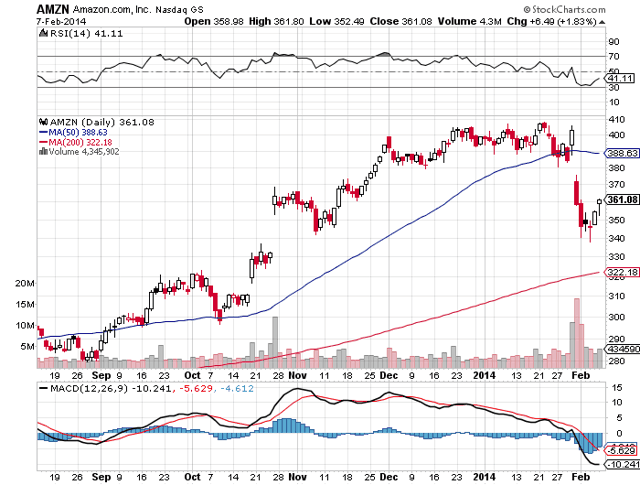 Facebook user data
One of the challenges Facebook must overcome in contrast to Amazon.com is people going to Amazon are doing so primarily to do research on a product or buy something. That's not the main purpose of Facebook users, so there are a lot more complaints and privacy concerns from that standpoint for Facebook to figure out.
Having said that, even the data that people using Facebook provide is limited. Some people reveal a variety of interests, while others are very frugal with sharing their information on the social networking site.
But even those who reveal their interests are only doing so in a narrow way, and it is more of a challenge for Facebook to get the type of clarity Amazon does via its business model.
A 2013 survey from Forrester found that marketers prefer to use competitors like LinkedIn (NYSE:LNKD), Yahoo (NASDAQ:YHOO) and Google (NASDAQ:GOOG) rather than Facebook. Consequently, a lot of low-priced banner ads have been the primary means of advertising on Facebook, although it has recently released the much more lucrative streaming video ads in an attempt to generate more revenue and earnings.
In the short term the dislike of placing ads on Facebook shouldn't be an issue as the scale of Facebook has been a positive catalyst for now, but over the longer term it is an issue the company must solve in order to protect its online advertising revenue.
That's why continued growth at the company will help it gain time as it works on a solution. Figuring out ways to get access to more specific data for users would also be a big plus if the company is able to do so without alienating users.
Even compiling existing user data in a more meaningful and extensive target manner would greatly boost the value of Facebook to advertisers. It may seem like it's doing so now, but it could vastly improve on that part of the business, which would make it much more valuable and profitable to advertisers and the company.
As another revenue stream, I could see Facebook and the other social networking sites selling data once they are able to break it down further into meaningful and relevant pieces. That doesn't mean the pieces would be small, but they would be much more specific and categorized.
source: StockCharts.com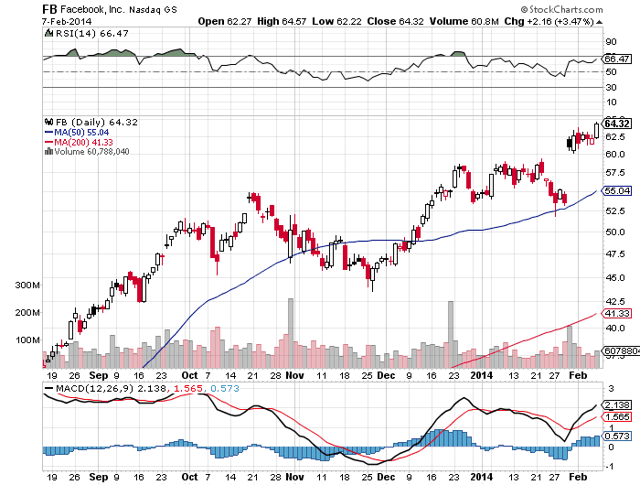 Twitter user data
In order to make its user data more valuable, Twitter is partnering with 300, a company launched by industry heavyweight Lyor Cohen. Tapping into the huge data inherent to Twitter is a challenge, and 300 will work with Twitter to extract and organize the data in order to make it useful to entertainment companies specifically, especially the music industry.
Although the deal involves no money or revenue, Twitter will receive the data after it has been organized by 300, while helping the giant social networking site to develop software which it presumably will sold to industry players or possibly consumer brands.
The primary value to the music industry is to find breakout artists before they become huge. It would also generate information that established bands or artists could use to ascertain interest in songs, shows or other aspects of the business.
Twitter is very strong in the music market with it being the hottest topic discussed on the network in 2013. There is a lot of music data that has yet to be mined and organized.
Even though music is the beginning for Twitter concerning user data, it is easy to see how it could expand into numerous verticals in order to attract a variety of industries to the company in order to access it for marketing purposes.
It's possible we may see a major shift and disruption from the social networking sites in the metrics industry once they figure out how to efficiently and effectively bring it all together. Companies like Nielsen, Rentrak and comScore could come under pressure if Facebook and Twitter decide to go another route to measure their user data.
source: StockCharts.com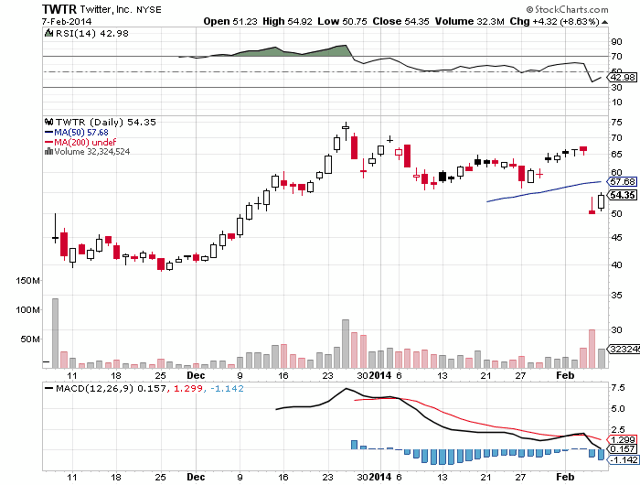 Conclusion
There is a lot to consider in the social networking space, and we're just at the beginning of accessing the treasure trove of user data that will prove valuable to many companies and industries.
Since that's the case, it will take time to see which companies will be brought in as partners in the user data wars, and how that will have an impact on the industry.
As mentioned earlier, Amazon.com is easily the leader in this area, even if most people don't think of or consider it a social networking site. It is all of that, and it is way ahead of its competitors as far as metrics and using them to its advantage. The company should only grow and improve in this area, which should be a strong moat for many years. I think this may be one of the more underestimated strengths of the company.
For Facebook and Twitter, it remains to be seen how they will decide to monetize their user data. It is already being monetized via ads placed against user interests, but that is mostly with low-level, low-priced ads. Getting much better information from its user base and upselling it should be a major revenue stream for all social networking sites of any size. This is why it was such a big concern to see Twitter appear to be slowing down in growth.
In my view, user data is the real currency of social networking sites, and those that get this right and successfully monetize it should do very well. The major question is can Facebook and Twitter maintain growth long enough to make it a viable revenue source. I think with Amazon it has already proven it is able to turn its data into earnings.
Disclosure: I have no positions in any stocks mentioned, and no plans to initiate any positions within the next 72 hours. I wrote this article myself, and it expresses my own opinions. I am not receiving compensation for it (other than from Seeking Alpha). I have no business relationship with any company whose stock is mentioned in this article.