Cisco (NASDAQ:CSCO) is a manufacturer of IP based networking equipment and items for use in information technology and communications. Cisco has traded sideways for the better part of the last year. It's up 7.6% in the last 12 months, and has bucked the trend of the markets so far in 2014, rising 1.6% for the year.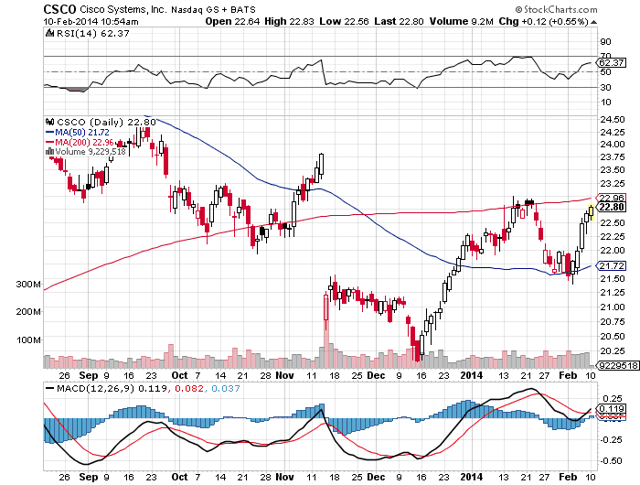 Technical traders have obviously been in tune with Cisco - you can see the stocks next resistance is its 200DMA, a level it touched in late January and a level that supported the stock throughout October of last year. Bulls will be looking for earnings to act as catalyst for the stock to move through the average and back towards the $24-$25 levels.
Cisco is set to report earnings on Tuesday after the market closes. The company is expected to report second quarter EPS of $0.37 with revenues of $11.03 billion. Last year for the same quarter, the company reported EPS of $0.59 on revenues of $12.1 billion.
The bar is already not real high for Cisco due to expected disappointing earnings from emerging markets. JP Morgan (NYSE:JPM) had recently downgraded the company saying that it was overvalued - but some of the fundamentals would point to the contrary. It's likely the downgrade was a result of emerging market concerns.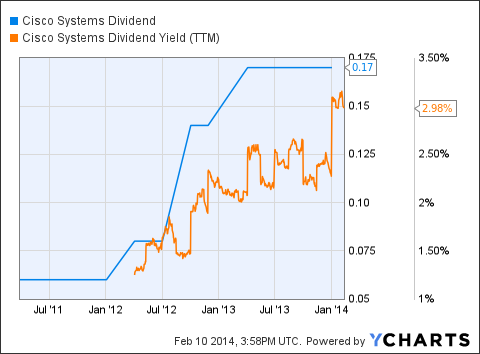 CSCO Dividend data by YCharts
Analysts like Tim Long at BMO are expecting Cisco to handily beat estimates for this quarter, and that the company will continue to grow its dividend. The company yields an attractive 3% annually on its dividends.
Also of interest to bulls and potential bulls was the company's options action of recent. Schaeffers Research did a write-up last month about a significant amount of bullish action in Cisco's February 23 calls - attributable to people loading up for earnings:
Cisco Systems, Inc. (NASDAQ:) is following the broader market's path higher today, up 2.3% to trade at $22.92. Meanwhile, bulls have flooded the stock's options pits, as roughly 82,000 calls have switched hands thus far -- nearly triple the intraday norm. By contrast, about 30,000 puts have crossed the tape.

Snagging the lion's share of the attention is the February 23 strike, where close to 13,100 calls have been exchanged -- 85% of them at the ask price, implying they were purchased. Implied volatility has ticked higher at this strike, suggesting new bullish positions have been opened here. Data from the International Securities Exchange (ISE) also corroborates the theory of buy-to-open activity.
Cisco is trading at a pretty attractive P/E of around 12 and a forward P/E of just over 10. Put simply, the company isn't priced expensively. Cisco looks like an attractive buy to me at these levels - bulls could buy pre-earnings and hope for a boost on Tuesday. If not, those more cautious can wait for a potential dip to add. There's a chance I could add Cisco to my personal portfolio this week, as well.
It's likely that aside from Janet Yellen's commentary this week, that Cisco's earnings is going to be one of the events that helps guide the broader markets for the week.
Disclosure: I have no positions in any stocks mentioned, and no plans to initiate any positions within the next 72 hours. I wrote this article myself, and it expresses my own opinions. I am not receiving compensation for it (other than from Seeking Alpha). I have no business relationship with any company whose stock is mentioned in this article.