FedEx (NYSE:FDX) and United Parcel Service (NYSE:UPS) have a combined 80% market share in the U.S market. The duopoly nature of the airfreight & surface transportation industry is likely to stay the same in the coming years. The strength of the two companies was in full display when international competitor DHL exited the domestic U.S market in 2009. Between FedEx and UPS, I would pick FedEx because of its sustainable advantages over UPS listed below.
Labor Structure: FedEx's employees, except pilots, are not unionized. This gives FedEx more power to control its labor costs. This is a competitive advantage over UPS, in which all labors are unionized. FedEx is more flexible to cut costs and to improve operating margins.
Strategic focus: FedEx has been investing 9% of its revenue in the past few years, which is much more aggressive when compared to UPS, investing only 4% of its revenue. UPS is sending a signal that they are not confident about the economic recovery after the 2009 financial crisis, but I believe the market is cyclical that the economy should be slowly recovering to the pre-crisis level. This creates an excellent opportunity for FedEx to outgrow UPS and take market share from its main competitor.
Innovation: FedEx has been relentlessly innovating to reduce costs and to create value for customers. In fact, FedEx pioneered the web-based package-tracking system, and it was also the first company that started using barcode to track packages.
I believe these competitive advantages can translate into greater profitability for FedEx in the future with its ongoing cost saving program and its investment in the higher margin Ground division. If FedEx is able to execute its current strategies, I believe there is a 38% upside potential.
Cost-saving program that leads to a higher operating margin
FedEx launched the cost-saving program in FY13 that aims to increase operating margin to 9.4%, on par with UPS's current margin by the end of FY16, representing an annual profitability improvement of $1.6 billion. As part of the cost saving efforts, the Voluntary Buyout Program was launched last year, offering employees who are willing to leave the company with a prepaid salary compensation package. The program has shown encouraging progress. In FY13, 3600 employees have voluntarily left or will be leaving the company by the end of FY14. FedEx has also completed the final retirement of the old inefficient B727 fleet.
Investment in the higher margin FedEx Ground division
In FY13, FedEx Express's operating margin was 5%, and FedEx Ground's operating margin was 16.9%. By increasing revenue contributed by the higher margin Ground business, FedEx can greatly improve its operating margin. FedEx has shown great progress in this strategic focus as well. In the FY14 Q1 conference call, Alan Graf, FedEx CFO said that FedEx has been gaining market share in the Ground business and will continue the trend through aggressive capital spending. In 2013, 90% of capital expense was used to expand the capacity for growth, including building new hubs, building expansions, and material handling. FedEx is able to realize return from its capital spending by achieving a 9% package volume growth in Ground as oppose to 5% growth in Express in FY13.
Valuation
I decided to use the enterprise value multiple (EV/EBITD) to compare the valuation of FedEx to that of UPS because this metric takes into account the balance sheet and cash flow.
FedEx's EV/EBITD is currently at 6.8, which is inexpensive comparing to UPS's 9.0. UPS is able to trade at a higher multiple because of its higher operating margin. FedEx's margin is around 6% and UPS's margin is around 10%. The major reason behind UPS's higher profitability is its much larger Ground business, which has a significantly higher margin than that of the Express business. Below are the revenue mix charts for FedEx and UPS in FY13.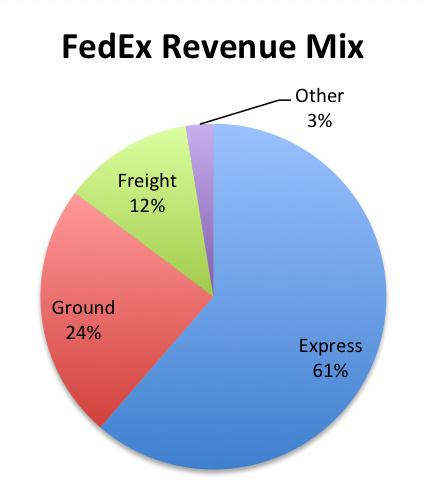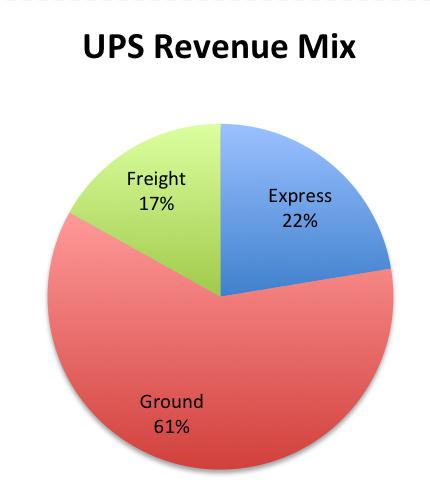 Historically, FedEx has been trading at 5.5 EV/EBITD. It is currently trading at a slightly higher multiple because FedEx's share price has appreciated a lot in the end of 2013 along with the market run-up. Although the stock has recently pulled back a bit, the appreciated share price still reflects investors are optimistic about FedEx. There are a several reasons why investors are relatively optimistic now.
Improved macro environment.
The new share buyback program that will buy back 10% of the outstanding shares.
Encouraging progress of the cost-saving program.
In fact, if we apply the current EV to the management forecasted FY14 EBITD, FedEx is now trading at FY14's forward EBITD. It appears that the recent share price appreciation has just priced in the positive news, and assume FedEx's management is going to execute their cost-saving program in the near future. I have tremendous confidence in FedEx's management team, but there are risks that if FedEx is not able to fulfill investors' expectations, FedEx's share price will be under pressure.
Conclusion
FedEx has been investing 9% of its revenue to expand its business in the past few years, and UPS has no intention to grow its business, investing only 4% of its revenue. FedEx can trade higher in the future if it is able to improve its operating margin (~6%) to UPS's level (~10%) as FedEx continues to take market share in the Ground business and realize its cost-saving by the end of FY16. The fact that FedEx's Ground business has a higher margin than UPS's Ground business is an encouraging sign that FedEx can possibly reach or even exceed UPS's current impressive margin. Financial data in the next few years would reveal if FedEx is indeed gradually increasing its margin to reach that target. I will not be surprised if FedEx is trading at $180 (38% upside), with UPS's current multiple, in the near future.

Disclosure: I have no positions in any stocks mentioned, and no plans to initiate any positions within the next 72 hours. I wrote this article myself, and it expresses my own opinions. I am not receiving compensation for it (other than from Seeking Alpha). I have no business relationship with any company whose stock is mentioned in this article.