I've been an emerging markets bull for quite some time now, but have yet to really do any analysis on Brazil and their currently very good performing economy and companies. Until I did my weekly technical stock scans this Monday morning and up popped three Brazilian stocks in the same scan, which is quite unusual, so I decided to take a closer look.
3 Stock Picks Instead of One
This week, I'm not only providing buy entry, stop-loss, and take profit price targets on one stock, but I'm doing it on three Brazilian stocks, which if they work out, will provide nice 3:1 plus low-risk high-reward stock buying opportunities. These Brazil stock picks are all ADRs so you can buy them on the New York Stock Exchange, which hopefully means they are a lower-risk emerging market investment and or trade. In case they're not, stock to stop-loss plain and simple.
Latin America's Economy
Brazil is Latin America's biggest economy. The Brazilian central bank president is Henrique Meirelles. Meirelles and his monetary policy makers are meeting this week for two days to decide on the Brazil benchmark interest rate. The last time they met for a Brazilian monetary fed meeting was in September 2008. Analysts are expecting a rate increase to cool down the strongly growing economy.
Brazil Central Bank President Meirelles
The Brazilian central bank previously set their overnight rate at 8.75% to spur growth. Economic growth has been strong with such action and inflation is now at an eleven month high from credit growth and domestic demand. Meirelles said that there is risk of the Brazil economy overheating, and they are taking necessary measures to manage it. Brazil interest rate futures yields gained more than expected last week after the IPC-S consumer price index report came out, which exceeded economists' forecasts.
50 Basis Points or More Expected
Meirelles is saying that they may increase the rate by 50 basis points or more. The last time they increased rates was in April 2008, to the surprise of most economists. The Brazilian central bank went on after that to raise the overnight rate four times from 11.25% to 13.75 in September 2008. The market looks to be pricing in a 65 to 75 basis point increase at this point. Brazil's current inflation rate is at 5.2% and is forecasted to rise to 5.32% later in the year. Meirelles is trying to keep inflation within their forecasted targets in the next 12 months.
Brazil Bust Now Booming
Brazil slipped into a recession with the rest of the world in 2009, but with very low interest rates and economic growth, the current growth forecast is now 6% plus. Meirelles and his monetary policy makers have been happy with their expectations of the Brazilian recovery and their interest rate adjustments so far. Analysts and economists on the other hand have been quite surprised and are having a hard time understanding the central bank's decisions and the timing of their decisions.
The Real News on Real Interest Rates
Meirelles said that after inflation, real interest rates should be lower in the years ahead. He also said that real interest rates have dropped from about 14 percent to 6 percent since he started as the Brazil fed chief in 2002.
Brazilian Past Debt Defaults and Today's Investment Grade Rating
Brazil has defaulted on its foreign debt two times in the last 25 years. It received its first S&P investment grade rating in 2008. The Brazilian currency, the Real has doubled since 2003, and stocks have climbed more than 1,000% in dollars terms in the same amount of time.
strong>My Three Brazil Stock Picks
The first one is Companhia Paranaense de Energia Brazilian (NYSE:ELP) electric utility. The second one is Net Servicos (NASDAQ:NETC), involved in Cable TV and broadband internet services. The third is the famous Brazil oil and gas company Petrobras (NYSE:PBR), which is also involved in chemical and fertilizer production.
Buy Long: Companhia Paranaense de Energia COPEL – Ticker ELP
Buy Entry: 19.91 to 20.39
Stop-Loss: 19.52
Take Profit Areas: 21.98 to 22.20, 22.42 to 22.64, 23.51 to 23.76, 25.81 to 26.07
Companhia Paranaense de Energia COPEL Company Profile
Companhia Paranaense de Energia COPEL, through its subsidiaries, engages in the generation, transmission, distribution, and sale of electricity for industrial, residential, commercial, and rural and other customers in Brazil. It generates hydroelectric and thermoelectric power. As of December 31, 2008, it operated 17 hydroelectric plants and 1 thermoelectric plant, with a total installed capacity of 4,549.6 megawatts. The company also provides corporate and international long-distance telecommunications services to telecommunication companies, supermarkets, universities, banks, Internet service providers, and television networks. As of December 31, 2008, it owned and operated 1,835.2 kilometers (km) of transmission lines and 179,187.6 km of distribution lines. In addition, the company engages in the distribution of natural gas through pipes to industries, thermoelectric plants, cogeneration plants, businesses, gas stations, and residences. Companhia Paranaense de Energia COPEL was founded in 1954 and is headquartered in Curitiba, Brazil.
Click on the Companhia Paranaense de Energia stock chart for a larger view.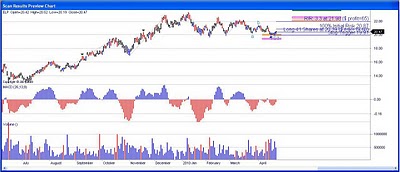 Buy Long: Net Servicos – Ticker NETC
Buy Entry: 11.81 to 12.24
Stop-Loss: 11.52
Take Profit Areas: 13.60 to 13.84, 14.07 to 14.34, 15.63 to 15.94, 17.59 to 17.93
Net Servicos Company Profile
Net Servicos de Comunicacao SA (Net Servicos) is a Brazil-based multiservice holding company engaged in the pay-television and broadband Internet industries. The Company's principal services include pay-television and pay-per-view programming under the NET brand name, digital cable under the NET Digital brand name, high-definition cable television combined with digital video recorder under the NET Digital HD MAX brand name, broadband Internet service under the NET Virtua brand name and fixed line telephony service under the NET Fone Via Embratel brand name. As of December 31, 2009, the Company held shares in Net Rio Ltda, Net Recife Ltda, Net Sao Paulo Ltda, Reyc Comercio e Participacoes Ltda and 614 TVH Vale Ltda, among others.
Click on the Net Servicos stock chart for a larger view.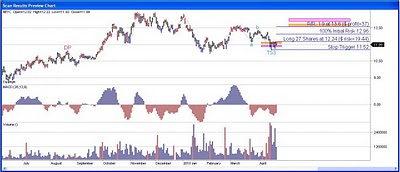 Buy Long: Petrobras – Ticker PBR
Buy Entry: 41.77 to 44.19
Stop-Loss: 41.33
Take Profit Areas: 47.94 to 48.95, 50.83 to 51.99, 56.81 to 58.06, 64.73 to 66.17
Petrobras Company Profile
Petroleo Brasileiro SA-Petrobras is an integrated oil and gas company. During the year ended December 31, 2008, the Company's average domestic daily hydrocarbons production was 2,176 thousand barrels of oil equivalent per day (mboe/d). Approximately 84% of its proved reserves are in fields in the offshore Campos Basin. The Company operates the refining capacity in Brazil. The Company's domestic refining capacity is 1,942 thousand barrels per day (mbbl/d). Its domestic refining production is 1,787 mbbl/d and sales of oil products to domestic markets is 1,748 mbbl/d. The Company is also involved in the production of petrochemicals and fertilizers. The Company distributes oil products through its own BR network of retailers and to wholesalers. During 2008, it increased its stake in the Sierra Chata and Parva Negra blocks to 45.55% and 100%, respectively, and acquired a 13.72% stake in the El Tordillo and La Tapera-Puesto Quiroga blocks. In November 2009, it acquired Chevron Chile SAC.
Click on the Petrobras stock chart for a larger view.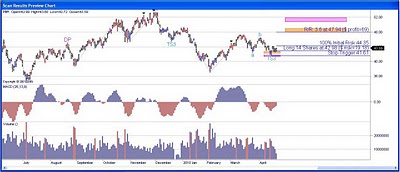 Disclosure: No positions currently. Buying long per trade plans above.