I have been producing my Top 40 Dividend Growth Stocks since 2008. The 2014 edition is the seventh.
Each year, I go through all dividend-raising stocks in the domestic universe and cull them down through screens and grading scales to identify the best ones. Of course, "best" is defined by the choices I have made to apply tests like minimum acceptable yield; minimum years of dividend growth; financial strength; and even subjective judgments about their business models. Other people with exactly the same investment goals as mine might choose different metrics or weight them differently.
That said, what I have found is that the mere diligent application of practically any sensible standards tends to cause similar stocks to rise to the top year after year. I have tinkered with my scoring system over the years, making many small and a few significant changes to it. Nevertheless, each year similar stocks rise to the top.
The following six stocks have risen to the top every year. I thought it would be educational to examine them. Let's see whether a portrait emerges of what makes a really good dividend growth stock. The 7-time champions are:
One other stock - Sunoco Logistics Partners (NYSE:SXL) - has also made it to the Top 40 every year. I left it out of this article, because it is an MLP, and their financial characteristics (and yields) tend to be different from C corporations.
Let's look at some characteristics of these six stocks. In the following graphs, the idea is not to trace each line in detail. The graphs are too busy to do that without eyestrain. Instead, the intent is to identify commonalities among the stocks.
First, let's look at their yields.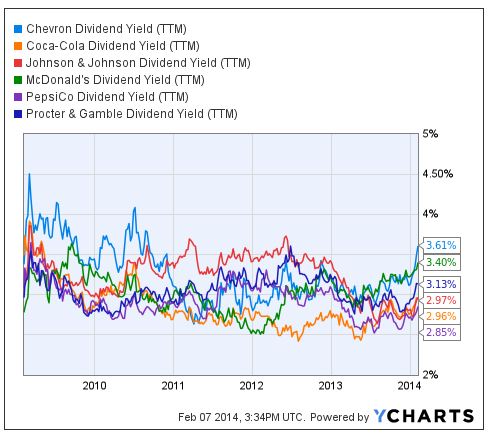 As you can see, all of these stocks, with just a few brief exceptions, have yielded between 2.5% and 4.0% for the past five years. That puts them squarely in what many dividend growth investors consider to be the "sweet spot" of reliable dividend stocks, namely 3-5 percent yields.
Prior to 2014, I did not consider stocks with yields below 2.7%. That means that a few quality companies that conceivably might have made this list [such as ExxonMobil (NYSE:XOM) or Wal-Mart (NYSE:WMT)] were ineligible for it. That is an example of how someone using different standards from mine might end up with different all-stars.
Another example is tobacco stocks, which I only began considering in 2012. Both Altria (NYSE:MO) and Philip Morris (NYSE:PM) have made the Top 40 each year since then, and it is possible that they would be seven-time winners too, had they been eligible from the beginning.
All of my all-stars have long records of dividend increases and pretty consistent dividend growth rates (DGR).
| | | | | | |
| --- | --- | --- | --- | --- | --- |
| Stock | Years of Consecutive Dividend Increases | 1-Year DGR | 3-Year DGR | 5-Year DGR | 10-Year DGR |
| CVX | 26 | 11.1 | 11.2 | 9.0 | 10.6 |
| KO | 51 | 9.8 | 8.4 | 8.1 | 9.8 |
| JNJ | 51 | 7.9 | 7.1 | 7.6 | 10.8 |
| MCD | 38 | 8.7 | 11.3 | 13.9 | 22.8 |
| PEP | 41 | 6.4 | 6.4 | 7.0 | 13.7 |
| PG | 57 | 7.0 | 7.9 | 8.8 | 10.6 |
In my analyses, I give credit for long dividend growth streaks, but any company with at least a 5-year streak is eligible. So it is interesting that these six stocks all have such long streaks. That was not a requirement. They made it because of other characteristics, not just their streaks.
What are some of those other characteristics? Let's look at return on equity, or ROE: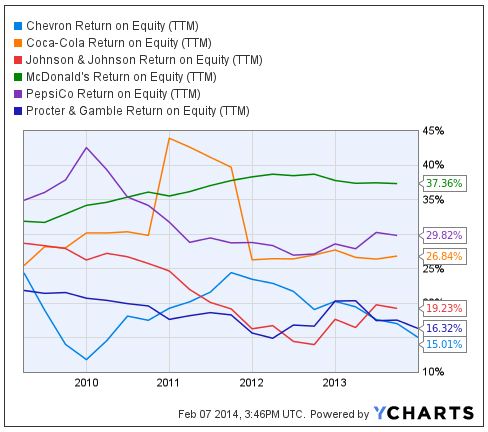 The thing to notice about this chart is that all of these stocks have very good ROEs: Rarely under 15% and sometimes into the 30s. Per AAII.com, the S&P 500's ROE over the past five years has been 15.3%. ROE is a popular measure of profitably and, by implication, of management performance. It shows the annual earnings of the company divided by shareholders' equity. Thus, ROE indicates how much shareholders earned for their investment in the company.
Many dividend investors like to buy companies that operate with low levels of debt. I have always used debt as a scoring factor, and in 2014 I doubled its weight in my grading system.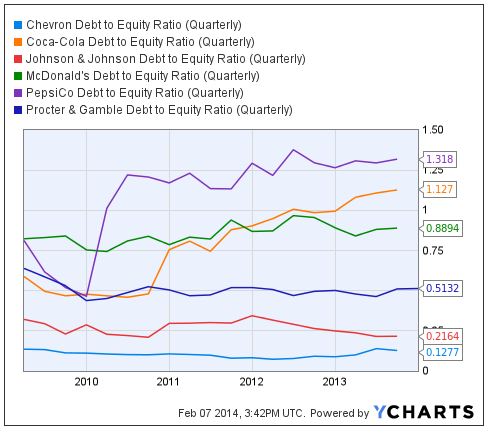 The debt-to equity (D/E) ratio is one of several common ways to measure debt. The six all-star stocks display D/E ratios from very low to somewhat above average . My system penalizes companies with D/E ratios above 0.8. In looking at stocks over the years, it has become clear that some companies can operate successfully with high debt levels, and they choose to do so. Others - the ones that I prefer, all else equal - do not carry sustained high levels of debt.
In analyzing stocks I do not use the payout ratio, but many dividend investors do use it. It is simply the percentage portion of earnings paid out as dividends.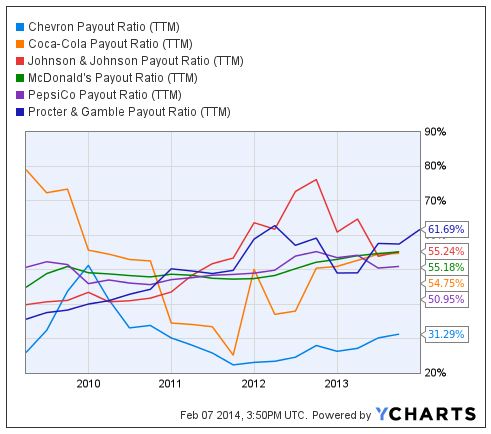 As you can see from this chart, all six stocks have kept their payout ratios almost always under 70%, and usually under 50%. CVX 's ratio has tended to be 10-20 percentage points lower than the others.
In 2013, I started using beta in my scoring system, because I reasoned that low-volatility stocks would be easier psychologically to hold on to during times of market turbulence. I have since read a few studies that concluded that low-beta stocks tend to outperform over time.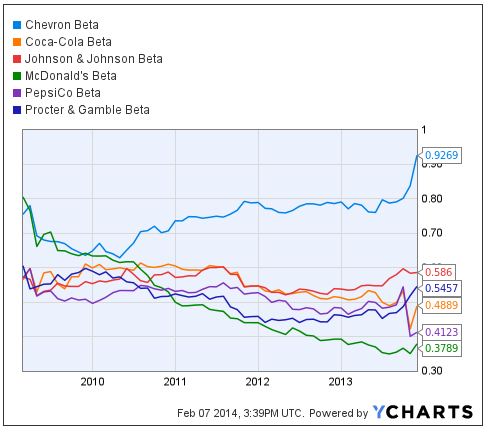 Five of the six stocks have been low-beta stocks. A beta of 1.0 indicates volatility that matches the market's volatility. These stocks' betas have been mostly in the 0.4 - 0.6 range. The outlier is CVX, with a higher beta usually above 0.7.
After I get through scoring companies for quality and dividend fundamentals, I take a look at their valuations. With the exception of CVX, these companies have not tended to be undervalued very often over the past five-six years, but every one of them has offered buying opportunities. Let's look at those, using F.A.S.T. Graphs. (Here, the charts display 6 years instead of the 5 years in the charts above.)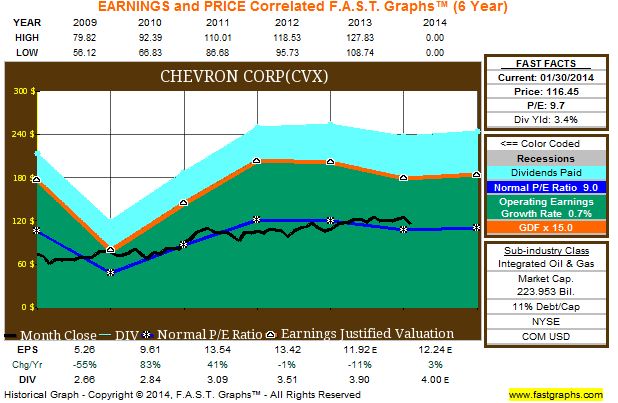 CVX currently has a 4-star rating from Morningstar. Considering that along with the F.A.S.T Graph, I would consider it a little undervalued at this time. (The chart shows CVX well undervalued compared to a standard P/E of 15, but the blue line shows us that CVX typically carries a low P/E, specifically 9 for this time period.) I have owned CVX since 2008.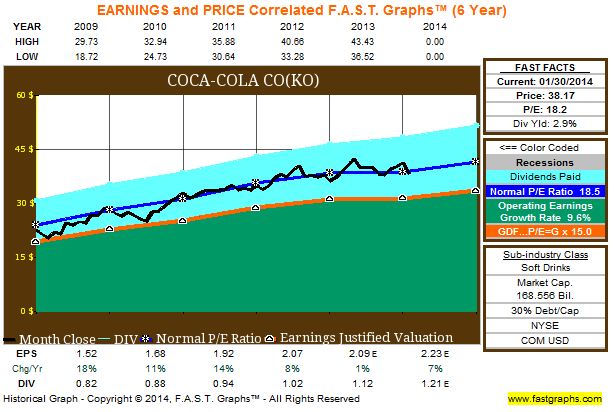 KO has a 4-star rating from Morningstar. The F.A.S.T Graph shows an overvaluation compared to a standard P/E of 15, but the blue line shows us that KO typically has a higher P/E ratio. I consider it fairly valued right now. I recently purchased KO as its yield approached 3%.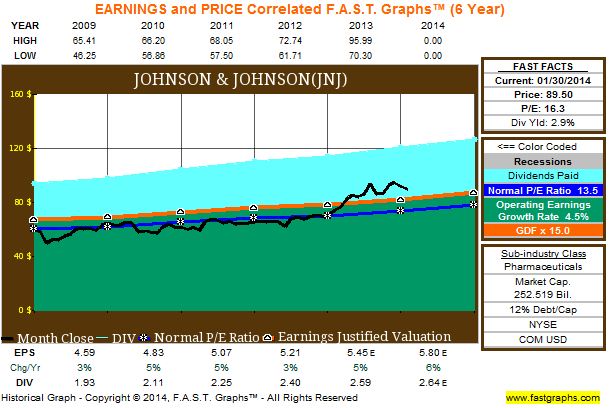 JNJ's current Morningstar rating is 4 stars. The F.A.S.T Graph shows it as slightly overvalued. Both considered, I would call it fairly valued overall. As you can see from the chart, though, JNJ tends to carry a normal P/E of 13.5, so I would see no reason to chase it here. It is likely to drop back to a better valuation sometime in the future, so I would wait for it to do that. I have owned JNJ since 2010.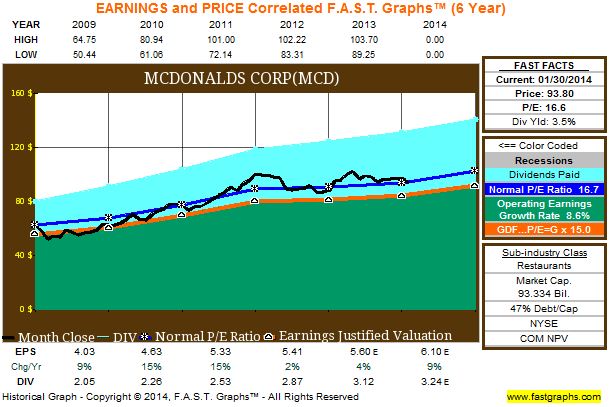 MCD has a 4-star rating from Morningstar and appears slightly overvalued on its F.A.S.T Graph. Overall, I would call it fairly valued, but I would not chase it here either. I have owned MCD since 2008.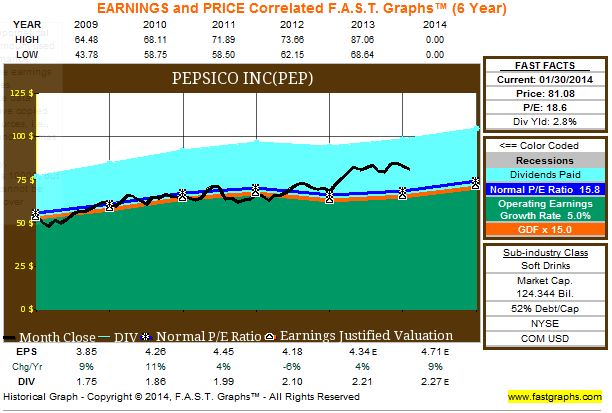 PEP is overvalued on its F.A.S.T Graph, but Morningstar has it at 4 stars. Overall, I would call it fairly valued, but again I would wait on its price to come back toward a better valuation. I have owned PEP since 2008.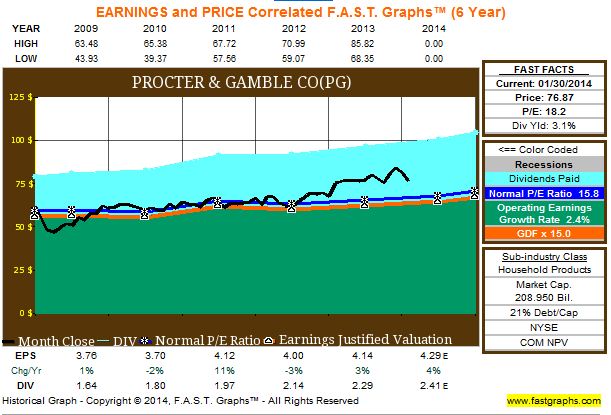 PG is overvalued on its F.A.S.T Graph, and Morningstar has it at 4 stars. Like the others, I would wait on it. My wife and have owned PG since 2008.
Here is the portrait that emerges from these six stocks. These figures are from year-end 2013, so there may be slight variances from values depicted in the charts above.
ROE

D/E

Ratio

Beta

(5 years)

Dividend Years Increased

Yield

3-Year DGR

CVX

17%

0.1

0.95

26

3.2%

11%

KO

27%

0.4

0.48

51

2.8%

8%

JNJ

19%

0.1

0.61

51

2.8%

7%

MCD

39%

0.9

0.40

38

3.4%

11%

PEP

30%

1.1

0.41

41

2.7%

6%

PG

18%

0.3

0.53

57

3.0%

8%

Average

(2014)

25%

0.5

0.56

44

3.0%

8.5%

Average (2011)

26%

0.4

N/A

42

3.0%

14%

(5-Year)
The last row in the table gives comparisons to a similar article that I did in 2011. Obviously, all six of these stocks were on the all-star list that year, plus four others that have since dropped off: Abbott Labs (NYSE:ABT); Chubb (NYSE:CB); 3M (NYSE:MMM); and VF (NYSE:VFC).
The average values are quite consistent, with the exception of the DGR, which has dropped quite a bit, although I used a different time-frame in 2014 from 2011. I do not like to see a consistently declining DGR, but so long as the most recent dividend increase is 5%, I accept it.
Disclosure: I am long CVX, KO, M, PEP, PG, SXL, PM. I wrote this article myself, and it expresses my own opinions. I am not receiving compensation for it (other than from Seeking Alpha). I have no business relationship with any company whose stock is mentioned in this article.