Throughout the course of life, one will be faced with a series of challenges that will test your resolve. How we process and ultimately respond to the challenges presented to us helps to define our character and will ultimately lead to our success in life. Corporations are no different as the business world tends to mirror real life.
Target Corp. (NYSE:TGT) is currently besieged with two sets of challenges that have negatively impacted sales and ultimately its share price. The first challenge is one of their own doing; namely TGT expansion into the Canadian marketplace. The second unique challenge involves an outside force unforeseen by management, namely the security breach that exposed customers private information. In the article below, I will examine each of the above mentioned challenges along with the feasibility of management's 2017 earnings target.
TGT was the main victim of a very sophisticated security breach that compromised thousands of guests account and personal information. TGT has apologized to its guests for the breach and has offered a year's worth of credit monitoring to all its guests at no charge. The disclosure of the data breach came at the most inopportune time for shareholders as the breach occurred during the holiday selling period where retailers make the bulk of their money for the year. I expect the breach to have a minimal impact on TGT reputation going forward. The high profile nature of the data breach may offer a silver lining to the retail industry as I suspect Congress will look to implement legislation calling for tighter security of credit info. I wouldn't be surprised if legislation is passed mandating chip technology similar to what is widely used in Europe. In my opinion the damage from the scandal is currently reflected in the share price of TGT as share price has fallen more than 10% since the breach was announced.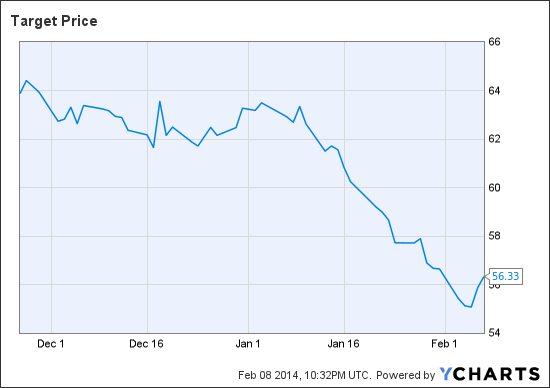 Target has:
1,793 stores in the US
124 stores in Canada; median age of 40
37 distribution centers; median household income of approx. $64K
361,000 team members worldwide; approximately 43% have children at home
About 57% have completed college
Median total income, by family type, by province and territory
(All census families)

2007

2008

2009

2010

2011

All census families1

$

Median total income

Canada

66,550

68,860

68,410

69,860

72,240

Newfoundland and Labrador

55,210

59,320

60,290

62,580

67,200

Prince Edward Island

58,610

61,010

62,110

63,610

66,500

Nova Scotia

59,200

61,980

62,550

64,100

66,030

New Brunswick

56,930

59,790

60,670

62,150

63,930

Quebec

61,780

63,830

64,420

65,900

68,170

Ontario

69,190

70,910

69,790

71,540

73,290

Manitoba

62,070

64,530

65,550

66,530

68,710

Saskatchewan

65,120

69,800

70,790

72,650

77,300

Alberta

82,030

86,080

83,560

85,380

89,830

British Columbia

65,780

67,890

66,700

66,970

69,150

Yukon

81,080

85,070

84,640

86,930

91,090

Northwest Territories

94,220

98,530

98,300

101,010

105,560

Nunavut

56,160

58,590

60,160

62,680

65,280

Census families include couple families, with or without children, and lone-parent families.
Source: Statistics Canada, CANSIM, table 111-0009.
Last modified: 2013-10-02.
TGT initial foray into the Canadian market is their initial attempt to expand outside the friendly confines of the United States. As we can see from the tables above, the Canadian market is an excellent market for TGT to enter into as their income demographics neatly mirror those seen by TGT in the United States. TGT purchased the leases of the Zellers chain in 2011 and began to convert some of the locations into Target branded stores with 2013 marking the first year we would begin to see the results of the acquisition.
The final results for 2013 have yet to be released however TGT has pre announced their expectations for the fourth quarter and the results are less than stellar. Losses from the Canadian division have accelerated with TGT anticipating losses of 800 million for 2013. As a result of much wider than expected losses, TGT is expected to report a net decrease in earnings when compared to the same period the year before.
The more pressing question for investors is where do we go from here? Management has laid out a strategic vision for 2017 stating they expect to earn roughly $8 a share. I suspect this declaration will need to be tempered a bit in light of the difficulties faced by the Canadian division. For my forward projections, I will be discounting the earnings target by 20% which nets out to roughly $6.40 per share. I suspect that I am a bit conservative in my figures which leaves further upside potential available. I would much rather err on the side of caution, allowing a higher margin of safety.
Using my conservative estimate of $6.40 per share, TGT's earnings would need to exhibit a CAGR of slightly more than 19% per year to achieve my target. Keep in mind the Canadian operations subtracted more than $1 per share in earnings power. Just by simply getting the Canadian division into break even status the CAGR rate drops dramatically. TGT will continue to repurchase shares which will help earnings numbers considerably. I suspect share repurchases will be tempered a bit for 2014 as TGT invests further capital into security measures.
TGT currently offers a dividend rate north of 3% which in my view adds to the appeal of the shares. An investor in TGT will be paid a dividend rate above that which is offered by a 10 year US treasury bond while waiting for a turnaround. TGT has paid a continuous dividend since 1967 with yearly increases since 1972. The hacking scandal and Canadian losses won't diminish TGT's ability to maintain nor raise the dividend going forward. TGT 10 year dividend CAGR is 18% which in my view not sustainable, however a more reasonable rate should be closer to 10%.
Using my conservative expectations for TGT, I arrive at a price target of roughly $96 per share. I assigned a 15 multiply to my $6.4 per share estimate which is lower than TGT average P/E multiple over the past ten years. I also expect the dividend rate to increase to roughly $2.32 per share from its current rate of $1.58. In my view the shares have upside potential of roughly 70% going into 2017 not including dividends. By 2017, I suspect the data breach will long be forgotten coupled with the Canadian division being at a minimum running at a break even rate. I view the risk reward ratio to be quite favorable here and have initiated a position in TGT at $56 per share. Thank you for reading and I look forward to your comments.
Disclosure: I am long TGT. I wrote this article myself, and it expresses my own opinions. I am not receiving compensation for it (other than from Seeking Alpha). I have no business relationship with any company whose stock is mentioned in this article. Investors are always reminded that before making any investment, you should do your own proper due diligence on any name directly or indirectly mentioned in this article. Investors should also consider seeking advice from a broker or financial adviser before making any investment decisions. Any material in this article should be considered general information, and not relied on as a formal investment recommendation.