What a great year 2013 was for Best Buy (NYSE:BBY). Driven by a successful restructuring, shares of the electronics retailer surged from $11.81 at the beginning of 2013 to $44.33 on November 11, 2013: An increase of 275% from trough to peak and a good example that investors who acted in a contrarian fashion could have reaped substantial returns much higher than any stock market index return.
(click to enlarge Source: Yahoo Finance)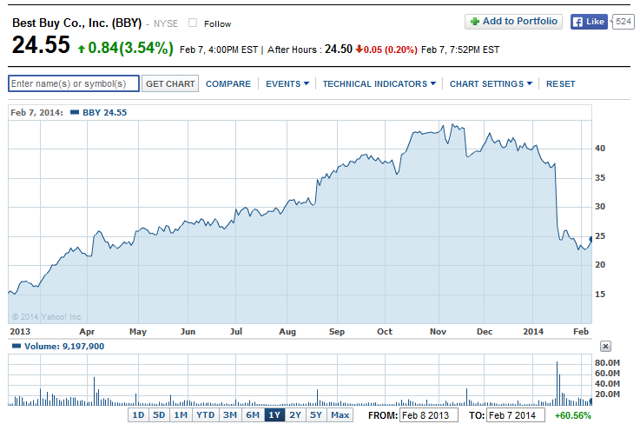 Click to enlarge
In mid-January shares of Best Buy were quoting at around $37 just before the company released a revenue update with respect to the holiday period. The retailer reported negative comparable store sales growth of 0.9% for its US business and total negative comparable store sales growth of 0.8% for the crucial nine week holiday period. I have previously asserted that the retail sector suffers from a J.C. Penney (NYSE:JCP) paranoia which implies that investors react hysterically to declining comps. As many investors already expected, the pricing environment over the holiday period was cut-throat. The retail sector is known for its promotional initiatives and low margins due to intense rivalry in the business -- especially with regard to in-demand electronics products over the holidays. As a result of fierce price competition Best Buy announced on January 16, 2014:
This investment in pricing did come with a higher-than-expected cost, and we now estimate our fourth quarter non-GAAP operating income rate will be 175 to 185 basis points lower than last year.
Obviously, a lower margin outlook and negative comparable store sales growth threw investors off balance. Best Buy's share price corrected from $37.57 pre-release to $24.43 on January 17, 2014: A decline of 35% as an immediate result of its revenue update. Shares subsequently corrected a bit more but this was due to the overall market sell-off that hit stock exchanges around the world.
What is important to recognize, I think, is that Best Buy's results really weren't that bad. They clearly didn't justify 35% shareholder value destruction and I believe there is a very high likelihood that investors overreacted to the results presented. For instance, negative comparable store sales growth of 0.8% isn't screaming success, but the company presented decent y-o-y improvements compared to last year's negative comparable store sales growth of 1.7%. International comparable store sales growth came in 0.1% and compare to (10.3%) for the same period last year: A substantial y-o-y improvement as well.
Best Buy's share price reaction was largely driven by the performance of Best Buy's US business. While comparable store sales growth was negative at 0.9% compared to 0.0% for the same period last year, dollar sales declined just marginally. Best Buy reported domestic segment revenues of $9.8 billion compared to $9.9 billion in 2013: A y-o-y decline of $151 million or 1.5%. Total revenues for the nine weeks ended January 4, 2014 came in at $11.5 billion vs. $11.8 billion last year: A decline in revenues of $300 million or 2.6%. While negative comps in the retail sector meet the forceful reaction of shareholders, investors should ask themselves whether a 2.6% decline in total revenues and 0.9% negative comparable store sales growth justify a 35% evaporation in Best Buy's equity valuation. The market massively overreacts to Best Buy's results and I would venture to project that Best Buy will recover large parts of its lost market capitalization over the coming month.
Hefty share price declines in a short period of time suggest that the market overreacted to Best Buy's holiday revenue results.
Intrinsic value estimate
I estimate that Best Buy can achieve about $1.5 billion in normalized operating cash flow in 2014 (historical reported OCF figures: year-ending February 27, 2010 $2.2 billion, year-ending February 26, 2011 $1.2 billion, year-ending March 3, 2012 $3.3 billion, year-ending first quarter 2013 not yet available) while the company has about $700 million a year in core capital expenditures. With no changes to Best Buy's debt capital structure and 346 million diluted shares outstanding according to Best Buy's latest 10-Q filing, the electronics retailer could achieve a free cash flow to equity of $800 million or $2.31 per share. At a current share price of $24.43 this translates into a forward P/FCFE ratio of 10.58 or a free cash flow yield of 9.5%. This is hardly too expensive and actually reflects a decent size margin of safety.
Considering equity capital costs of 10% and a terminal FCFE growth rate of 3%, Best Buy has an intrinsic value of around $35 per share although the assumptions are fairly conservative in terms of operating cash flow, capital expenditures and no debt changes.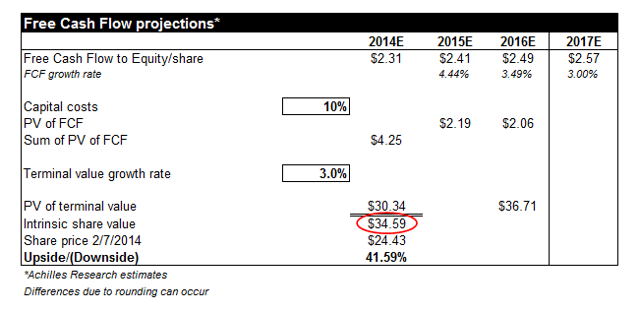 Click to enlarge
Conclusion
The market has way overreacted to Best Buy's sales update. Investors are too focused on comparable store sales data and should question whether a decline in revenues of less than 3% justifies a cut in Best Buy's market capitalization by more than a third. The valuation model above clearly isn't perfect, but it shows that even with conservative assumptions, Best Buy's intrinsic value is substantially higher than its current share price. The free cash flow to equity discount model indicates 42% upside for the electronics retailer while I think that there is a high probability that Best Buy will return to pre-crisis share values of $35-37 over the next twelve month. Strong, contrarian Buy on panic selling and the emotional response of investors.
Disclosure: I am long BBY, JCP. I wrote this article myself, and it expresses my own opinions. I am not receiving compensation for it (other than from Seeking Alpha). I have no business relationship with any company whose stock is mentioned in this article.