PepsiCo (NYSE:PEP) is one of the world's largest food and beverage companies based in Purchase, NY. Founded in 1965, the company competes primarily with Coca-Cola (NYSE:KO) in the beverage industry. Pepsi also encompasses other popular food brand names like Frito-Lay, Tropicana and Quaker Oats.
Pepsi has traded calmly for the last year, up 10.7% in the last twelve months. Like many other companies, it has been clipped slightly, starting 2014 off 3.1%.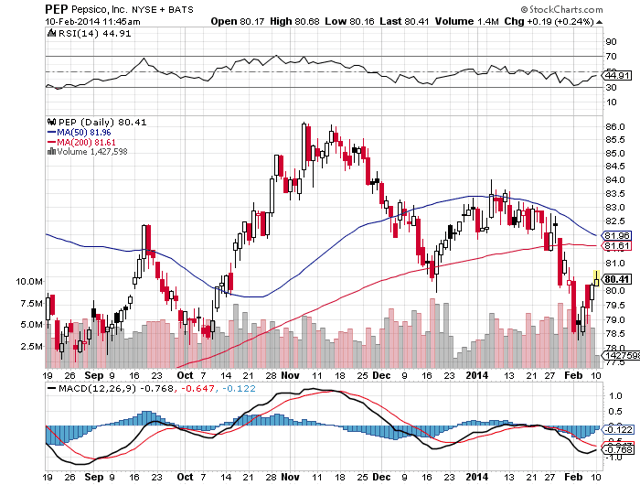 Click to enlarge
Pepsi is set to report early on Thursday with analysts expecting EPS of $1.01 on revenues of $20.16 billion. For the same quarter last year, the company posted EPS of $1.09 on revenues about 1% lower.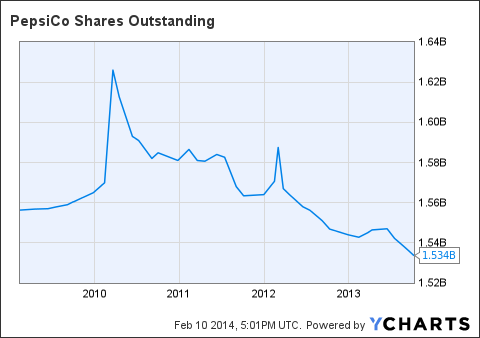 PEP Shares Outstanding data by YCharts
From a fundamental point of view, there's a couple of favorable metrics that I like about Pepsi. The company has done well to curb outstanding shares as a company, as well as continue to increase dividends.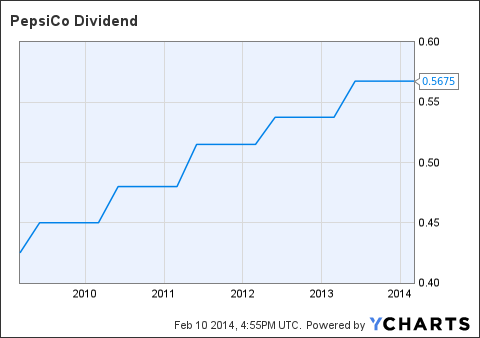 PEP Dividend data by YCharts
Of course, one of the items I'll be looking for is any color that the company wants to offer up with regards to Coca-Cola's recent relationship with Green Mountain (NASDAQ:GMCR). Pepsi came out with a boilerplate statement during the week last week, and ears will be open to see if they editorialize around that during their earnings call.
When Green Mountain announced the news, the first thing that immediately came to mind was that Pepsi had to pair with SodaStream (NASDAQ:SODA) to take on the new partnership. Bloomberg reported on the partnership with similar sentiments:
"Many will view this announcement as negative for SodaStream, but there is a small possibility that PepsiCo follows Coke's lead and partners with SodaStream," Bill Schmitz, an analyst at Deutsche Bank AG in Greenwich, Connecticut, wrote today in a note to clients. "It will be interesting to see if Green Mountain's product, which relies on a chemical reaction, gains traction relative to SodaStream's CO2-based solution."

He has a hold rating for SodaStream.

PepsiCo and SodaStream spokesmen didn't return telephone calls seeking comment on the speculation.
Heading into earnings, I'm mostly neutral on Pepsi. As you can see by the company's beta, I'm not expecting a massive move for the company. Conversely, this beta makes the company attractive for a long-term hold. If Pepsi pulls back as a result of earnings or this macro market slow down, it could be an attractive buy.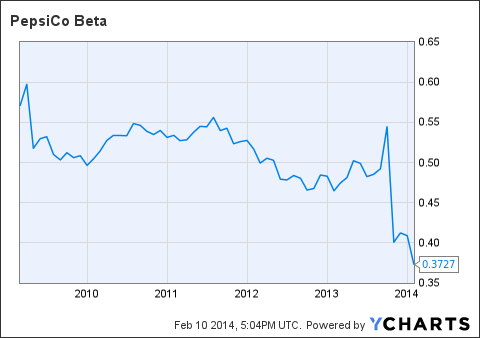 Pepsi is a bit different from Coke due to the fact that Pepsi has a snack business as well, while Coke is strictly about the beverages. I think that diversification makes Pepsi slightly less of a risk - not that Coca-Cola is going anywhere.
Another item I always consider when looking at a company for the first time is its insider ownership. Over the last 12 months insiders have continued to add to their holding by a factor of 28%.
Of the two companies, I prefer Pepsi, but simply from a personal preference standpoint - I love Gatorade. However, there's a good argument for holding both companies in your portfolio - they're both low beta companies that consistently raise their dividends.
Best of luck to all investors.
Disclosure: I have no positions in any stocks mentioned, and no plans to initiate any positions within the next 72 hours. I wrote this article myself, and it expresses my own opinions. I am not receiving compensation for it (other than from Seeking Alpha). I have no business relationship with any company whose stock is mentioned in this article.